Heidi Uhing, May 1, 2020
Research Leaders Program honors legacy by looking to future
Note: This is the first story in a five-part series highlighting research leadership at the University of Nebraska-Lincoln.
Some big ideas occur in a flash, while others simmer on a slow burn.
The Office of Research and Economic Development's new Research Leaders Program dates back to 2013. It has taken time to evolve but is launching in 2020 to develop the University of Nebraska-Lincoln's next generation of big thinkers who will help solve the grand challenges facing Nebraska and the world.
The program's slow burn started with Prem Paul, former vice chancellor for research and economic development, who helped increase Nebraska's sponsored research funding by 60 percent from 2000-2015. This success grew in part from his focus on developing programs to support researchers pursuing large-scale funding and early-stage investigators just establishing their programs.
In early 2013, Paul began forming plans to develop the next generation of research leaders through a program providing resources to help motivated faculty at mid-career and beyond win major funding for research, scholarship and creative activity. At the time, such a program would have been among the first of its kind in the nation. Even today, there seems to be no similar program in the Big Ten focusing solely on research leadership.
Longtime assistant vice chancellor for research Monica Norby said it shouldn't come as a surprise that Nebraska is leading the way on this type of endeavor, as UNL also was among the first to provide centralized support for proposal development more than 20 years ago — and continues to provide a breadth of individualized support that stands out in university research communities.
"We are unique in the amount of support we provide to our researchers," Norby said. "We listen to what our faculty want, and this research leaders idea kept coming up over the years."
Norby pointed to Paul's legacy as an ideal example of what the program hopes to achieve. "Prem came to the university as a successful scientist and administrator with big ideas about how to grow our research enterprise," Norby said. "His greatest skill was motivating those around him to pursue their dreams and do big things, and he changed the trajectory of research at UNL."
After Paul's idea for the leadership program arose, ORED leaders first met with six faculty well-positioned to become future research leaders to find what they felt they needed to advance to the next level. The next step was asking a focus group of 12 established campus research leaders: "What do you know now that you wish you'd known then?"
"The faculty emphasized the importance of networking, a focus on innovation and impact, leadership development and access to those at the highest levels of the university," said Nathan Meier, assistant vice chancellor for research. "Our rising leaders are motivated and incredibly talented, but many would like some support developing the skills needed to lead large, collaborative efforts. We want to partner with them to help them maximize their potential and develop playbooks to achieve their goals."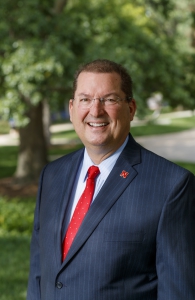 After a five-year hiatus, Vice Chancellor for Research and Economic Development Bob Wilhelm is making the Research Leaders Program a reality. When Wilhelm joined the university in mid-2018, he recognized that a program fostering the development of research leaders matched his "more, sooner," approach to accelerate research growth at UNL. He gave the RLP the green light.
"Vice Chancellor Wilhelm's support is enabling the program to finally move forward, and now is the right time to launch it," said Mike Zeleny, chief of staff and associate to the chancellor. "The program's goals align precisely with several aims in the N2025 strategic plan." These include: establishing a culture committed to increasing the impact of research; fostering innovative, interdisciplinary endeavors; broadening Nebraska's engagement; prioritizing faculty professional development; and creating a climate that emphasizes, prioritizes and expands inclusive excellence and diversity.
"Science tells us that diversity on teams has positive effects on creativity, innovation and productivity. We know greater perspectives lead to greater outcomes," Wilhelm said. "Infusing that priority into this initiative makes sense. We want to help all members of our faculty to envision themselves as leaders. The Research Leaders Program will help faculty to take on the biggest research challenges and be prepared for team leadership roles."
Once the participants are selected, the cohort will meet for five sessions from September through February 2021 and cover a variety of topics: recognizing strengths; strategic leadership; goal setting; effective communication; maximizing impacts; design thinking and innovation; team science; diversity and inclusive excellence; team management; negotiation; and funding. A half-day program finale will be held in March.
Each participant will develop an individual personal development plan under the advisement of expert coaches and will have continued support from university leadership and a peer mentoring group once the program concludes.
Nominations for the 2020-2021 cohort are due May 8 but are not a prerequisite for submitting an application. Applications are due by 5 p.m. on May 18. Up to 15 participants will be selected.
Visit the Research Leaders Program website for more details or contact Nathan Meier.
---