Student Research Days 2021
April 12-16, 2021
For Student Research Days, the Office of Graduate Studies is hosting a video showcase of graduate and undergraduate students' research and creative accomplishments. Over 300 presentations will be judged by faculty so students can receive feedback on their work. Each day this week, we'll highlight the projects of two participating students.
Engineering
Graduate spotlight: Maximilien Kiemde, civil engineering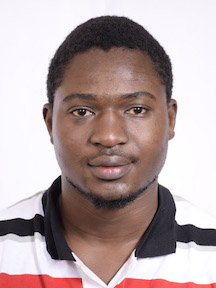 Analyzing wastewater has emerged as an important way to surveil for the existence of infectious disease in a community, allowing for public health measures to be implemented even before the onset of symptoms. Maximilien Kiemde has helped conduct studies in three Nebraska cities during the coronavirus pandemic.
His "Community-based wastewater monitoring for SARS-CoV-2" project has been conducted in Lincoln, Elkhorn and Grand Island for the last year and recently was expanded to Papillion.
"Information from wastewater epidemiology can be used to improve our understanding of health disparities and inform the design of community level interventions," said Kiemde, who's seeking a master's in civil engineering.
The contamination rates correlated to the seven-day rolling averages of positive tests, meaning the wastewater accurately reflected the virus's presence in the community. The testing found the virus present in wastewater treatment inflows but not in post-treated water, meaning the communities' plants are treating water successfully.
"So, the technique of tracking virus within wastewater is a good technique and it could be beneficial as a public health measure for pandemics," Kiemde said.
Undergraduate spotlight: Stephanie Perez, engineering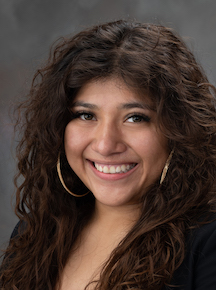 As plastics break down, they make their way into the environment, a threat to the well-being and operation of environmental systems and potentially making their way into humans via the food chain. Stephanie Perez, who's majoring in engineering, studied how to detect the microplastics in soil with her project, "Microplastic Soil/Sediment Extraction Efficiency for Different MP Polymers and Different Soil Types."
"As time passes, plastic in general takes a long time to biodegrade," Perez said. "It's kind of everywhere, sadly."
MPs are present in soil but difficult to identify and extract because they tend to be obscured by the soil.
She tried several methods of detection — centrifugation, centrifugation with oxidation and overnight density separation. Each had limitations, with MP recovery rates of 94.4%, 95.4% and 80%, respectively.
Perez plans to continue her research, including refined testing methods, using different soil types and adding soil amendments such as manure.
Physical Sciences
Graduate spotlight: Asif Ashraf, geology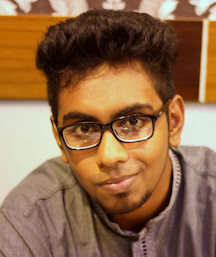 The Pacific Northwest has been the site of cataclysmic earthquakes roughly every 500 years throughout history – the last in 1700, documented by both Native American stories and Japanese records – and scientists know it will happen again. Coming up with a system to predict when is a matter of some urgency.
"We don't have a sense of when it will happen, but it will happen. … It would be a major disaster," said Asif Ashraf, whose project, "Integrated geophysical analysis over the Cascadia subduction zone," seeks to better understand the zone, which runs from British Columbia to Northern California.
The second-year master's student is using multiple geophysical datasets to determine physical rock properties and crustal architectures of the zone that faces an "imminent threat of a megathrust earthquake" affecting Washington and Oregon. Eventually, he said, scientists hope to understand both the tectonic structure and the deeper and harder to study oceanic crust well enough to make some projections about earthquake timing, which could help save lives and property.
Ashraf plans to continue his studies, pursuing a doctorate next from the University of Oregon.
Undergraduate spotlight: Hayden Swanson, physics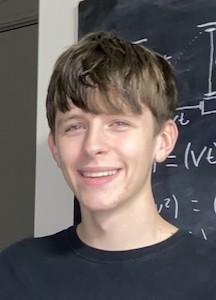 The Large Hadron Collider is the world's largest and highest-energy particle collider and the largest machine in the world. Through his project, "Vision System for a Robotic Gantry," Hayden Swanson is studying ways to improve it as part of UNL's involvement with the LHC.
The LHC collides billions of particles every second, and physicists look for new particles by studying the debris from these collisions. One challenge is to build thousands of detector modules that are precise and accurate enough to capture those images. Swanson used a camera mounted on a gantry, with a special programming language, to capture reference points from its images, which gives it the spatial awareness needed to assemble modules.
A UNL team has been working with the Compact Muon Solenoid, or CMS, one of two massive particle detectors that helped confirm the existence of the Higgs boson in 2012.
Swanson got interested in physics and approached Frank Golf, assistant professor of physics and astronomy, to ask to do research with him on LHC. He's thinking about a career in industry after graduating.
Life Sciences
Graduate spotlight: Miguel Fudolig, statistics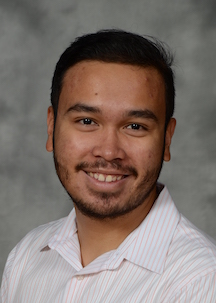 Traditional epidemic models usually account for only one virus in the population at a time, but scientists are considering the ramifications when a second makes its appearance.
Miguel Fudolig, who's pursuing his doctorate in statistics, addresses this phenomenon in "The local stability of a modified multi-strain SIR model for emerging viral strains."
"We considered two strains of virus," he said. "What happens when one emerges in the population while the population is already dealing with one?"
Fudolig created models for a scenario where the population has selective immunity to the first virus thanks to vaccination when the newer strain emerges – a scenario that emerged in the real world as he was doing his project, with the emergence of COVID-19 amid influenza.
"We assume that this newer strain does not exhibit cross-immunity with the original strain, hence those who are vaccinated and recovered from the original strain become susceptible to the newer strain," Fudolig said.
Using the SIR model – people susceptible to the virus, people infected and people recovered – Fudolig considered four equilibrium points: disease-free equilibrium, where no virus survives; original strain equilibrium, where only the existing strain survives; new strain equilibrium, where only the emergent strain survives; and endemic equilibrium, where the two strain coexist. They calculated the existence and stability conditions for each of these cases.
"This could help pave the way in dealing with multi-strains in a population and the existence of selective immunity which we establish through vaccines."
Undergraduate spotlight: Shelby Kittle, agricultural education
Beekeeping can be a significant source of income for commercial beekeepers or hobbyists, but controlling expenses is key to the bottom line. Shelby Kittle, an undergrad pursuing a degree in agricultural education, researched one way to do that in her project, "Exploring the role of beeswax foundation to promote comb honey production and economic profit for hobbyist beekeepers."
There are two types of honey – the most commonly sold liquid variety and the specialty comb honey, which is harder to create and sold still in the wax. Kittle, who started beekeeping in 2014, researched how the amount of beeswax foundation used would affect production of comb honey.
She used three approaches – no foundation wax in the frames, complete foundation wax coverage and half foundation.
"One of my findings is that half foundation compared to full was not significantly different. The comb honey yield was about the same, so you could literally cut your costs in half," Kittle said.
Kittle, who works as a research assistant for the UNL Bee Lab, plans to continue her research this summer.
Education, Business and Social Sciences
Graduate spotlight: Karalynn Brown, educational psychology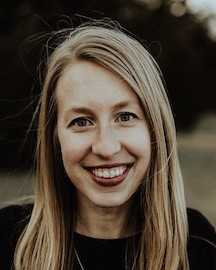 Karalynn Brown's four years as a dual-language English and Spanish teacher in Texas got her interested in how schools can be more responsive to the needs of Latinx families.
It led Brown to her "Predicting Latinx Family-School Connections: The Role of School Cultural Climate" project, which uses data from an ongoing study by the Nebraska Center for Research and Children, Youth, Families and Schools conducted in 45 schools in the Midwestern and Western United States.
Brown, who's pursing a doctorate in educational psychology, works at the center as a research assistant; she's partnering with Donna Chen, also seeking a doctorate in educational psychology, and others from CYFS.
"People's worldviews can impact how they interact with institutions such as schools. I think understanding how it is families such as Latinx families are experiencing the school environment is really important."
One example: research has shown that some Latinx parents have high levels of respect for their child's teacher, which could lead to misperceptions that they are not as interested in their children's education.
"In the world in general we're paying more attention to questions of equity … how can we make sure that we're striving to create environments that are equitable for all students," Brown said. Ultimately, Brown hopes school psychologists can create interventions that respect Latinx families' worldviews and lead to greater equity in school settings.
Undergraduate spotlight: Justin Frandsen, psychology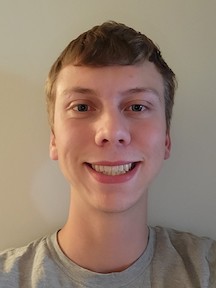 Justin Frandsen got a taste for research as a participant in the First Year Research Experience program. Now a sophomore, he's finding a way to meld his interest in research with his love for music. Frandsen's project, "Examining the relationship between music perception and emotion perception," builds on earlier research into how people's perceptions of music affect their perceptions of emotion.
To do this, he's presenting subjects with images of ambiguous surprise and asking them to rate them as positive or negative while they're listening to certain types of music.
"In my study I use faces with surprised emotions, which can be interpreted as positive or negative … to examine how music influences the perception of the surprised face," said Frandsen, who's doing his research through the psychology department's Vision, Attention, Memory and Perception Lab.
"I'm expecting to find that when major chords are playing, people are more likely to respond positively, and when minor chords are playing, people more likely to respond negatively."
Frandsen's research was slowed by the pandemic, but he plans to continue through the summer and perhaps into fall, ultimately gathering data from 40-50 people. He plans to continue studying how music perception is related to emotions, perhaps including the use of music in films. "If we find a significant effect … it's a good sign for showing that the auditory perception and visual perception are interacting," Frandsen said.
Arts and Humanities
Graduate spotlight: Xinwei Liu, music education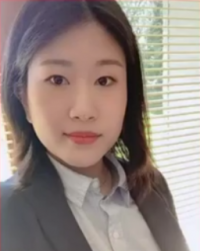 Sight-reading is an important ability for musicians, enabling them to perform a piece of music in a music notation they've never seen or learned before, but students with learning disabilities or special needs can find it especially challenging.
Xinwei Liu, seeking a doctorate in music education, is exploring ways to adapt notations for students with those needs with "The Effect of Music Notation Presentational Format on College Students' Sight-Singing Fluency."
"Sight reading appears to be more than simply a visual motor decoding task. Musical knowledge, previous experiences in sight reading and extensive aural skills training are key to successful sight reading," Liu said.
Working with her adviser, Rhonda Fuelberth, associate professor of music, Liu is testing four approaches that make use of colored notations and shapes to make sight-reading easier for some musicians. That approach, known as Figurenotes, has been used successfully by young people with learning difficulties in Europe.
Study participants were asked to complete sight singing with the four types of music notation formats, using four parallel musical examples. Their performances are being evaluated by a panel of music professors that assess pitch, rhythmic accuracy and overall performance.
Data collection was slowed by the pandemic, but Liu is compiling results.
Undergraduate spotlight: Sofía Fernandez Echeverri, fine arts-painting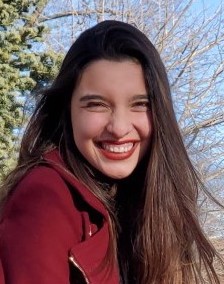 Cultures produce art not just for its own sake, to be appreciated for its beauty, but to express their purpose, history and ancestry. Sofia Fernandez Echeverri is studying the art of two indigenous Colombian tribes in her "Study of Native Colombian Tribes: Art as a Means of Inspiration."
Echeverri focused on the Wayuu and Okaina, tribes dating to pre-Colombian times but that are largely underrepresented and unknown today. In studying their paintings, drawings, prints and especially textile works, Echeverri found the tribes' richness coming to life. And not just ancient history; recent tribal artists' work was heavily influenced by the feminism of the 1970s.
"These tribes have used special techniques and patterns in decoration of textiles that identify their culture," she said. "They communicate what they have lived in the patterns and the shades they use."
"Looking toward the Okaina and Wayuu as a way of celebrating and acknowledging culture has been a way to learn about my roots, as well as the cultural past of my own country."
Echeverri plans to expand her study to more Colombian tribes.
"It's about giving a voice to different cultures that have been silenced for so long, to see the beauty and diversity and richness," she said.
---
Student Research Days will feature work from various disciplines:
| Day | Discipline(s) | Zoom Live Q&A session times |
| --- | --- | --- |
| Monday, April 12 | Arts and Humanities | Undergrad: 9 AM – Noon; Graduate: 2 – 5 PM |
| Tuesday, April 13 | Education, Business, Social Sciences | Undergrad: 9 AM – Noon; Graduate: 2 – 5 PM |
| Wednesday, April 14 | Life Sciences | Undergrad: 9 AM – Noon; Graduate: 2 – 5 PM |
| Thursday, April 15 | Physical Sciences | Undergrad: 9 AM – Noon; Graduate: 2 – 5 PM |
| Friday, April 16 | Engineering | Undergrad: 9 AM – Noon; Graduate: 2 – 5 PM |
Zoom sessions for students to discuss their research with judges will be held in the morning or afternoon on their field's assigned day. Judges will have already viewed the video before the Q&A session, and this meeting time will be for judges to ask questions about the research, similar to a judge visiting a poster during a regular poster session. A specific Zoom live Q&A time and link will be sent to the student registrant and judges. There will be awards for top presentations.
Questions about the graduate presentations should be directed to Lisa Rohde and undergraduate presentations should be directed to Justina Clark.
---
Several other events are scheduled throughout the week, including multiple presentations on funding and fellowships for graduate students and a Nebraska Lecture. Register for them below: