Alyssa Amen, October 27, 2021
Husker researchers join NSF I-Corps program
One UNL I-Corps team is composed of (from left) Yifan Huang, Tom Tiwald and Li Tan.
One startup idea. Seven weeks. One-hundred interviews.
Three Nebraska teams joined the National Science Foundation's 2021 Innovation Corps. During the program, researchers learned entrepreneurship concepts, explored technology commercialization and conducted 100 interviews with prospective customers.
"We're thrilled that Nebraska teams have completed this competitive national program and are taking the next steps to pursue a research-based startup company," said Joy Eakin, NUtech's entrepreneurship program manager.
Nebraska's Li Tan, Daniel Schachtman and Michael Sealy served as the faculty leads for the three I-Corps teams, which also included graduate students and business mentors.
The three teams previously participated in NUtech's campus entrepreneurship program, Nebraska Introduction to Customer Discovery, which helps researchers discover a potential market for their idea.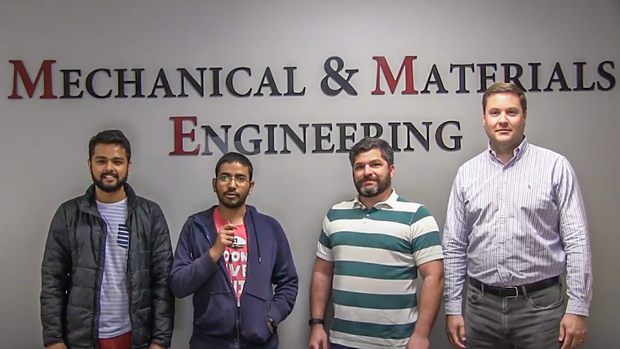 "The support and network I've gained has really blown me away," Schachtman said. "We have a pretty clear plan for the next steps to start this business."
NUtech's program was also helpful in preparing for I-Corps, said Nebraska alumna Yifan Huang, who participated in 2020.
"Because of NUtech's program, we already knew the expectations and basic methodologies for doing customer discovery interviews, which set us up very well for I-Corps," Huang said.
During I-Corps, Huang and Tan conducted dozens of interviews before changing plans. Industry feedback pointed them in a new direction: using their technology to address issues related to additive manufacturing.
"One of my biggest insights was the concept of the 'mosquito-bite' problems versus 'shark-bite' problems," Tan said. "As we conducted our interviews, we wanted to make sure our technology was addressing a big, shark-bite sized problem."
Together with Michael Sealy, Nebraska graduate students Guru Madireddy and Rakesh Karunakaran also focused on additive manufacturing. Throughout I-Corps, they conducted interviews at sites across Nebraska.
"We were invited onto shop floors and people were showing us manufactured parts and defects," Madireddy said. "Those in person interactions were one of the highlights for me. We learned so much about different industries and their manufacturing methods."
---