Ashley Washburn, July 23, 2019
Hudgins to serve as interim director of Energy Center
Jerry Hudgins, professor and chair of electrical and computer engineering, has been named interim director of the Nebraska Center for Energy Sciences Research, effective Aug. 19. Hudgins has been the center's associate director since 2009 and previously served as the center's interim director in 2011.
Hudgins will succeed director Mike Nastasi, the Elmer Koch Professor of mechanical and materials engineering, who has led the center since 2012. Nastasi is leaving Nebraska to become head of Texas A&M University's Department of Nuclear Engineering.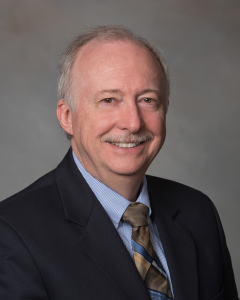 NCESR was established in 2006 as an interdisciplinary collaboration between the University of Nebraska-Lincoln and the Nebraska Public Power District. The center's mission is to conduct basic and applied research that produces new or enhanced energy sources, with the goal of improving the quality of life and economic opportunity for Nebraskans.
Hudgins will be responsible for leading the center and facilitating its research, operations and resource development activities during his appointment. He also will assist with the national search for a permanent director, expected to begin this fall. Hudgins will remain department chair while serving in this role.
Renewable energy is one of Hudgins' longtime research interests. He has been a collaborator on numerous projects funded by the U.S. Department of Energy to develop monitoring systems that could reduce the cost of maintaining wind turbines – powerful renewable energy sources that carry significant costs for utilities to maintain. He also created Wind for Schools, an educational program aimed at preparing K-12 students across Nebraska for careers in the wind energy industry.
"Finding sources of renewable energy is one of the most pressing research challenges of our time," said Bob Wilhelm, vice chancellor for research and economic development. "Jerry understands the importance of bringing cutting-edge research to the people of Nebraska. For more than a decade, he has played a vital role in fostering the partnership between UNL and NPPD, one of Nebraska's largest public power districts. I am grateful for his service and leadership during this interim period."
The center is in cycle 14 of its seed grant program, which provides funding to support Nebraska faculty members' research in developing or enhancing clean energy technology. More than $11.1 million from NPPD was awarded during the center's first 13 funding cycles. The center is under the direction of the Office of Research and Economic Development, with additional guidance from an executive council and external advisory committee that include university administrators, faculty and NPPD representatives.
---