Institute of Agriculture and Natural Resources
Geitner Simmons, June 23, 2023
Congressional delegation voices support for strong ag research funding
Members of Nebraska's congressional delegation look on as Sen. Deb Fischer (center) discusses precision agriculture technologies with (right) Joe Luck, professor of biological systems engineering. Loren Rye | Pixel Lab
It will be critical for the upcoming farm bill to include significant federal funding for agricultural research, Nebraska's five-member congressional delegation said during a visit to the University of Nebraska–Lincoln's East Campus on June 19.
U.S. Rep. Mike Flood, who hosted the visit to campus, said his "No. 1 priority" in representing Nebraska's 1st District was securing federal funding for major U.S. Department of Agriculture research facilities planned for Nebraska Innovation Campus. The center, which will focus on precision agriculture and water, climate and resilience, will boost the number of USDA agricultural scientists in Nebraska to 150, up from the current 63.
The university will complement the USDA research center with an agricultural innovation facility on Innovation Campus facilitating the conversion of ag research into products and services, plus a business incubator.
During their visit to East Campus, the lawmakers — Sens. Deb Fischer and Pete Ricketts, Reps. Flood, Don Bacon and Adrian Smith — heard presentations on Husker research initiatives in fields such as ag-related robotics and precision agriculture, plant science and animal science innovations, and the advances made possible through on-farm research. They were briefed on the importance producers place on information from the National Drought Mitigation Center, located at the university.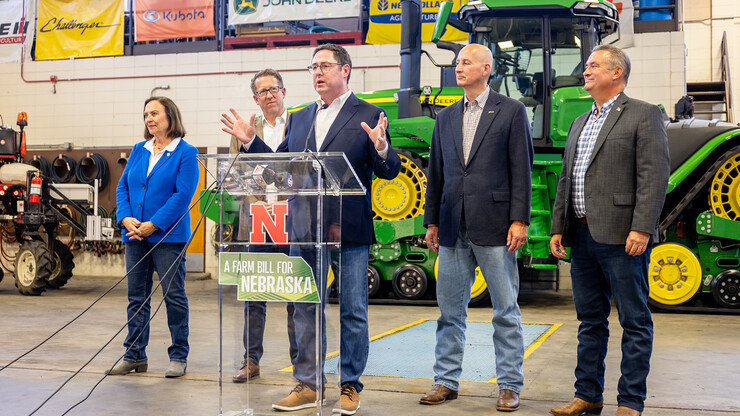 Ted Carter, president of the University of Nebraska system, welcomed the lawmakers during a lunch of brisket and sausage prepared and processed by Husker meat science students. "Today's grand challenges around agriculture have never been more urgent or more complex," underscoring the enduring importance of the university's agricultural research, he said.
Mike Boehm, vice chancellor for the Institute of Agriculture and Natural Resources, noted that the U.S. lags well behind in government funding for agricultural research compared with China and the European Union.
Four funding options for the upcoming five-year farm bill now being developed by Congress have particular importance for the university and Nebraska agriculture, Boehm told the lawmakers:
The planned USDA research facilities, called the National Center for Resilience and Regenerative Precision Agriculture, at Innovation Campus. The USDA center and complementary Husker facilities can greatly bolster precision-ag and climate resilient technologies and boost the state's economic development through ag-startup creation.
Support for workforce development for the precision agriculture sector. Farm bill funding can serve the public interest, Boehm said, by supporting existing and new programs for high school and college students that partner with land-grant universities to develop co-op, internship and workforce opportunities in precision agriculture. In presentations to the lawmakers, Husker alumni described innovative businesses they created after participation in the university's Engler Agribusiness Entrepreneurship Program. Examples included The Combine, which facilitates the development of Nebraska ag-tech startups, and Sentinel Fertigation, which uses regularly updated ag-tech data to develop precision fertilizer application using irrigation equipment. The Sentinel technology was developed through extensive Husker on-farm research.
Sustained funding of $3.8 million annually for the National Drought Mitigation Center, rather than the current ad hoc funding approach. Fischer has been a strong advocate for such sustained funding, Boehm said.
Support for USDA research into ag data security. Precision technology is increasingly integrated into the agricultural economy, so that ag devices are connected to communicate and interact with each other, raising concerns over cybersecurity. Fischer has had a legislative interest in that issue, known as the Ag Internet of Things. A software platform by the university's Tractor Test Laboratory, Boehm said, could in the future provide "a cybersecurity proving ground where we cyber-harden agricultural digital platforms before they get to the consumer."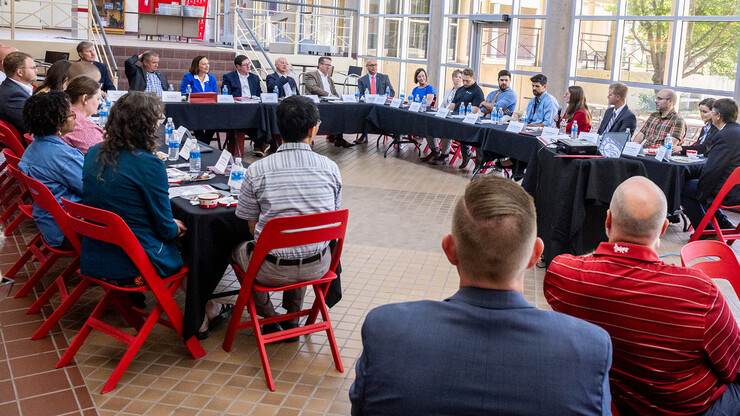 At the Tractor Test Laboratory, students explained how the university has used precision technology to reduce pesticide drift and fine-tune nitrogen application. The lawmakers saw several examples of ag robotics in field production.
Ag research has been vital in boosting the productivity of Nebraska's farm sector, Bacon said. "In the 1930s, we had 35 bushels per acre of corn. Today's it's way over 200. It's a good example of what research can do."
Ricketts, a former Nebraska governor, noted that one in four jobs in the state are connected to agriculture. Robust agricultural production "is not only important to our state; it's important to our country," he said. "Food security is national."
Smith expressed thanks for the university's statewide focus. "I want to say how much I appreciate the university's footprint across Nebraska," he said. Whether in Scottsbluff at the Panhandle Research, Extension and Education Center or at the university's precision-ag facilities in Lincoln, "I just cannot say enough about how important the work you do is. And then Extension takes all this research to the producers" across the range of the state's agricultural products.
The university, Fischer said, has well communicated the breadth of its agricultural research during the June 19 event, as well as in May when Husker faculty explained the university's precision-ag research advances during a visit by Fischer, Ricketts and John Boozman, the ranking member of the Senate Agriculture Committee, to the university's Eastern Nebraska Research, Extension and Education Center near Mead.
"I will continue my work in representing the interests of our land-grant mission at the University of Nebraska," Fischer said. "We have outstanding programs at this university. It's part of my job on the Appropriations Committee to advocate for these great programs that we have at this university with the great research that is done, and make sure that it will continue and grow."
---