Alyssa Amen, December 9, 2020
Baenziger supports growers through small-grains program
Whether he's in the lab, the field or a crop improvement meeting, Nebraska's P. Stephen Baenziger is focused on building partnerships.
That philosophy has shaped his small-grains breeding program, which is recognized globally and throughout Nebraska, where farmers know him by name. They also know his wheat varieties by name — more than 50% of Nebraska's wheat acres are planted with varieties from Baenziger's program.
"Stephen is world-class and always interested in learning what growers need or want in a specific region," said Chris Cullan, owner of Cullan Farms Seed Company in Alliance, Nebraska. "He has the motto 'I work for Nebraska.' People know that, and he has great value to our state's growers."
Over the course of his 34-year career at the University of Nebraska–Lincoln, Baenziger has developed 61 new cultivars of wheat, barley and triticale, a hybrid of wheat and rye. He's also developed key partnerships with private companies, crop improvement associations, seed dealers, farmers, millers and bakers.
"There's an old African proverb: If you want to go fast, go alone. If you want to go far, go together," said Baenziger, professor of agronomy and horticulture. "There are lots of interlinking pieces that a complex program needs to keep it at the cutting edge and let it go far. It's like putting a 1000-piece puzzle together, and every piece has a fit."
One of those pieces: partnerships with private companies. Working with NUtech Ventures, Baenziger helped lead the university's non-exclusive germplasm licensing agreement with Bayer Crop Science, which funds an endowed professorship, research and education for the small-grains breeding program.
As a result of the 2010 agreement, Bayer Crop Science located its North American Wheat Breeding Station near Lincoln, where the company is developing relevant varieties for Nebraska farmers, adding jobs and providing industry connections for students. These connections are valuable, Baenziger noted, because 75% of his students accept jobs in the private sector.
"We crafted this agreement by staying true to our land-grant values, and it was a win for the university, the company and Nebraska growers," said Baenziger, who also serves as the Wheat Growers Presidential Chair. "Ten years later, this agreement has resulted in additional resources devoted to our wheat growers, and at the university, we have an outstanding partner and collaborator."
Perspectives from the field
As a certified seed dealer, Chris Cullan sells many of Baenziger's wheat varieties to farmers throughout western Nebraska. The varieties must first succeed in trials, or test runs, to ensure they will grow well in the region. Cullan then purchases the university seed and grows, harvests, cleans and sells it to neighboring farmers.
With just one exception, Cullan exclusively sells wheat varieties developed at the University of Nebraska–Lincoln.
"It comes back to the idea of a land-grant institution, where revenue stays local. It's a big factor in everyone's purchase considerations," Cullan said. "And our growers trust Stephen's ability to develop varieties for our specific region and micro-areas in Nebraska. People who live here understand that value."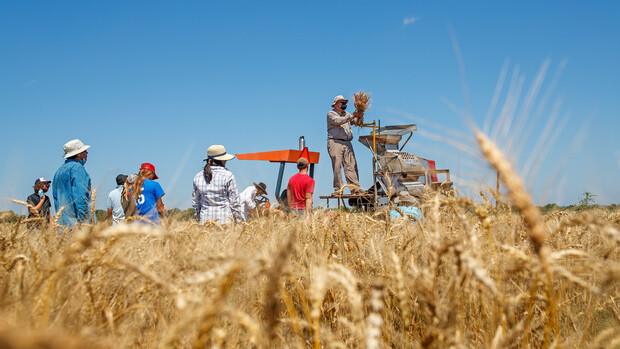 Steve Knox, director of the Nebraska Crop Improvement Association, can attest to that value. The NCIA helps the seed industry produce a quality product to sell to farmers; it provides field inspections and tests for seed count, purity, germination and weight. This helps seed dealers meet certification standards and provides farmers with accurate information to grow a quality crop.
During his tenure at NCIA, Knox has recognized the positive economic impacts and partnerships from Baenziger's program.
"Stephen has released many great varieties that have had a big impact on sales in the state, because it allows seed dealers to offer more options," Knox said. "He is also very customer-focused; he solicits input from growers, answers their questions and attends seed days and seed previews, as well as our NCIA annual convention. Stephen has the land-grant vision."
---
Agronomy and Horticulture Institute of Agriculture and Natural Resources NUtech Ventures