Responsible Conduct of Research

The Responsible Conduct of Research (RCR) is a training initiative to educate undergraduates and graduate students, postdoctoral researchers, research staff and faculty. RCR is required when receiving funding from the National Science Foundation, the U.S. Department of Agriculture-National Institute of Food and Agriculture, and the National Institutes of Health. NSF and NIH have required RCR training since 2010, and USDA-NIFA has required training since February 2013.
What is RCR?
Responsible Conduct of Research refers to a federal initiative to educate researchers whose research is supported by certain funding agencies. Each institution implements the training requirement independently. At UNL, the RCR initiative is implemented through CITI Program's RCR series, which researchers can complete through online courses and by attending an 8 hour in-person training workshop (dependent on funding agency). Anyone with UNL Blackboard credentials can use the CITI training module.
The National Institutes of Health requires all NIH-funded trainees, fellows, participants and scholars to complete the training no less than once every four years. NIH recognizes that online RCR courses are valuable training supplements but does not consider them adequate as a sole means of instruction.
The National Science Foundation requires all NSF-funded undergraduate students, graduate students, and postdoctoral researchers to complete the training at least once.
The U.S. Department of Agriculture-National Institute of Food and Agriculture requires RCR training. All program directors, faculty, undergraduate students, graduate students, postdoctoral researchers and any staff participating in research and research-related activities (i.e., research, education and extension) supported by a NIFA award (grant, cooperative agreement or special project) must participate in RCR training. Exceptions include individuals supported by: 1) Formula Funded Programs; 2) the 1890 Facilities Program; 3) the Small Business Innovation Research Program; and 4) awards to individuals. Learn more about USDA-NIFA award terms and conditions.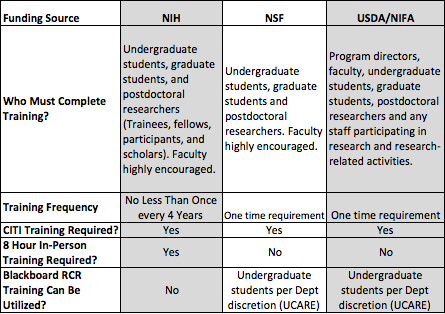 Please note that the NIH requires that all trainees, fellows, participants, and scholars receiving support through any NIH training, career development award (individual or institutional), research education grant, and dissertation research grant must receive instruction in responsible conduct of research.  This policy will take effect with all new and renewal applications submitted on or after January 25, 2010, and for all continuation (Type 5) applications with deadlines on or after January 1, 2011.  This Notice applies to the following programs:  D43, D71, F05, F30, F31, F32, F33, F34, F37, F38, K01, K02, K05, K07, K08, K12, K18, K22, K23, K24, K25, K26, K30, K99/R00, KL1, KL2, R25, R36, T15, T32, T34, T35, T36, T37, T90/R90, TL1, TU2, and U2R.   This policy also applies to any other NIH-funded programs supporting research training, career development, or research education that require instruction in responsible conduct of research as stated in the relevant funding opportunity announcements.
All other awards with RCR training requirements can be satisfied via completion of the online CITI RCR training course.
Topics covered in the in-person workshops and CITI online training are:
Overview of Responsible Conduct of Research
Data management
Authorship
Mentoring
Peer review
Collaborative science
Conflict of interest
Data acquisition and monitoring
Ethics and regulations of research with humans and animals
The scientist as a responsible member of society
Export controls
Policy and Regulation
The National Science Foundation website provides information about the statutory requirement for the Responsible Conduct of Research initiative and NSF's implementation.
The University of Nebraska-Lincoln is in full compliance with NOT-OD-10-019. This RCR regulation applies to certain National Institutes of Health awards. When applying for an award with an RCR training requirement, the request for proposals will specify that investigators are required to submit an individual plan for RCR training directly in the proposal.
Each proposal needs to include a plan that meets the requirements specified in NIH regulations. This plan may include online CITI training or UNL's RCR Blackboard training, but please note that these courses alone are insufficient to meet the NIH project-specific requirement, which requires a face-to-face training component.
USDA-National Institute of Food and Agriculture
Section 7 of the agency-specific NIFA terms and conditions from February 2013 includes the requirement for RCR training.