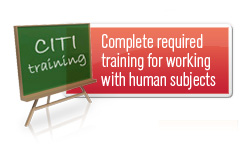 Required and Optional Training
UNL requires all key project personnel, including investigators, students and other project staff, who conduct research with human participants, tissue samples or data to complete a mandatory training program before UNL's IRB can approve a protocol. Read more about this policy
here
.
UNL subscribes to the Consortium for IRB Training Initiative in Human Subjects Protections
(CITI)
, which offers a self-paced, web-based tutorial. To be certified for human subjects research, key project personnel must complete the CITI tutorial every three years; this training must be supplemented annually through CITI refresher tutorials or through attendance at one or more educational sessions held by the IRB.
UNL faculty are encouraged to explore additional
optional training programs
offered by CITI.