The University of Nebraska Collaboration Initiative recently awarded seed funding for three projects to support national security innovation.
Totaling $322,755, the projects address key challenges within the National Strategic Research Institute's mission and include leadership and contributions from six NSRI Fellows.
"These pilot projects are critical for innovation and building out new technical areas for expansion," said Joshua Santarpia, NSRI science and technology adviser. "I am excited about the potential solutions that could be created for our national security partners through these new efforts."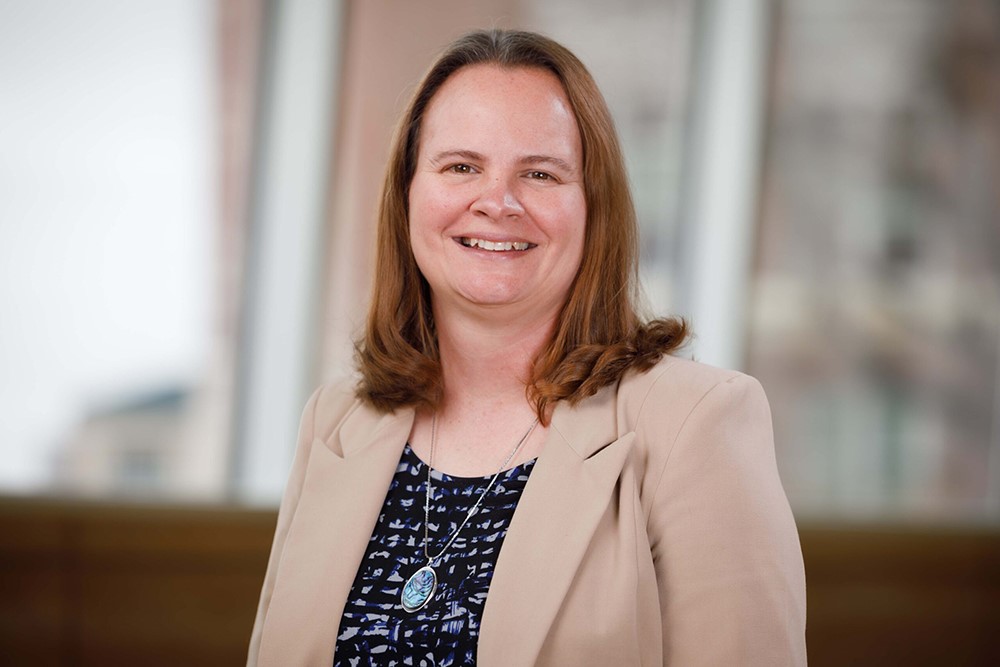 NSRI Fellows Elizabeth Beam, associate professor of nursing at the University of Nebraska Medical Center, and Bethany Lowndes, UNMC assistant professor of neurological sciences, are co-principal investigators for the project, "Prototyping of a ruggedized powered air purifying respirator (PAPR) for healthcare use in austere conditions."
Continuing Beam's previously funded efforts, the team aims to develop a better PAPR design to be used in complex healthcare environments during ground and air transport by military teams. In conjunction with Superstar funding won from the Great Plains IDeA-CTR earlier this year, Beam and Lowndes intend to make significant advances this fall.
"The bruised and battered faces of healthcare workers during the pandemic were painful for me — we can do both safer and better for them," Beam said. "Building the team and support for this project has been so exciting. Even the mundane things are critical to moving the mission forward through this project, and I think the team understands the potential impact."
Xu Li, NSRI Fellow and professor of civil and environmental engineering at the University of Nebraska–Lincoln (UNL), leads the project, "Develop a One-Health Surveillance System on Antimicrobial Resistance," with NSRI Fellow Dustin Loy and additional contributors Galen Erickson, UNL professor of animal science, and Peter Iwen, UNMC professor of pathology and microbiology.
The One Health paradigm reflects collaborative efforts from multiple disciplines to obtain optimal health for people, animals and the environment. Li's project notes that antimicrobial resistance is a global public health concern, and the environment is thought to be one pathway for the transmission of AR pathogens.
To address this challenge, the team will develop a proof-of-concept waste-based surveillance system for monitoring AR transmission in human and animal populations and the surface water environment. This concept focuses on AR bacteria as the target with future projects expanding to zoonotic pathogens, viruses and foreign plant and animal pathogens.
"I have been studying the environmental dimension of AR, and expanding the research scope into human medicine and veterinary diagnostics is an important next step to establish a One Health approach in addressing the AR challenge," Li said. "Food, agricultural and environmental systems are interconnected.
Understanding the interconnections among the systems in the face of biological threats has significant societal impacts."
Dan Van Buren, NSRI senior scientist, with NSRI Fellows Eric Markvicka, UNL assistant professor of mechanical and materials engineering, and Martha Morton, UNL research associate professor of chemistry, are pursuing the project, "Chemical Decontamination Hydrogel," with additional contributors Barry Cheung, UNL associate professor of chemistry, and Scott Darveau, professor of physical chemistry at the University of Nebraska at Kearney.
The team will evaluate a hydrogel formulation that has been previously studied for its ability to encapsulate, neutralize and decontaminate a surface contaminated with chemical warfare agents (CWA).
The aim is to improve the effectiveness of CWA degradation with the addition of a bicarbonate salt to an existing hydrogel to form two activate decontaminates. Hydrogels are a class of complex, water-swollen three-dimensional polymer networks that can be tweaked for specific requirements. The team will complete an analysis of the active decontaminates and material assessment to determine if these hydrogels require additional investigation.
"What excites me about this project is the potential to act as a dual use for decontaminating and encapsulating CWA and BWA threats," Van Buren said. "This team of scientists are not only subject matter experts in the project focus areas of chemical analysis and material engineering but also contribute to the innovation that is necessary when working on novel efforts."
---