Dan Moser, April 3, 2023
Slammers rise to the challenge of engaging audience
Héctor Palala won the 2023 Student Research Slam with his presentation on lessons learned teaching young schoolchildren in the highlands of Guatemala. Ashley Washburn/ORED
Palala voted winner of the second annual competition
It's OK to be enthusiastic about science — even to approach science communication as performance art, says Jocelyn Bosley. Husker students and their audience embraced that notion Friday afternoon.
The second annual Student Research Slam capped Student Research Days, a weeklong celebration of both undergraduates' and graduates' contribution to the University of Nebraska-Lincoln's research mission. Five students, selected from a field of applicants, had five minutes each – and no more than one PowerPoint slide – to tell, and sell, their stories.
Bosley, research impact coordinator for the Office of Research and Economic Development, served as emcee – call her Slam Master J – encouraging attendees to get raucous, wave 8 ½-inch by 11-inch emojis in the air and even tried to get the wave going around the room at the Wick Alumni Center. Some students clearly brought cheering, and voting, entourages from their departments – all fair in a competition that chose a $500 winner.
That winner, Héctor Palala, is a Ph.D. student in teaching, learning and teacher education, who drew on his experience as a Spanish-speaking elementary school teacher in Guatemala, where his bright second graders couldn't pass class because they spoke only Mayan, a lesson in bewilderment he drove home to Friday's audience by switching away from English occasionally.
Palala was haunted by that experience, so made his life's mission to help Mayan children integrate into the education system and, more broadly, ensure others who speak minority languages can both learn and preserve their linguistic traditions.
In his talk, titled "Kematz'ib' Weaving Words: A Journey to Mayan Language Preservation," Palala said emerging technology such as artificial intelligence and natural language can "not only create literacy programs using technology but also preserve Mayan languages that have been alive for centuries, adapting, struggling and fighting to keep themselves alive in this world."
More than 2,000 miles from Palala's classroom, Emma Knezevic, a junior studying insect science, told a very different tale of her work in a classroom in Lincoln, where she's run a bug club for elementary schoolers. While many adults don't like insects, children "often don't have these preconceived opinions … they are usually curious about the world around them," she said, and happy to interact with assorted arthropods.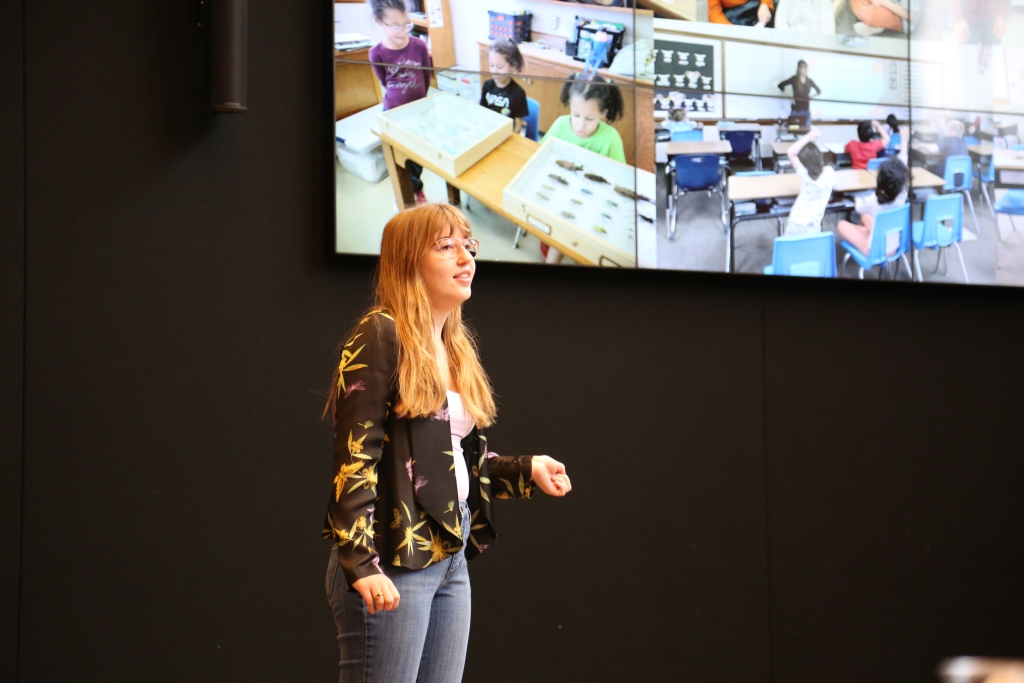 Children's fascination with bugs can be a gateway into interest in science as a whole, Knezevic said.
"This short period of club time can become a step of the STEM pipeline, forming a positive foundation for students to seek out more opportunities in science later in their academic career," said Knezevic, whose talk was titled "Bug Club: The Glitter of Possibility."
"I'm so proud of all my students. We're learning about ourselves. We're learning to think about the world differently. I think that's something we all can enjoy, even if we maybe find bugs a bit icky."
Ryleigh Grove, a sophomore majoring in plant biology, made her own journey from a youthful interest in science to her other passion, music education, when she decided her science grades weren't good enough.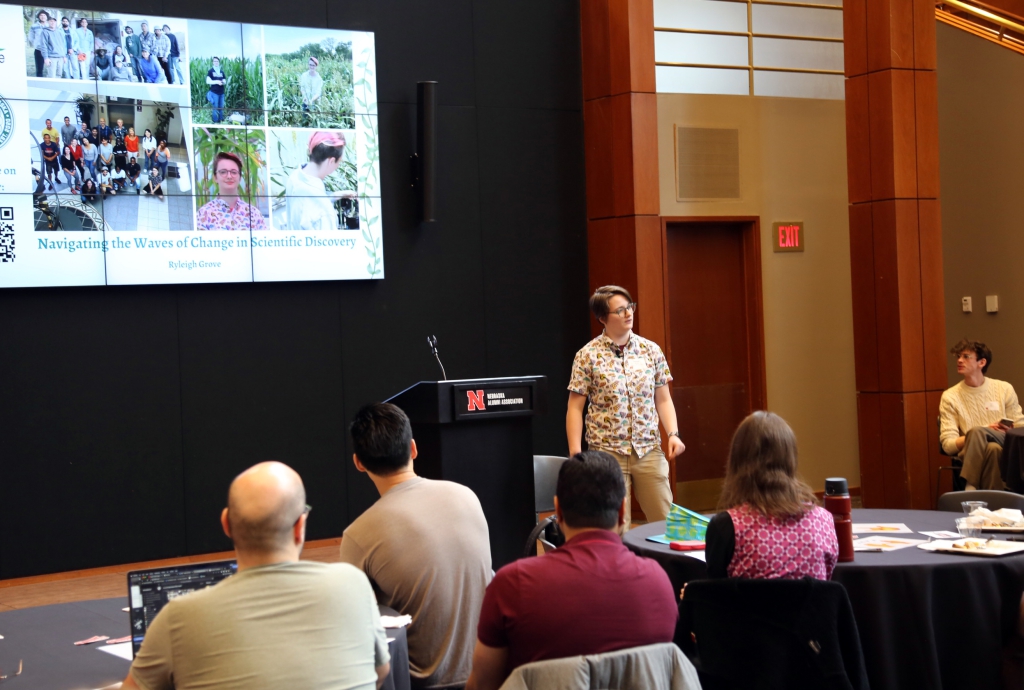 Grove, speaking about "Navigating the Waves of Change in Scientific Discovery," ended up back in science, where she's learned to view failures not as a negative, but as opportunities. At Nebraska, she's worked on 3D reconstructions to simulate a sorghum field and to appreciate plants' ability to adapt. Humans are closer to plants than they think, she said.
She believes people should embrace a new change every day, to see change as neither negative nor positive but "opportunities to open new doors."
Grove said she's fond of a saying that sums up the quest for scientific knowledge: "We know some things about it, but we also know nothing about it."
Sam Lawton, junior in emerging media arts, developed a virtual reality program "aimed at rehabilitating amputees more effectively and more engagingly than ever before."
His work focuses on dealing with the "phantom pain" amputees can feel in missing limbs. Lawton spent a summer designing a mirror therapy approach, using headset cameras to track hand movements and mirror them onto a virtual hand on the other side of the body. He also added virtual puzzles and exercises for the user to interact with.
It seemed abstract until he was connected to a former track and field athlete who'd lost most of her left arm in an accident. She worked with the technology and loved it. Lawton said the young woman's mother-in-law texted him to say that working with the equipment "was the most she had smiled since her accident.
"It was utterly surreal to see my work have that much impact on someone," said Lawton, whose talk was titled "XR Limb: Applied Synesthesia and Immersive Technology."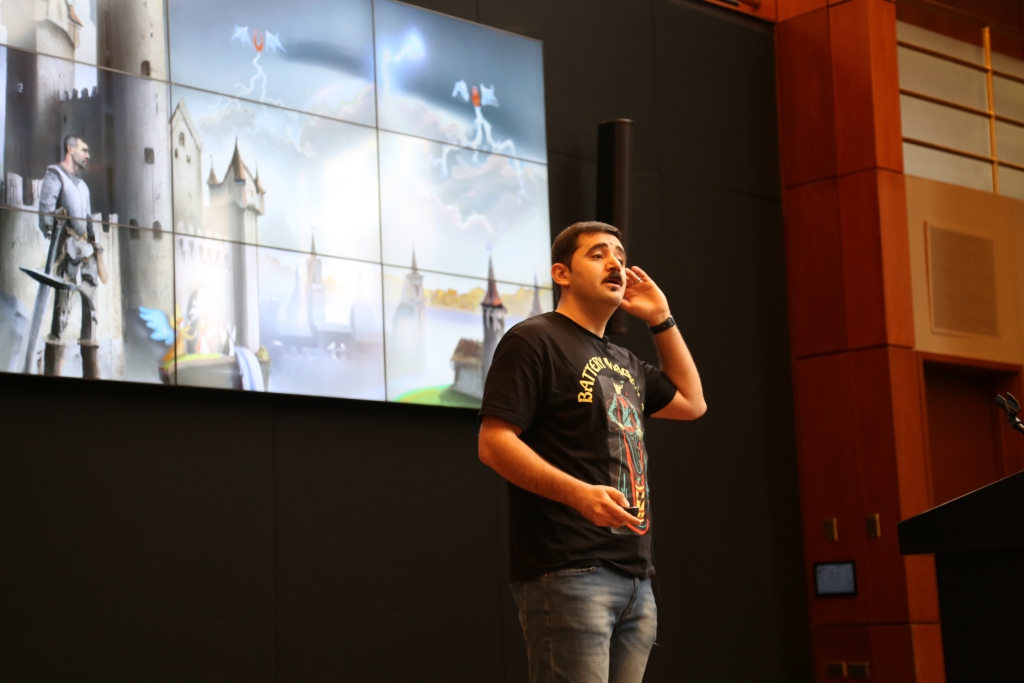 Sahand Serajian, a Ph.D. student in chemical and biomolecular engineering, took the audience back to the Middle Ages to imagine cities guarded by castles and soldiers, with angels welcome to pass freely while demons are denied. The demons ultimately found a way into the cities, expressing their anger by generating lightning – an analogy for the harvesting of electricity from modern lithium-ion batteries.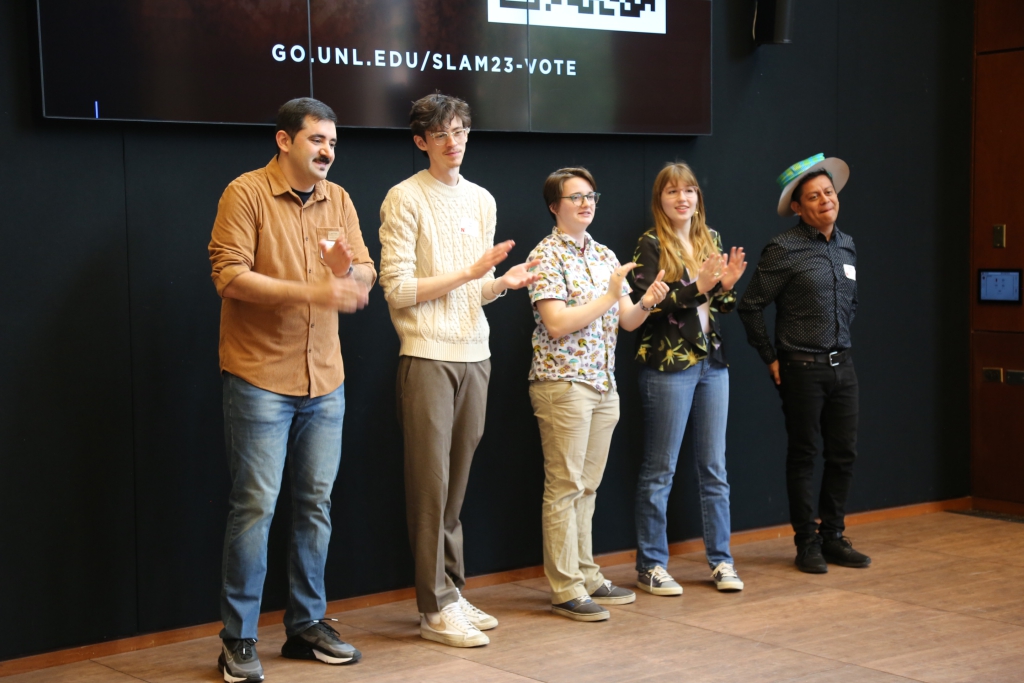 With MXenes – a new class of two-dimensional transition metal carbide or nitride – these batteries hold the promise of a more sustainable future – a more efficient, safer and higher-capacity battery, to be used in electric vehicles, renewable energy systems and consumer electronics.
"This could have a profound impact on the way we live our lives and help us transition to a greener future," said Serajian, whose talk was titled "Angels, Demons and Batteries."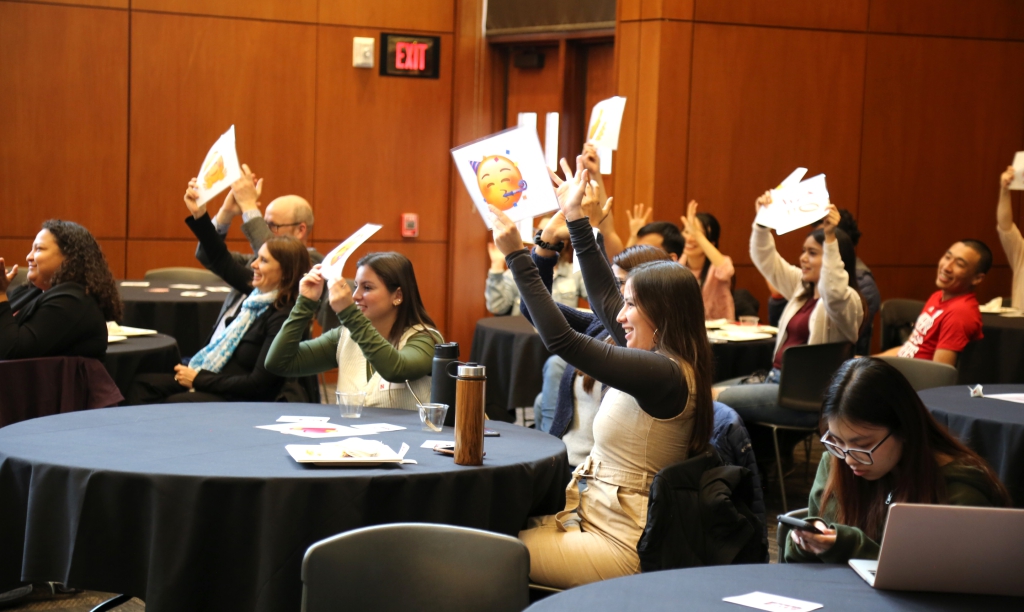 ---