Tiffany Lee, June 16, 2023
Shizuka addressing racial inequities in the ornithology community
Bird-watching and racial justice issues converged in a highly publicized 2020 incident between a birder and a dog walker in New York City's Central Park. The clash involving a false accusation against Christian Cooper, a well-known Black birder, highlighted the difficulties racial minorities face when pursuing outdoor research and hobbies.
The incident struck a nerve with Husker ornithologist Dai Shizuka. He watched with interest as birders, field researchers and nature lovers from marginalized groups united after the episode to launch Black Birders Week, an event spotlighting the need for enhanced diversity and safety in the outdoors.
Shizuka said those events, combined with other personal and professional experiences, inspired him to envision new strategies for diversifying the ornithology field. With a combined grant of nearly $500,000 from the National Science Foundation, Shizuka and Ashley Dayer of Virginia Tech are teaming up with three of ornithology's major professional societies to address one of the major obstacles to joining the professional ornithology community.
"A big barrier to something like bird-watching, or appreciating nature in general, is not nature. It's other people," said Shizuka, associate professor of biological sciences. "It was natural to think about how that dynamic applies in a more academic and professional pursuit of studying birds."
A survey conducted by the American Ornithological Society shed light on these dynamics among its members, a group of professional ornithologists. Members of historically excluded groups reported feeling unheard, undervalued and weakly connected to the community. The group's composition likely plays a role: According to a recent AOS analysis, roughly 80% of its membership identifies as white; this disparity becomes more lopsided as seniority increases. Other types of marginalized groups — like members with disabilities and parents of young children — are also in the minority.
It's a problem because understanding and solving the most urgent problems in ecology, conservation and environmental justice requires diverse perspectives.
To address this, Shizuka and Dayer are working with the AOS, the Wilson Ornithological Society and the Association of Field Ornithologists to develop identity-based "flocks." These affinity groups are aimed at supporting members of historically excluded groups, amplifying their voices and empowering them within a culture of ornithology where they may not have always felt welcome. Unlike a one-time meeting or social event, the flocks are intended to be long-lasting, providing members with an enduring base of support during their career.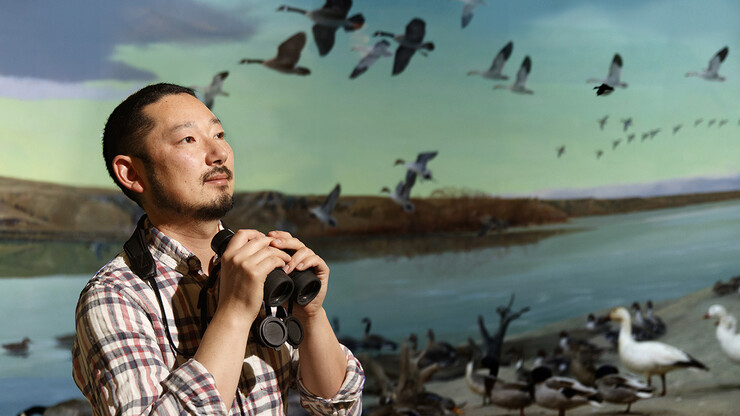 The strategy emphasizes the identification and support of potential flock leaders — a reflection of the researchers' belief that affinity groups must be created by the people they're for. Shizuka and Dayer will provide budding leaders with the information and resources necessary for launching and sustaining a flock.
"We're trying to design a process where we lower the activation temperature, making it easier for people who want to create a community for themselves to do it and be supported — and not dictated — by the society," Shizuka said.
He believes the ties formed among flock members will bolster their resilience against professional roadblocks or adverse experiences, which will increase retention in the profession. The approach stems in part from the research of Julie Park of the University of Maryland, who presented her research at the University of Nebraska–Lincoln at the invitation of the Chancellor's Commission on the Status of People of Color, of which Shizuka is a member.
Park shared that one of the most successful strategies to retaining underrepresented students on campus was ensuring their access to communities of similarly situated peers, whether through student organizations, fraternities/sororities or other types of groups. Shizuka started wondering how that idea could be exported to ornithology.
"Dr. Park's research showed that having that time with peer groups allows them to go back to classrooms where they are maybe the only person of that identity, and not feel so dejected," he said. "Because they have that community-based space, they are more resilient in other spaces. Being exposed to that sociology and education research really helped me know which direction to go with this proposal."
He was also motivated by the existence of one affinity group within the American Ornithological Society: the Rainbow Lorikeets, a group of LGBTQIA+ ornithologists launched in 2019. The group hosts roundtables and other events, advocating for inclusion and equitable policies. Shizuka and Dayer will tap the expertise of the Lorikeet group as they help form other flocks.
The grant funds two years of work, during which Shizuka and Dayer will lay the groundwork for establishing the flocks. They'll use surveys, focus groups and workshops to assess members' needs and perspectives. They'll also provide emerging flock leaders with workshops, recruitment tools and strategies for collaborating with non-profit organizations, government agencies and minority-serving institutions.
If this phase is successful, the team hopes to apply for the next tier of funding within the NSF program, called Leading Cultural Change through Professional Societies of Biology. The next level, the Implementation Track, would enable them to further build out the flocks.
Shizuka said he believes the flock strategy is viable in part because his encounters with other Asian American ornithologists were important as he climbed the ranks. He wants to make sure other researchers have even more robust experiences.
"I remember going to ornithology conferences and I was one of very few non-white people in a room," he said. "I know and remember a lot of Asian American ornithologists I've met along the way. Meeting those people has been important to me, even if it was fleeting, or if they didn't necessarily know how important that was."
---