Dan Moser, October 12, 2021
NU State Museum opens new exhibition on prairie diversity
A long-horned milkweed beetle is seen on a Maximilian sunflower at Lincoln Creek Prairie near Aurora. The University of Nebraska State Museum-Morrill Hall's new exhibition, "Hidden Prairie," explores the diversity of life that can be found in a square meter of prairie. Courtesy photo | Chris Helzer
Visitors to the University of Nebraska State Museum-Morrill Hall will be able to explore the diversity of life found in a square meter of prairie when the museum's new exhibition, "Hidden Prairie," opens to the public Oct. 16.
Based on the book "Hidden Prairie: Photographing Life in One Square Meter" by Chris Helzer, the exhibition embraces hands-on activities, displays and Helzer's photography to explore life on the prairie in all seasons. The exhibition also explores the science of prairie ecosystems and the cultural connections of prairies and Native communities.
"We're excited by this partnership with guest curator Chris Helzer and The Nature Conservancy, and the opportunity to celebrate prairies through science, photography and poetry," said Susan Weller, director of the NU State Museum.
"The Nature Conservancy is honored to have collaborated with the University of Nebraska State Museum on the 'Hidden Prairie' exhibit," said Mike Fuhr, interim director for the conservancy in Nebraska. "The ingenuity of the exhibits team, combined with the affectionate perspective of our Director of Science Chris Helzer, should make Nebraskans proud to be a prairie state."
"Prairies are core to Nebraskan experiences," Weller said. "They're also special to Native American communities whose culture of ecological stewardship is highlighted. I hope our visitors will take time to explore the exhibit and come away with a deeper appreciation of prairies."
"Hidden Prairie" is included with museum admission and can be found on the third floor of Morrill Hall. The exhibition, which runs through May 2022, was made possible with the support of Humanities Nebraska, the Ethel S. Abbot Charitable Foundation, and the Richard P. Kimmel and Laurine Kimmel Charitable Foundation.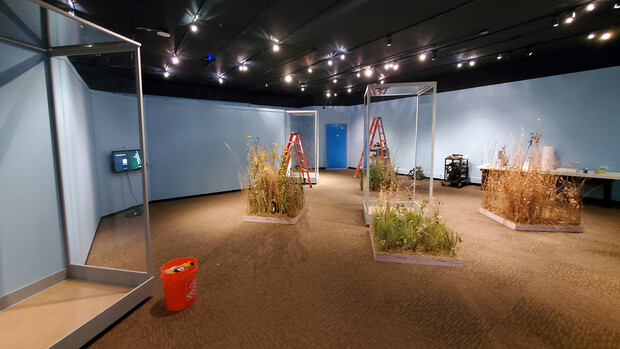 ---