Biological Systems Engineering
Kateri Hartman, September 10, 2021
Nebraska research aims to better inform hops producers
Nebraska's David Mabie studied drying and storing processes for small-scale hops farmers. Craig Chandler University Communication
Flavorful suds poured by Nebraska's craft breweries are rooted in meticulous, demanding processes, including the drying and storing hops. Research from the University of Nebraska–Lincoln is aimed at better understanding those hops-related processes and helping producers make the most of their flavorful harvests.
Small-scale hops farmers inherently face harvesting challenges due to the sensitive nature of the crop. Grown on 20-foot trellises, hops are harvested at 80% moisture content and need to be dried to 10% moisture content — a process that requires precise drying and storing. Through a $116,000 grant from the Nebraska Department of Agriculture, David Mabie and his advisers studied the best hops drying and storing processes for small farms to maintain valuable aromatics.
"How we dry the hop cones affects what type of aromatics and flavors they contribute to the beer when they're used," said Mabie, assistant professor of practice in biological systems engineering.
Breweries select hops based on the aromatic profiles they desire to have in their beer, whether that's fruity, spicy, earthy or an array of other flavors the buds produce.
"For example, if I really wanted to add citrus aromatics I would pick a specific hop like Chinook or Cascade," Mabie said.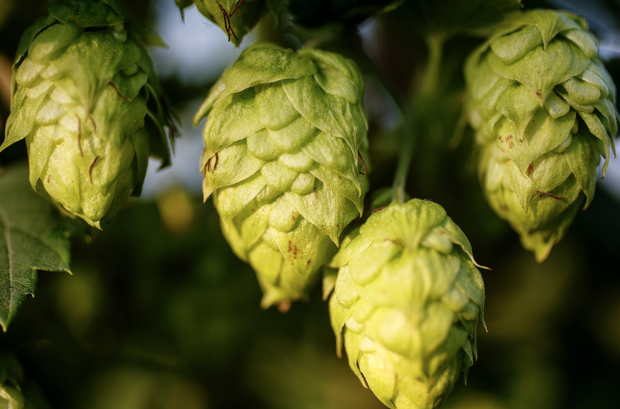 The research team uniquely focused on aromatics rather than alpha acids, the primary bittering component in beer. In the 20th century, there was a movement to preserve or add bittering components, leaving a gap in research about preserving aromatics in drying processes.
"The guidelines that we could find on what temperature to dry with, what air velocity to use in the drying system and how long to dry it for were all relative to minimizing losses to the alpha acid," Mabie said.
Through Initial background research, Mabie found that drying temperatures that were too high volatilized some of the aromatics. Harvest time also impacted the aromatics as harvesting too early resulted in underdeveloped, grassy aromas and harvesting too late created overdeveloped, cheesy aromas.
"Our research supported a different perspective to hop drying," Mabie said. "Our findings showed that as we increase temperature, we decrease the total oil content in the hops, giving the industry quantifiable analysis of what happens to aroma when we change drying temperatures."
Mabie's research provides farmers with information such as the benefits and drawbacks of certain drying processes. For example, drying hops outdoors at 85 degrees would take three days, but it would result in high aromatic preservation. On the contrary, drying hops at 140 degrees would only take three and a half hours and save space, but producers would lose aromatics. Mabie's advice is that losing aromatics is preferred to losing the entire crop.
The team's primary goal was to provide Nebraska farmers, as well as the industry, with this information and quantifiable analysis of drying processes. The research was published as Mabie's dissertation for his doctorate in biological engineering, which he earned from the University of Nebraska-Lincoln in August. The team is also working on a NEBguide for Nebraska farmers with small hops farms and will be submitting their findings to the American Society of Agricultural and Biological Engineers and the American Society of Brewing Chemists.
Mabie's research advisers were Michael Kocher, professor emeritus in biological systems engineering; and David Jones, head of the Department of Biological Systems Engineering. Stacy Adams, associate professor of practice in horticulture, also supported the research.
---