Kate Engel, October 23, 2023
Nebraska Innovation Campus named Outstanding Research Park by national organization
Nebraska Innovation Campus was named Outstanding Research Park at the Association of University Research Parks' 2023 International Conference held Oct. 16-19 at the University of Delaware's STAR Campus. AURP is the leading nonprofit organization representing research parks, innovation districts, tech hubs and all communities of innovation.
The Outstanding Research Park Award recognizes research parks and innovation districts and their leadership for their achievements and encourages continuous evaluation and development of best practices for the research park community. The award also highlights research parks and innovation districts which have created an exceptional ecosystem that supports bringing technology from inception to market thereby positively impacting the sustainable growth of scalable businesses, creation of jobs that are higher paying than the regional average and contribute to the economic health of the region where they are located.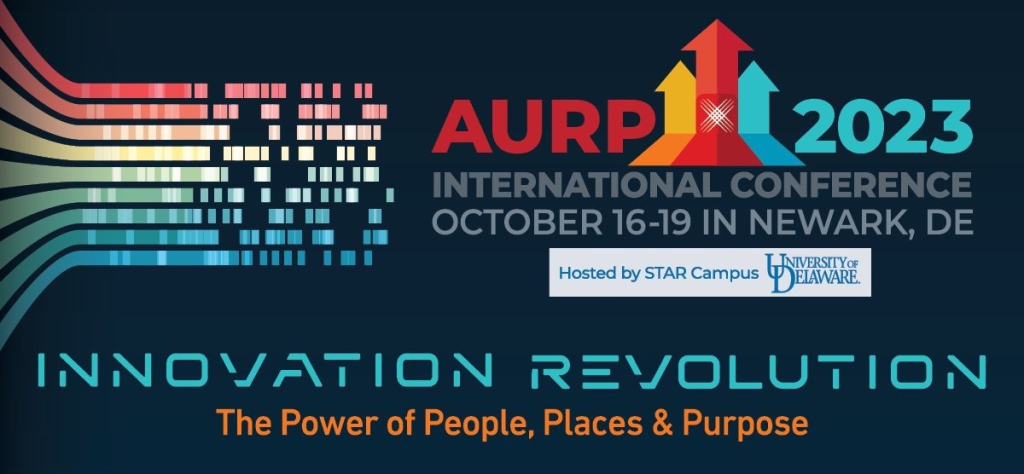 "We are deeply honored that AURP selected Nebraska Innovation Campus for this distinguished award," said Kate Engel, NIC's interim executive director. "NIC's exceptional ecosystem is driven by 10+ years of impactful partnerships, collaborations and developments. We are grateful to all who have been involved, and those who continue to support and encourage our robust environment for innovation, entrepreneurship and commercialization activities."
Nebraska Innovation Campus facilities have grown over 10+ years to include office space, a makerspace, a conference center, a local coffee shop, a hotel, lab space, pilot plant space and greenhouse space. The campus is also home to an ever-growing roster of over 65 companies, including private businesses and University of Nebraska entities, and welcomes companies of all sizes. The diverse mix of companies located on the campus creates and builds a culture of innovation and creativity.
AURP's International Conference annually brings together 200+ research park and innovation district leaders from around the world for high-impact knowledge exchange and networking with the industry's premier experts and leaders.
"On behalf of our dynamic and growing AURP membership, I'm delighted to extend my sincere congratulations to our 2023 Awards of Excellence winners," said Erin Koshut, AURP president and executive director for Cummings Research Park. "Research parks, such as Nebraska Innovation Campus, exemplify our forward-looking global community of innovation, dedicated to research, collaboration and entrepreneurship for the common good."

Additional 2023 AURP award categories and recipients were:
Leadership Award: Randy Woodson, PhD, Chancellor, North Carolina State University
Emerging Research Park Award: Wichita State University Innovation Campus
Career Achievement Award: Jane Shaab, UM BioPark Executive Director, Associate Vice President, Economic Development
Innovation Award: Building an Understanding of Lab Basics (BULB) at University City Science Center
Vision Award: Daisy Magnus-Aryitey, Co-Founder and Co-Executive Director of Code the Dream at Research Triangle Park
Rising Star: Jonathan Hunt, Ecosystem Partnership Manager for McMaster Innovation Park
Nebraska Innovation Campus was recognized by AURP as the Emerging Research Park in 2017. In 2020, the Nebraska PPE Partnership Project was recognized with AURP's Excalibur Award, an award that recognized organizations or individuals who, in response to COVID-19, provided unique and significant technology solutions, community outreach or leadership to assist their community in better health outcomes. NIC staff have also been recognized by AURP for their leadership. Kate Engel received the Rising Star: A New Generation of Leadership Award in 2019, and Daniel Duncan, NIC's founding executive director, received the Career Achievement Award in 2022.
---