University Communication, June 15, 2021
Nebraska celebrates impacts of NU State Museum
Governor Pete Ricketts discusses the importance of the NU State Museum prior to signing the "State Museum Day" proclamation in Morrill Hall on June 14. Troy Fedderson/University Communication
Celebrating the University of Nebraska State Museum's 150th anniversary, Governor Pete Ricketts signed a proclamation declaring "State Museum Day" on June 14.
The proclamation — signed during a ceremony at the NU State Museum — honors the state museum system and acknowledges the important cultural contributions made by all museums across Nebraska. It was signed by Ricketts in observance of the anniversary of the day the university's Board of Regents signed the charter to establish the museum.
"The ongoing research at Morrill Hall and the state museum's other locations plays a vital role in helping us better understand the animals, plants, natural history and cultural past of Nebraska," Ricketts said at the event. "For generations, Morrill Hall has supported education in the state and simulated interest in sciences for Nebraska's students."
The University of Nebraska State Museum was founded in 1871 with a small teaching collection. Today, its active research collections have grown to include more than 13 million specimens and artifacts. The most famous museum attraction is "Archie," the world's largest fully-mounted, composite Colombian mammoth fossil. Overall, mammoth fossils have been uncovered in 90 of Nebraska's 93 counties.
"This is a home for Nebraska. It is a display of this great place and a history of this great place," Chancellor Ronnie Green said. "Every year, 130,000 people pass through this museum and its affiliates at Fort Robinson and Ashfall — 40,000 of those are school-aged children.
"It's a right of passage for school-aged children in Nebraska to come here to see Archie."
Green also praised the museum and its staff for their adaptability during the pandemic.
"Through its digital content, the museum reached more than 900,000 people in all 50 states and in 72 countries during the pandemic," Green said. "Thanks to our global impact and the grit of our faculty, staff and students, 2021 has shown we can continue to deliver on our mission, despite difficult circumstances."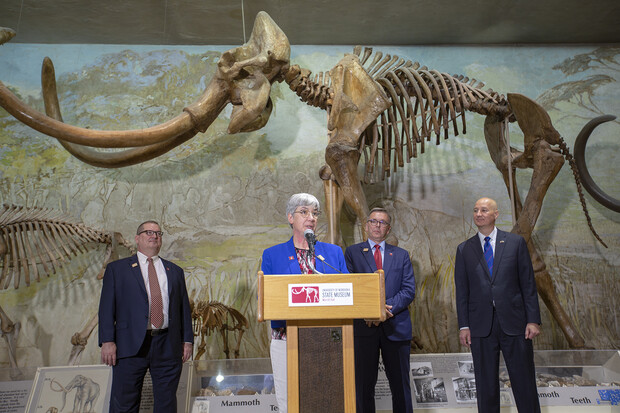 In his role as vice chancellor for research and economic development, Bob Wilhelm said he feels the museum serves an important role in inspiring children to pursue career paths that lead to discovery.
"This idea of you exposing children early, to get them thinking about different opportunities in science, technology, engineering and mathematics is incredible," Wilhelm said. "It's important for our state's talent pipeline and for the impact that STEM has on economic growth for the state."
Susan Weller, director of the museum, said that while Morrill Hall is celebrating its 150-year history this year, its staff continues to look to the future, seeking innovative ways to allow Huskers to learn about Nebraska's rich history.
"As much as we want people to come here and visit the museum, we are aware that Nebraska is a very large state and we need to meet Nebraskans where they live," Weller said. "We continue to push on with innovative virtual technology. And, that is why today, we are launching the virtual tour of Morrill Hall in partnership with Nebraska Public Media."
The online tour, available through the museum website, allows users to explore the multitude of exhibits within Morrill Hall.
The NU State Museum is holding a number of events throughout its 150th anniversary year. Details are available through the museum website.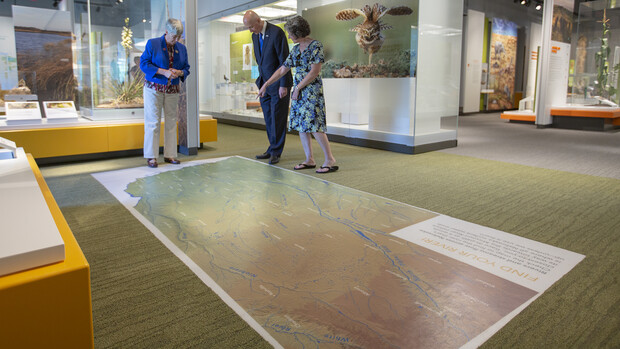 ---