Cara Pesek, July 28, 2020
Nebraska among world's best universities for ag, forestry
Mackenzie Zwiener, a graduate student in agronomy, bands sorghum plots and measures leaf angles in her research field on July 24 The University of Nebraska–Lincoln is, for the fourth-straight year, ranked among the top 50 universities in the world for agriculture and forestry instruction. Craig Chandler/University Communication
For the fourth consecutive year, the University of Nebraska–Lincoln has ranked among the top 50 universities in the world for agriculture and forestry.
The 2020 QS World University Rankings, which were released in June, ranked Nebraska 46 among universities worldwide and 18th among all institutions in the United States. The rankings consider academic peer review, student-faculty ratio and reputation of the employers of graduates, among other factors.
"We are designing the future of agriculture here at the University of Nebraska–Lincoln," said Mike Boehm, vice chancellor for the university's Institute of Agriculture and Natural Resources. "Our researchers are uncovering new ways to feed a rapidly growing world, and furthermore, they're doing so in an environmentally sustainable way that provides a good quality of life for producers. We're making great strides toward food security, sustainability and other complex agricultural issues, and our appearance on this prestigious list is a reflection of those strides."
In the past year, Nebraska researchers have made progress toward development of crops that are tolerant of heat, extreme cold and drought. They are in the midst of research to aid in the development of hybrid wheat varieties, as well as in the development of vaccines and other protections against two devastating swine diseases. The interdisciplinary Nebraska Integrated Beefs System Initiative is bringing together beef geneticists, ruminant nutritionists, biological systems engineers, grassland ecologists, and others to improve the efficiency and sustainability of the cattle industry.
"The innovation of our research faculty is nothing short of astonishing," Boehm said.
That spirit of innovation extends beyond Institute of Agriculture and Natural Resources researchers. Nebraska Extension professionals, which have long worked with Nebraska's farmers and ranchers to address issues with crops and livestock, have increasingly incorporated research into their work with producers. The popular On-Farm Research Network allows farmers to conduct research on their own land. Producers who participate in the network are able to access to cutting-edge technology and emerging practices with help from university professionals, while researchers and extension educators are able to observe how new technologies and practices work on real, working farms. The College of Agricultural Sciences and Natural Resources encourages students to tackle head-on challenges related to agriculture and natural resources. The Engler Agribusiness Entrepreneurship Program, for example, helps students build businesses while they're still in college. The College of Agricultural Sciences and Natural Resources Change-Maker Scholarship Competition, which was just launched this past spring, offers one-year full-tuition scholarships to students who propose a plan to address worldwide challenges related to food security, sustainability, and water use. Eight incoming College of Agricultural Sciences and Natural Resources students and two returning students won scholarships for the 2020-21 academic year.
"We want innovators, change-makers and future leaders to get their start right here in Nebraska," said Tiffany Heng-Moss, dean of agricultural sciences and natural resources.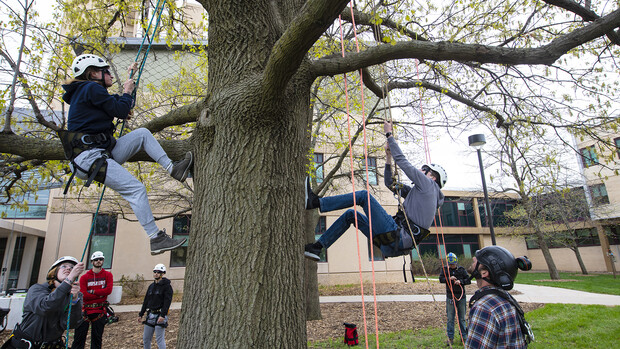 The university has also forged strong partnerships with several other leading agricultural institutions on the list, including Wageningen University and Research, Northwest A&F University, Huazhong Agricultural University and the University of Sao Paulo, which in 2020 ranked 1, 4, 6 and 23, respectively.
The QS World University Rankings, which are released annually, are prepared by Quacquarelli Symonds, a leading global higher education company.
Learn more about the Institute of Agriculture and Natural Resources' momentum online.
---
Agriculture Forestry Institute of Agriculture and Natural Resources