Caroline Clements, January 20, 2021
Morrill Hall to feature new interactive exhibit 'Poop & Paws'
Zak Kathol, exhibit fabrication coordinator at the NU State Museum, hangs a branch on a fake tree that will be a centerpiece of the "Poop & Paws" exhibit. Angie Fox/NU State Museum
The University of Nebraska State Museum-Morrill Hall will open a new, child-friendly exhibit titled "Poop & Paws" on Jan. 31. The exhibit focuses on using poop, tracks and other clues to determine which animals live in different habitats.
The museum's exhibits team focused on COVID-19 safety during design and construction of the 2,000-square-foot exhibit and embraced new technology to create interactive displays.
"COVID has changed the way museums make exhibits," said Angie Fox, exhibit coordinator. "Safety has always been important, but even more so now."
Visitors to "Poop & Paws" will wave at screens to enable videos, use their feet to activate animal sounds and enjoy digital floor projections. Touchable items were made with materials able to withstand disinfecting multiple times per day. Exhibit highlights include a 35-foot-long animal footprints hopscotch board and a 9-foot-tall tree with 2,000 artificial leaves.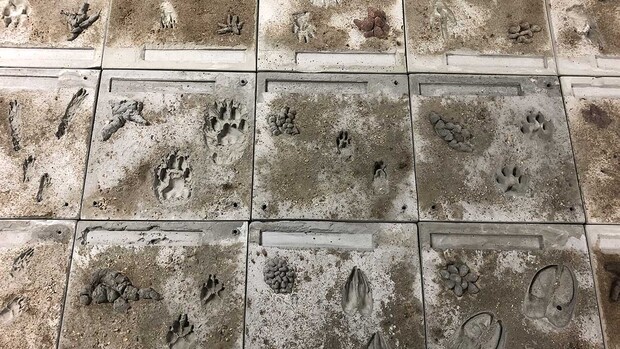 "Too many people think science and scientists are boring," said Susan Weller, director of the NU State Museum. "This new exhibit shows the curiosity that drives scientists in a playful, engaging way. I can't wait to try out the hopscotch board."
While many museums encourage visitors to be quieter while exploring exhibits, "Poop & Paws" has been designed as an indoor space for kids to explore, be louder than normal, make animal noises and have fun.
"This exhibit was made for kids," Fox said. "Our community has been so impacted by the seriousness of COVID that we really wanted to have a lighthearted, fun exhibit. It's about poop, after all, so it can't be too serious."
"Poop & Paws," which runs through Sept. 26, is included with museum admission and can be found on the third floor of Morrill Hall. The exhibit was made possible with the support of Lancaster County, Nebraska, and Friends of the State Museum.
---