Kateri Hartman, August 2, 2021
Local crops could provide green solution for blacktop repair
A rural asphalt road is flanked by crops. Hamzeh Haghshenas Fatmehsari, research assistant professor of civil and environmental engineering at the University of Nebraska–Lincoln, and colleagues are studying the efficacy of using corn and soybean oil to recycle asphalt. Shutterstock
Nebraska crops could pave the way to better performing, cheaper and greener roads.
Hamzeh Haghshenas Fatmehsari, research assistant professor of civil and environmental engineering at the University of Nebraska–Lincoln, and colleagues are studying the efficacy of using corn and soybean oil to recycle asphalt. The studies are funded by the Nebraska Corn Board and Nebraska Soybean Board.
Using recycled asphalt pavement is better for the environment, saves money and may create a new market for corn and soybean oil, Haghshenas Fatmehsari said.
"Altogether, it's a great project for our state," he said.
Recycled asphalt pavement, or RAP, is the material produced when the top of a road in need of repair is removed by the Nebraska Department of Transportation and other cities and counties. Rather than wasting the materials, RAP can be recycled and repurposed using recycling agents, additives and oils that help return the asphalt to a quality state.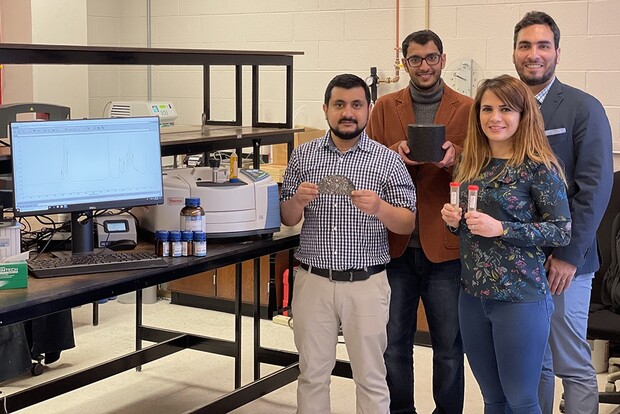 Historically, RAP material was used on a minimal basis. Now more attention is paid to the cost and environmental savings of the material. When recycling asphalt, crude oil can be used, but the rising costs of crude and its impact on the environment prompted researchers to explore greener alternatives, such as vegetable oils. Through his research, Haghshenas Fatmehsari knew that vegetable oils, specifically corn and soybean oil, were great options for recycling asphalt in the short term. Now he and his team are trying to improve the long-term performance of RAP material containing these oils.
By using corn and soybean oil rather than other plant oils or crude oil, Haghshenas Fatmehsari is promoting locally sourced, lower-cost and environmentally friendly alternatives. The research could create a new market for soybean and corn oil, which prompted the corn and soybean boards to provide funding.
"As a farmer, these kinds of projects and initiatives are really important," said Nathan Dorn, farmer and chair of the Nebraska Soybean Board's research committee. "We are finding ways to increase demand for our soybean oil while supporting a method that decreases our environmental impact and benefits taxpayers and those that utilize and drive on asphalt pavements."
RAP material cost savings have already begun in Nebraska. From 2008 to 2019, the Nebraska Department of Transportation used, on average, 39% RAP in its asphalt road paving mixes. The practice proved cost-effective and saved more than $400 million, or about $34 million annually. The researchers are hoping to increase RAP contents, leading to larger savings and improved performance. Current and past researchers on Haghshenas Fatmehsari's team include Muhammad Ahmad, Khalid Al Washahi, Nitish Bastola and Mahdieh Khedmati.
The project is in its second of a projected four years. Haghshenas Fatmehsari aimes to implement his research in the final phase by placing and testing the asphalt mixture containing chemically improved vegetable oils and RAP material on a one-mile section of Nebraska road. If successful, Nebraskans may find themselves with an improved economy and more sustainable asphalt roads.
---