Ashley Washburn, January 30, 2020
Heath receives Veterinarian of the Year honor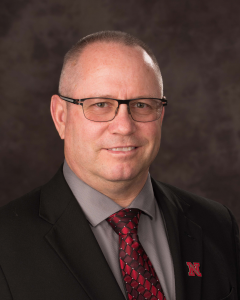 Dr. Kelly Heath, University of Nebraska-Lincoln attending veterinarian and director of the Institutional Animal Care Program, received the 2019 Veterinarian of the Year award from the Nebraska Veterinary Medical Association. Heath received the honor Jan. 24 at NVMA's annual convention and banquet in Lincoln.
IACP, part of the Office of Research and Economic Development, ensures the humane care, use and health of animals used in the university's teaching, research and extension missions. It also provides veterinary care and animal oversight for the 16 university-affiliated animal care sites across the state, including the Life Sciences Annex, a biosecurity/biosafety level 2 facility.
Heath has been IACP director since 2013 and attending veterinarian since 2012. Under his leadership, the university received full accreditation from AAALAC International for the first time in 2014. AAALAC is a leading nonprofit organization that ensures high standards of laboratory animal care and use. Nebraska earned reaccreditation in 2018.
Deb Hamernik, associate vice chancellor for research, said achieving and maintaining AAALAC accreditation requires significant time, effort and training to keep records, inspect animal care facilities and comply with federal regulations.
"Kelly's skills as a veterinarian and administrator are highly valued, and we are proud to have him on UNL's team," Hamernik said. "He has high standards and expectations for the care and use of animals. We also appreciate his efforts to reduce administrative burden and his ability to work with faculty, staff and students to ensure that everyone understands and adheres to federal regulations."
The Veterinarian of the Year honor recognized Heath's service to the profession and his efforts to mentor students and make them aware of opportunities in the field. Heath said he has mentored 12 undergraduates who were ultimately admitted to veterinary school. Ten are practicing veterinarians, and two are still pursuing their degrees.
He is as an academic adviser in Nebraska's pre-veterinary program, part of the School of Veterinary Medicine and Biomedical Sciences, and supervises student workers in Nebraska's animal care facilities.
"He has always had great working relationships with student workers at the undergrad, graduate and postdoc levels," said Megan Ebbers, IACP specialist.
Prior to joining Nebraska, Heath held roles as clinical research manager, animal welfare officer and attending veterinarian for Novartis Animal Health. He was a regulatory consultant with Elanco Animal Health and owned two veterinary clinics.
Through his involvement in NVMA, Heath has served as chairman of the organization's Board of Veterinary Medicine and Surgery, the Food Animal Safety Committee and the Legislative Committee. Heath holds a doctorate of veterinary medicine from Iowa State University.
---