Lindsey Amen, August 24, 2020
UCARE wraps summer with virtual showcase
Malayna Wingert, a sophomore biological systems engineering major from Sterling, Nebraska, lifts a water sample out of Holmes Lake as Anni Poetz and Maddie Carpenter record data. The students worked under faculty member Jess Corman this summer through Nebraska's UCARE program. Craig Chandler/University Communication
Nebraska's Undergraduate Creative Activities and Research Experience program is celebrating the end of its summer session with a virtual showcase of student projects.
Available on UCARE's MediaHub channel, the showcase features voiceover-led video presentations that summarize each participant's summer research. Students would typically share their work during an in-person poster session on campus, but the event was canceled this year due to the ongoing pandemic.
"Although seeing our participants gathered together in-person is always a highlight of the summer, we were excited to try out this new method of sharing their projects. Now, family members, friends, classmates or anyone looking to learn a little more about our Huskers' research can do so without having to be physically present at a poster event," said Justina Clark, director of undergraduate research.
During the summer months, 135 undergraduate students participated in UCARE projects. Each participant receives a stipend of $2,400 to research under a faculty member for 20 hours a week, with subjects ranging from the humanities to STEM.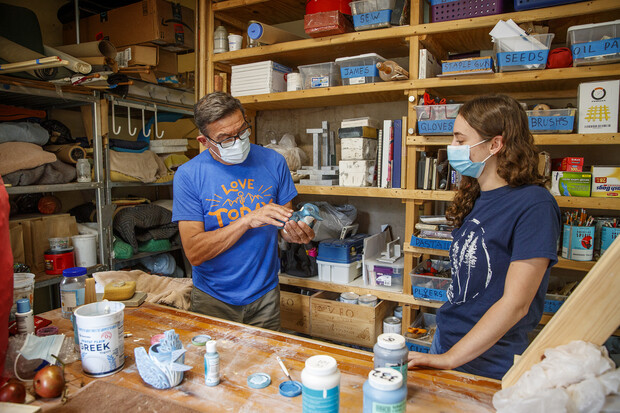 Annie Wang, a junior emerging media arts major from Omaha, was one of this summer's UCARE participants. Wang worked remotely under Ash Smith, assistant professor of emerging media arts, to create short films on humans, computers and the environment in the context of the Southern United States.
"Creatively, I have felt very defeated by the effects of the pandemic (like many others), but doing UCARE this summer has made me feel pretty accomplished about tackling and creating all of this work despite all the obstacles and challenges the pandemic has presented us," Wang said. "I now have something to put on my resume and more stuff to put on my creative reel. It was really awesome to be funded to pursue creative work, and I feel extremely grateful that I was able to do everything completely from home during this chaotic time."
At a time when internships and professional development opportunities are being canceled or postponed for students across the country, Clark said she is especially proud of UCARE's success this summer.
"As a Big Ten institution, giving students the chance to immerse themselves in research firsthand is an important part of our mission. We didn't want that to stop once the pandemic began," Clark said. "Moving forward this fall, I am confident that we'll continue to provide excellent learning experiences for our students."
---