civil and environmental engineering
Dan Moser, October 26, 2023
Research aims to improve recycled concrete for construction, carbon sequestration
Crews remove concrete and debris from the demolition site of Cather and Pound Halls in February 2018. Nebraska researchers are working to improve recycled concrete for reuse in construction. Craig Chandler | University Communication and Marketing
University of Nebraska researchers are studying the economic and practical feasibility of using recycled concrete as a building material and as a source of carbon sequestration.
The project is funded by an $805,000 grant from the Department of Energy, one of 33 grants totaling $131 million awarded this year as part of its goal to achieve net-zero greenhouse gas emissions by 2050. Matching funding takes the total to more than $1 million.
More than 1.8 billion tons of concrete is used in construction every year in the United States alone, and its production is a prolific generator of carbon emissions; for every ton produced, a nearly equal amount of carbon dioxide, a greenhouse gas linked to global warming, is released into the atmosphere.
"Also, we tear down lots of structures – infrastructure, buildings, so on," said Seunghee Kim, associate professor of civil and environmental engineering at Nebraska and one of the research team's leaders. "Whenever we tear down, there's a lot of waste concrete," much of which ends up in landfills.
Waste concrete also can be crushed and processed into a material known as recycled concrete aggregate and reused in construction, but it's weaker than original concrete. Earlier research by Kim has found RCA can be strengthened through a process called carbonation: calcium hydroxide and calcium silicate hydrate, both found in concrete, can react with carbon dioxide to form a compound called calcium carbonate, which strengthens the RCA.
Because concrete absorbs carbon dioxide, the gas is captured within the calcium carbonate and permanently stored there.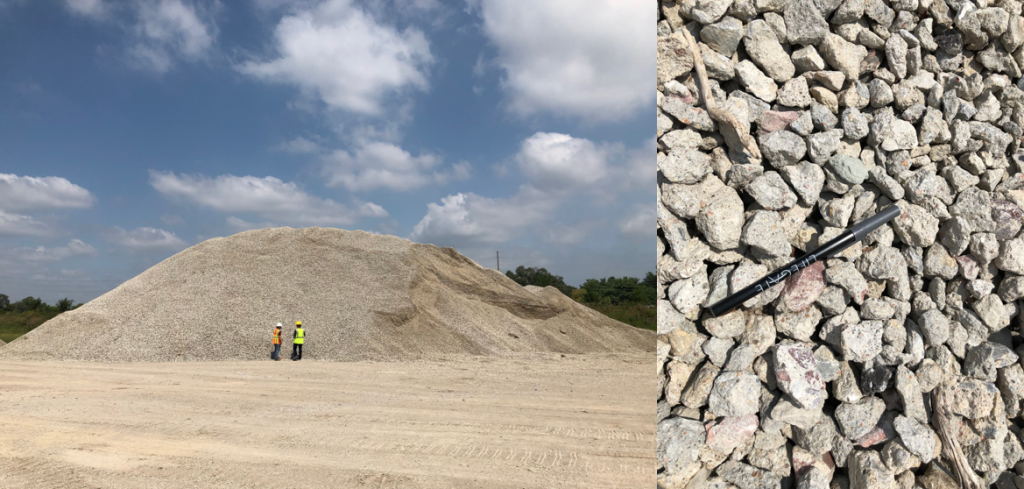 The new DOE funding will enable Kim and others to expand from successful, but small-scale, lab experiments, in 10- and 30-gallon chambers, to much larger-scale production in a one-ton capacity reaction chamber. A private construction company based in Omaha, Hawkins Construction, is collaborating on the project.
The specialized reactor will accelerate the carbonation process and identify the ideal pressure and carbon dioxide levels needed to modify recycled concrete aggregate.
"On the one hand, this process can make the RCA stronger. But also we can sequester carbon dioxide," Kim said. "It's a win-win."
The research will include analysis of RCA properties, such as residual mortar content, chemical composition, aggregate crushing value, freeze-thaw resistance, abrasion resistance, pH and concentration of heavy metals in leachate water.
Christopher Exstrom, chemistry professor at the University of Nebraska at Kearney, will lead undergraduate students in conducting chemical analyses on the samples "to make this carbonation reaction more efficient and more productive," he said.
His role is to help determine the mechanisms by which recycled concrete aggregate reacts with carbon dioxide, as well as analyze concrete samples using X-ray diffraction, thermogravimetric analysis, infrared spectroscopy and scanning electron microscopy.
Ultimately, Exstrom said, this research could lead to more recycled concrete being used in construction, reducing the industry's carbon footprint.
Kim said the pathway of this research exemplifies UNL's research-funding pipeline; it began a few years ago with internal grant funding, later was supported by the Nebraska Department of Economic Development and has grown to be a DOE-supported project, part of a national move to reduce greenhouse gases.
Hawkins Construction is participating because private industry wants to know "if they can make this work economically. Does it make sense for them?" Kim said.
Eric Thompson, K.H. Nelson College Professor of economics and director of the Bureau of Business Research at Nebraska, is part of the research team, focused on those economic questions.
"A number of private sector companies are interested, when feasible, in addressing climate change," Thompson said. "There's reason to believe there's a market out there for people who'd prefer to use concrete that is more carbon neutral. The question is how large are those markets? … What are the costs of using this technology? There's a number of questions of interest to economists."
The research has far-reaching implications for the concrete industry, said Jiong Hu, professor of civil and environmental engineering and another member of the research team.
"There's tremendous pressure on the concrete industry, largely because of its carbon footprint," Hu said. "This is something that would not just benefit the concrete industry, but society, too."
The research could lead to at least 20 million tons of permanent CO2 storage per year in the U.S.
---