Tiffany Lee, October 7, 2019
ORED's 'Faculty Connector' sparks research ideas, expands campus networks
Photos by Jeff Wilkerson, Office of Research and Economic Development
Over the years, the University of Nebraska-Lincoln has seen multiple iterations of a faculty club. Long ago, it was in a building around 16th and R streets – roughly where the Wick Alumni Center stands – and was a space reserved exclusively for faculty to have coffee and lunch while they exchanged ideas and formed partnerships.
It later moved to a fancier setting – a restaurant on the top floor of the Stuart Building at 13th and P streets called the University Club – where faculty could pay a membership fee to dine and entertain visitors.
Now the university has another version of a faculty club – but with a few modern twists. The Office of Research and Economic Development's Faculty Connector series brings together faculty and postdoctoral scholars to informally socialize over food and drinks. By varying the location, the Connector has the vibe of a pop-up event or bustling coffeehouse. Each gathering features a few short, interactive presentations by Nebraska researchers, followed by unstructured networking.
The goal is to foster interdisciplinary research collaborations by connecting faculty who otherwise may never cross paths.
"The purpose is to get faculty in the same room," said Deb Hamernik, associate vice chancellor for research.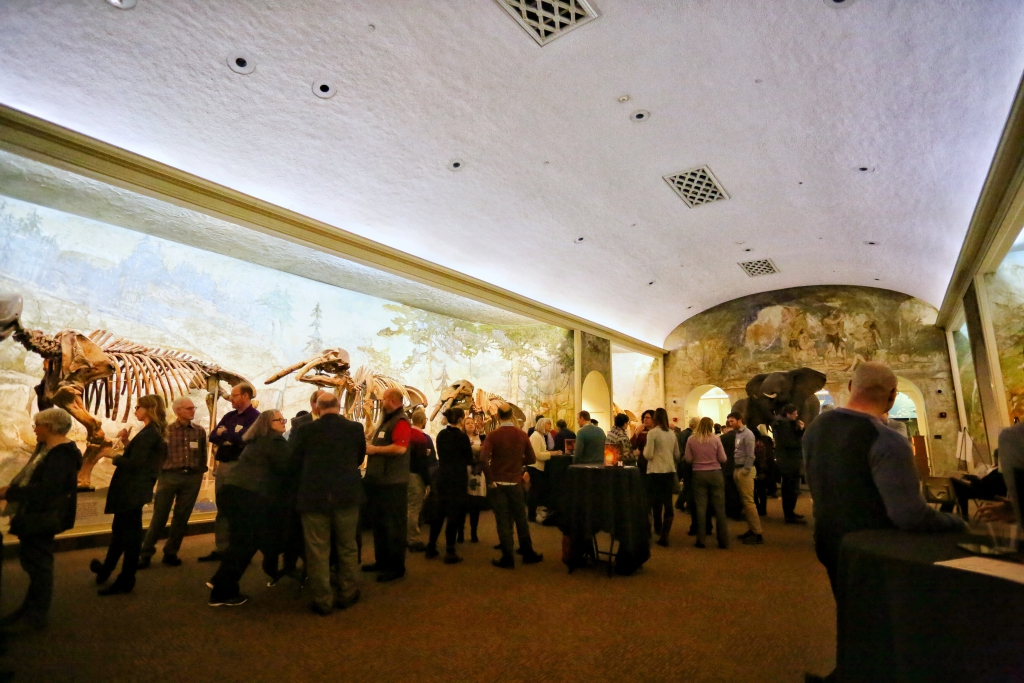 The series' genesis traces back more than a decade. In response to federal funding opportunities exceeding $10 million, ORED started organizing retreats and meetings aimed at forming interdisciplinary research teams to submit proposals. Those events revealed the value in bringing together faculty from diverse disciplines – and the need to do it more often.
"We could see how much people didn't know about what was going on across campus," Hamernik said. "And we could see how the events sparked connections and stimulated intellectual networking. We knew this had value, but we weren't sure how to take it to the next level."
With input from the ORED Research Advisory Board and the associate deans for research, plans were made for a monthly networking event during the academic year, starting with the debut ORED Faculty Connector in April 2017. Since then, each event has drawn about 70 people.
Combining expertise to study Nebraska waterways
David Dunigan, research professor of plant pathology, attended that first Connector. That's when he learned about the Platte Basin Timelapse project, an initiative that tells stories about the basin through innovative multimedia content.
Conservation photographer Michael Forsberg and veteran NET Nebraska producer Michael Farrell discussed placing more than 60 time-lapse camera systems throughout the basin to document the changing watershed and the implications for water quality and quantity.
The project immediately captured Dunigan's interest, as much of his research focuses on the microbial communities in the alkaline lakes in western Nebraska's Sandhills, which are considered part of the Platte River Basin. What if, he thought, Forsberg and Farrell placed a camera by those lakes, capturing footage of the organisms that use the lakes? That information could guide his research by providing clues about the microscopic activity in the water.
After the presentation, Dunigan approached the duo, both of whom are affiliated with the Department of Agricultural Leadership, Education and Communication. Not only were Forsberg and Farrell familiar with the alkaline lakes; they also were willing to meet with him to discuss potential collaborations.
"They were really interested in the microbiology point of view since their photography is more on the macroscale," Dunigan said. "What connects it all is water. Can we connect the macro stuff – what you can see with the camera – to what you cannot see in the water?"
To start answering those questions, Farrell, Forsberg, and Dunigan have been scouting potential locations near the alkaline lakes to place a time-lapse camera. They've also recruited about 20 other collaborators, including limnologists, fish biologists, nematologists and others from the School of Natural Resources.
Farrell and Forsberg also connected Dunigan to Mary Harner, an associate professor of communications and biology at the University of Nebraska Kearney. That cross-campus partnership made it possible for Dunigan's group to win a University of Nebraska Collaboration Initiative grant.
They're using the award to strengthen the team and position themselves to earn external funding. Dunigan said his serendipitous meeting with Forsberg and Farrell made it possible.
"One of the requirements of the Collaboration Initiative program is an inter-campus collaboration," Dunigan said. "That wouldn't have happened if I had not met with Mike Farrell and Mike Forsberg."
Exploring timely research questions
Valerie Jones, assistant professor of advertising and public relations, made a similarly fruitful connection at an ORED Faculty Connector when she struck up a conversation with Julia McQuillan, Willa Cather Professor and chair of sociology. The two had met before in passing, but they hadn't talked in depth about their research. They soon realized they were both interested in exploring how people perceive and interact with technology.
That conversation led to an email exchange and coffee date, where McQuillan described to Jones an interdisciplinary project she was involved in with Nebraska engineers and food scientists. She asked Jones if she was interested in joining the project, already in the proposal stage. Jones ultimately contributed to the proposal by helping to craft research that would explore how consumers perceive and adopt new food technologies, as well as communications strategies to improve public understanding of such technologies.
Jones said the Connector, with its designated time for research-focused conversation, was integral to her involvement.
"Usually, you don't meet people in a setting where there is time to sit down and chat about what you're working on," she said. "Typically you're between meetings or running off to the next thing. I could have randomly run into Julia somewhere else, but it was important to meet in that research context where the focus was on engaging with people from other disciplines. I never would have gotten connected with this amazing project without the Faculty Connector."
---