Heidi Uhing, February 16, 2021
Nearly 500 Huskers helped shape university's Grand Challenges
When called by Chancellor Ronnie Green to help focus the future of University of Nebraska–Lincoln research and creative activity, nearly 500 faculty, staff and students from 195 campus units came together in summer 2020.
Their task — to identify a set of major societal issues to be solved through interdisciplinary collaboration. Their priorities were narrowed to seven Grand Challenges, which Chancellor Ronnie Green announced in his Feb. 15 State of Our University address.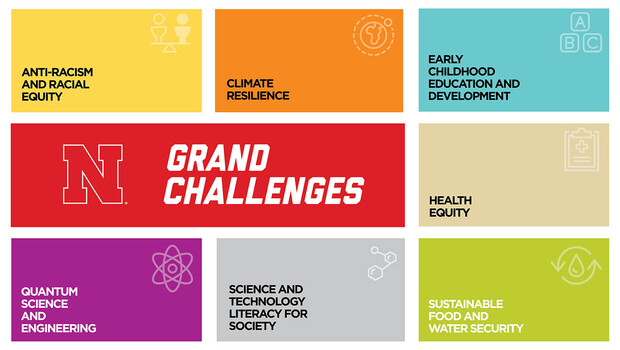 The Grand Challenge themes are:
Sustainable Water and Food Security;
Early Childhood Education and Development;
Climate Change, Mitigation and Resilience;
Quantum Science and Engineering;
Anti-racism and Racial Equity;
Health Equity; and
Science and Technology Literacy for Society.
In-depth descriptions of the Grand Challenges are available here.
"I am tremendously excited at the work done across the campus to develop and hone these grand challenges," Green said. "They are necessary work and distinct opportunities for our university to have an even greater defining impact for Nebraska and our world.
"I am eager to move forward aggressively, including with new strategic investments in the coming year."
The challenge themes will help guide activities and talent and be used to direct institutional investment and resource allocation. The university will prioritize the focus of the research, scholarship and creative activity occurring across the institution by aligning at least 50 percent of strategic investments with Grand Challenges.
Pursuing the challenges is a goal of the N2025 strategic plan. The process to identify specific challenges was facilitated by the Office of Research and Economic Development on behalf of the Office of the Chancellor and involved forums, surveys and workshops to collect and narrow the suggestions gathered from faculty, staff and students. Smaller groups then collaborated to write descriptions of each theme.
Bob Wilhelm, vice chancellor for research and economic development, said he was grateful to all in the university community who participated in the process to identify the seven focus areas.
"Our collaborative work on these grand challenges will reach across the many areas of expertise at the university," Wilhelm said. "New research, scholarship and creative activity will lead to transformative solutions that impact the world."
Nathan Meier, assistant vice chancellor for research, said pursuit of the Grand Challenge themes will help the university harness its talent and resources, working in more focused and targeted ways.
"This long-term effort is critical to ensuring Nebraska leverages its many strengths, enabling us to fulfill our university's potential and have a broad and lasting impact," Meier said.
---