Posted November 2, 2017 by Tiffany Lee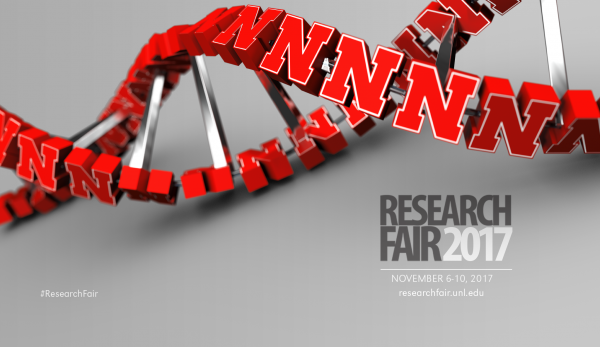 The University of Nebraska-Lincoln's fall Research Fair, Nov. 6-10, will celebrate faculty achievements, foster the cross-disciplinary exchange of ideas and explore topics related to research and creative activity.
The fair is open to all Nebraska faculty, staff and students, though registration is required for some events. Participants are encouraged to use the #ResearchFair hashtag on social media and tag @UNLresearch.
The fair includes the following events, though times and locations are subject to change. The Research Fair website contains the most current schedule.
Schedule for Monday, Nov. 6
Kathie Olsen, founder and managing director of ScienceWorks LLC, will kick off the fair from 11:30 a.m.-1 p.m. with "One Big Idea, Multiple Missions: Maximizing Your Opportunities for Research Funding" in the Nebraska Union Ballroom. Lunch will be served. Registration is required.
Schedule for Tuesday, Nov. 7
The Faculty Recognition Breakfast, a celebration of the university's research and creative activity, is 8-9:30 a.m. at the Nebraska Innovation Campus Conference Center. Registration is required.
James Rea of the Alan Alda Center for Communicating Science will present "A Science Communication Workshop: Designing a Vivid Message" from 9:30 a.m.-12:30 p.m. at the NIC Conference Center. This interactive session addresses how to present complex scientific topics in clear, vivid and engaging ways using The Alda Method™. This approach helps researchers create common ground, use conversational language and foster genuine audience connections when talking about their work. Registration is required.
The Research Services and Core Facility Expo is 3-5 p.m. at the NIC Conference Center. Attendees will interact with staff from more than 40 core facilities and research-related service offices to learn how to leverage these resources.
From 5-7 p.m., comic book artist Bob Hall is signing copies of his educational graphic novel, "Carnival of Contagion," on the second floor of Love Library South. Nebraska researchers Judy Diamond and John West contributed to the plot, which focuses on the dangers of measles. The book was published by the University of Nebraska Press.
Schedule for Wednesday, Nov. 8
From 9:30-10:30 a.m., Research Compliance Services is providing Common Rule training in the Nebraska Union Georgian Suite. Faculty and staff will learn about the impact of changes to the federal regulations on human subjects research, expected to take effect in January 2018, and how to ease the process of compliance.
Joanne Kamens, executive director of Addgene, is presenting "Building Professional Relationships for Success" from 9:30-11 a.m. in the Unity Room of the Jackie Gaughan Multicultural Center. The talk, geared toward postdocs and grad students, will focus on the value of networking and emphasize practical techniques for meeting people and nurturing connections. Registration is required.
Kamens also will give the keynote speech at the Postdoc Awards Luncheon, 11:30 a.m.-1 p.m. in the Gaughan Center Unity Room. Her talk, "A Call to Action – Taking Steps to a Fulfilling Career in Science," will focus on strategies for launching a meaningful long-term career. Registration is required.
The Winning Federal Defense Research Grants luncheon is 11:30 a.m.-1 p.m. in the Nebraska Union Heritage Room. Registration is required. A panel discussion will focus on best practices for pursuing Department of Defense funding. Faculty also will learn how to become involved in the university's new Growing University Activity for Research and Defense initiative, or NGUARD.
During the Science Slam: Postdoc Edition, selected postdoctoral associates will have five minutes to describe their work in an accessible, entertaining way. The event is 1-2:30 p.m. in the Nebraska Union Auditorium. Participants are competing for research travel grants.
The Postdoc Research Poster Session is 3-4 p.m. in the Gaughan Center Ubuntu Room. Postdoctoral researchers will showcase their research or creative activity, communicate their results and learn about colleagues' work. Faculty are encouraged to attend. Registration is required.
From 3:30-4:30 p.m., Matthew Waite, professor of practice in the College of Journalism and Mass Communications, will deliver the Nebraska Lecture in the Nebraska Union Auditorium. Waite's lecture, "The Drone Age is Here, and We're Screwing It Up," will address the legal and ethical dilemmas of modern-day drone regulation. A reception will follow in the Nebraska Union Heritage Room. During the lecture, ORED will give away two free drones. Attendees must be present to enter and win.
A Faculty Connector event is 5:30-7 p.m. at The Mill Coffee & Bistro at Nebraska Innovation Campus. Registration is required. Featuring readings by Nebraska faculty Jennine Capó Crucet and Grace Bauer, this event is an opportunity for faculty to network and socialize in a casual setting. Refreshments will be served.
Schedule for Thursday, Nov. 9
Errol Arkilic is presenting "Evidence-based Entrepreneurship: The Origin Story of the NSF I-Corps" from 11:30 a.m.-1 p.m. at the NIC Conference Center. Registration is required. Arkilic is chief executive officer of M34 Capital and previously served as the founding and lead program director for the National Science Foundation Innovation Corps effort. Lunch will be served. NUtech Ventures is hosting this event.
NUtech Ventures' 2017 Innovator Celebration is 4-6 p.m. at the NIC Conference Center. The event recognizes the achievements of Nebraska innovators and their promising technologies. Refreshments and hors d'oeuvres will be served. Registration is required.
Schedule for Friday, Nov. 10
The fair will wrap up with a faculty-to-faculty poster session and networking luncheon, 11:30 a.m.-1 p.m. in the atrium of Howard L. Hawks Hall. Designed to foster cross-disciplinary collaboration, this event will feature posters from an academically diverse group of Nebraska faculty. Lunch will be served.
---