Dan Moser, November 7, 2019
Faculty Slam demonstrates research expertise, passions
Bob Wilhelm, Vice Chancellor for Research and Economic Development, awaits Faculty Slam results with participants, from left, Daniel Tannenbaum, Lisa Knoche, Margaret Jacobs and Prahalada Rao. Photos by Ashley Washburn, Office of Research and Economic Development
From the unlikely intersection of 3D engineering and baking to reconciling the trauma of long-mistreated indigenous peoples, from early childhood development to the connection between eviction and urban poverty, University of Nebraska-Lincoln faculty celebrated the vision and impact of their work.
"How will your research change the world?" asked Nathan Meier, assistant vice chancellor for research, in kicking off Wednesday's Research and Creative Activity Slam, part of this week's Nebraska Research Days celebration. It was the second annual Slam hosted by the Office of Research and Economic Development.
A research slam? Think poetry slam, but with more PowerPoint. Four faculty members were chosen to explain their research to colleagues in no more than five minutes and three slides – restrictions they largely stuck to.
Several participants shared the moments when their research changed them. For historian Margaret Jacobs, it was participating in a gathering in Ottawa in 2015 that aimed to come to terms with Canada's attempts throughout history to erase indigenous people's culture and traditions. On the one hand, she recalled feeling "weighed down by the magnitude of the cruelty," but on the other, feeling "a deep connectedness and desire to do better."
"How can my work help people come to terms with the trauma of the past?" Jacobs asked herself. Her current work includes the Genoa Indian School Digital Reconciliation Project, an effort to contribute to reconciliation and healing by making the history of the Genoa Indian Boarding School more accessible to the families of those who attended and by raising public awareness about Native American boarding schools.
"History may seem so yesterday, but reckoning with our history is essential to overcoming our divisions," said Jacobs, Chancellor's Professor of History.
For his part, Prahalada Rao noted that many still believe "3D printing is going to solve all the problems of the world," but, he said, there's work to do to improve the process, which can produce flaws in its final product.
Rao, assistant professor of mechanical and materials engineering, hit on baking as the perfect metaphor, as he explained in an energetic presentation. The best equipment, ingredients, recipe and chef are needed for both.
"Come to me, give me money and I will change the world," Rao said to laughter.
Lisa Knoche, research associate professor at the Nebraska Center for Research on Children, Youth, Families and Schools, thinks of Matthew, a troubled young boy she met while working in an inpatient psychiatric ward early in her career, as she reflects on progress being made at Nebraska and elsewhere on early childhood development.
She said 75 percent of Nebraska children ages 0-6 have all available parents in the workforce. This makes a highly collaborative approach between early childhood professionals and parents is key to raising healthy children and, eventually, adults, she said. That approach would've benefited Matthew and other children facing challenging situations.
"Our future depends on having well-adjusted, healthy children who will be community leaders" someday, Knoche added.
Daniel Tannenbaum, assistant professor of economics, is working with collaborators to study evictions in Cook County, Illinois. Their goal is to determine to what extent eviction is a condition of urban poverty and to what extent it causes it. Their research tracks data including income, number of children, neighborhoods, household demographics to measure people's economic situations in the years before and after their eviction.
Ultimately, Tannenbaum said, policies could emerge from his research to help address the links between housing instability and urban poverty.
Tannenbaum won the research slam based on votes by attending faculty.
Nebraska Research Days continued Thursday (Nov. 7) with an Association for Women in Science Luncheon and ends Friday (Nov. 8) with a Nebraska Lecture featuring a performance of "Nebraska Songbook." Visit the Research Days website for more details.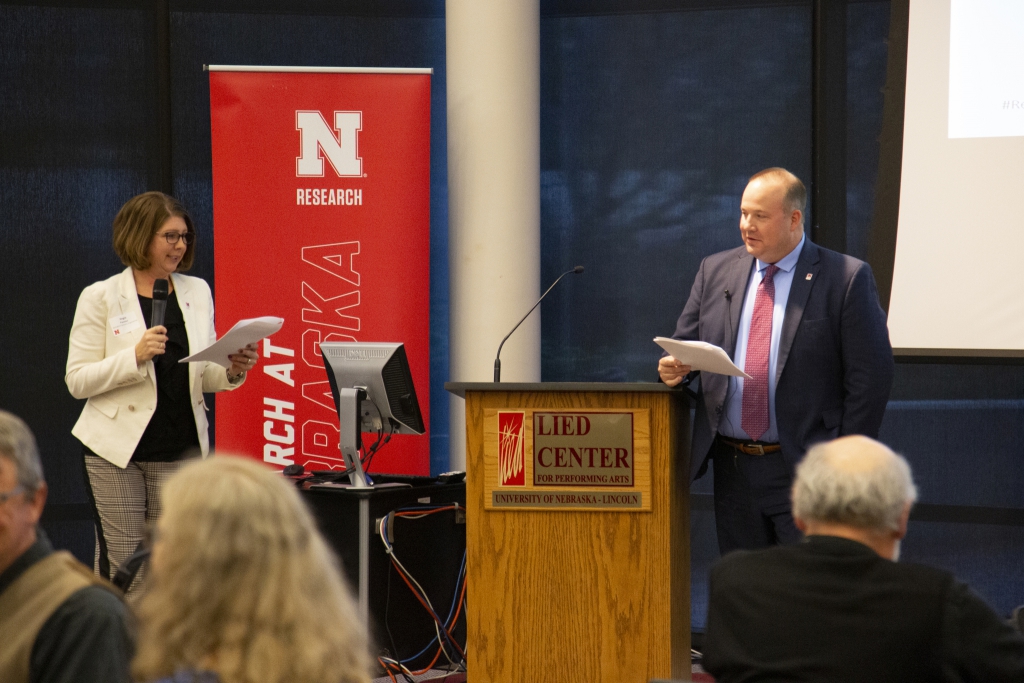 ---