Deann Gayman, September 25, 2020
Bartelt-Hunt searching sewage for COVID-19
Spencer Perry, graduate student in environmental engineering, takes a wastewater sample from the sewer flowing from Smith Residence Hall. Craig Chandler/University Communication
Every Thursday morning, before most of campus is awake, University of Nebraska–Lincoln engineer Shannon Bartelt-Hunt and a small team of graduate students and building systems personnel can be found at various campus sites, lifting manhole covers and collecting sewage samples.
They're on the hunt for SARS-CoV-2, the virus that causes COVID-19.
After collection, the samples are processed by separating the solid material from the wastewater. The virus is extracted from the solids and then analyzed by a method called reverse transcription polymerase chain reaction — or RT-PCR — similar to how individual swab tests are run. Bartelt-Hunt is collaborating with public health and infectious disease researchers at the University of Nebraska Medical Center on the analysis.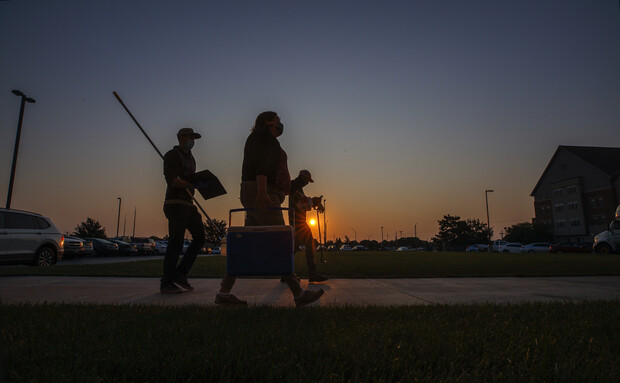 The project is not intended to track the spread of COVID-19 on campus. Rather, it is part of a larger research project Bartelt-Hunt is conducting with UNMC into the feasibility of using wastewater testing for surveillance of SARS-CoV-2 in Nebraska. It also is contributing to a body of research that may establish wastewater testing as an additional tool for communitywide surveillance to predict clusters or outbreaks, before they show up through individual swab tests.
"There's some evidence that people are shedding the virus before they even start showing symptoms, so the thinking is that wastewater can be predictive of community spread," Bartelt-Hunt said. "You're getting a snapshot of a portion of a community, and modeling can be done to estimate the number of community cases predicted by the concentrations in wastewater.
"If communities know where some of the cases are occurring, they can target testing sites and health care resources in those locations."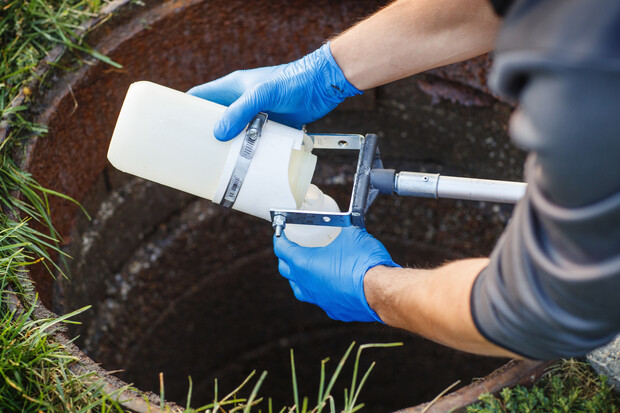 RNA from SARS-CoV-2 has been found in sewage, and sewage collection has been previously used for surveillance of other viruses, such as polio. The Centers for Disease Control and Prevention announced in August the creation of the National Wastewater Surveillance System to track COVID-19 prevalence in communities.
Bartelt-Hunt began her COVID-19 wastewater surveillance research in April with sewage collections in Omaha, Lincoln and Grand Island municipalities.
"Right now, we're confident in our collection and testing methods," Bartelt-Hunt, professor and chair of civil and environmental engineering, said. "Some initial conclusions we've had from the (municipal) data so far is that we see levels of virus in wastewater that track with the general trends of reported cases, and we find different amounts of the virus in in different parts of the communities."
She's bringing the research to campus now, as students have re-populated residence halls. Bartelt-Hunt worked with University Building Systems Maintenance to identify eight University Housing facilities where wastewater was localized and could be tested: Harper, Schramm and Smith halls, the Village, Knoll Residential Center, Kauffman Residential Center and two spots near Niehardt Hall, part of which is being used as an isolation facility for students who have the virus. Testing began Sept. 17 and Bartelt-Hunt plans to continue the weekly collections through July 2021.
"Right now, we want to see what the data looks like for UNL and how it could be interpreted here," she said.
Funding for the campus project came from the Office of Research and Economic Development.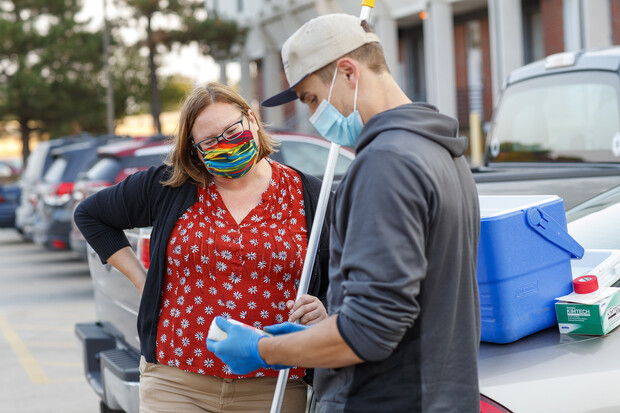 ---