Posted October 4, 2019 by Dan Moser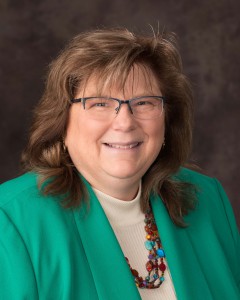 Jeanne Wicks jokes that researchers figure if they hear from her, it's usually not a good thing.
But, she says, her team plays a key role in making sure research funding is not only secured, but successfully managed throughout the life of projects. The rules and regulations are daunting, and her team helps make sure they're followed.
"We manage projects from the cradle to the grave," said Wicks, who will retire Nov. 1 as director of sponsored programs in the Office of Research and Economic Development. That means shepherding complex projects from the proposal stage to closeout.
"We're really here to help them with their projects and make sure they don't get into trouble."
OSP has grown since she came to the university as director of the post-award team in 2003 – overseeing record growth from $142.6 million in sponsored awards to $271.2 million in fiscal year 2019. The staff has grown from six to 26. "I'm really thankful to the staff. They are wonderful."
As she looks back on her time at Nebraska, Wicks remembers former vice chancellor Prem Paul's counsel to "get close to the research" and takes satisfaction in her office's role in the groundbreaking work done by Nebraska scientists. She mentions research that reduced from $600 to $6 the cost of a hemophiliac patient's treatment when they got a cut. She recalls scientists on the ice at Antarctica sending her photos.
"What excites me is what we have found here at Nebraska that makes an impact on the world."
Wicks isn't cutting ties completely with the university. Beginning next January, she will help with the transition to NuRamp, the system-wide grant management system. Other than that, she plans to spend more time with her first grandchild, reading, doing leatherwork and hanging out with her already retired sister, who said, "We are going to be ladies who lunch."
Suzan Lund, associate director of OSP, said, "Jeanne has been a strong, stabilizing force for the Office of Sponsored Programs, providing consistent and reliable information to the UNL campus since her arrival in 2003. Jeanne was instrumental in raising the reputation and value of our office's services and the staff on her team. I will miss her encouragement, guidance and the many laughs we've shared, but am excited she'll have more time to spend with her family, especially grandson, Wyatt." A retirement reception is scheduled 8:30-10 a.m. Oct. 30 at the Prem S. Paul Research Center's reception space. The campus community is invited to attend.
---