From the Vice Chancellor News for Researchers
Posted September 5, 2017 by Ashley Washburn
Welcome back to a fall semester that will be packed with new ideas and opportunities. The beginning of a new academic year is always exciting, and 2017-2018 promises to be a pivotal time as a new strategic plan for the University of Nebraska-Lincoln takes shape. With Donde Plowman, executive vice chancellor and chief academic officer, and Michael Boehm, Harlan Vice Chancellor for the Institute of Agriculture and Natural Resources and University of Nebraska vice president, established in their leadership roles, we are energized to move toward Chancellor Ronnie Green's goal for Nebraska to become a distinctive member of the Big Ten.
During his State of the University address Sept. 19, Chancellor Green will roll out the campuswide strategic planning process. I urge you to attend and learn how you can help define what our university will become by 2025.
I have been fortunate to serve as co-chair of the Achieving Distinction Task Force, one of four task forces charged with providing background information to develop key areas of the plan. In a series of discussions held over five months, this task force identified areas in which the university is distinctive, our growing areas of strength, and how those strengths relate to national and global challenges.
This work will inform the strategic planning process and how Nebraska defines itself as a distinctive Big Ten university. Because growth in research and economic development is a cornerstone of Chancellor Green's strategic plan, identifying research areas that have the greatest potential for national or international recognition and generating extramural funding is critical to the process. Your input is critically important.
A distinctive university is one that significantly stands out in a positive way. Nebraskans have a strong sense of place and community. We care about and help each other. We take pride in our state, our university and our way of life. It is important that everyone in the university community comes together to define what distinguishes Nebraska among our peer universities. I hope you will participate in this process and take advantage of this unique opportunity to influence the future of your university.
This will be an exciting year at Nebraska!
Steve Goddard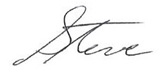 Interim Vice Chancellor for Research and Economic Development
---