Posted March 3, 2023 by Ashley Washburn
The Office of Research and Economic Development is seeking volunteers to serve as reviewers of Grand Challenges planning grant proposals. Reviewers are needed from every discipline at the university.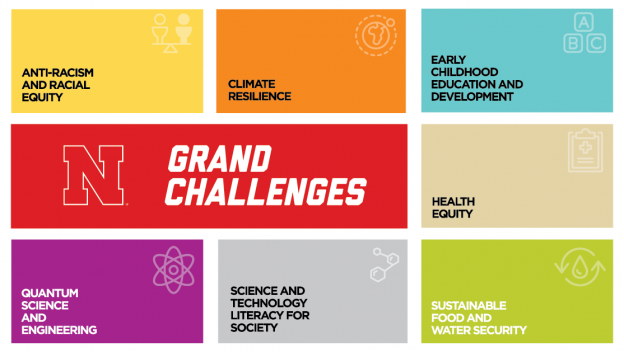 The perspectives of scholars who belong to historically underrepresented groups, including gender and racial/ethnic minorities and individuals having other minoritized identities, are highly valued and sought as part of the proposal review process. Faculty from all academic ranks — including those earlier in their career and emeriti — are encouraged to volunteer.
Faculty who volunteer and are selected to serve as peer reviewers of planning grant proposals will:
Obtain training and practical experience as a proposal reviewer.
Network and collaborate with new colleagues.
Gain line-of-sight to the wide range of scholarly expertise and activity across the university community.
Help guide the future direction of research, scholarship and creative activity at Nebraska.
Receive a service acknowledgement from UNL's chancellor and vice chancellor for research and economic development.
View this message from Chancellor Ronnie Green about the importance of serving as a reviewer.
Reviewers will be needed for nine to 12 hours during May and June. Faculty must complete this form by 5 p.m. April 14 to register their interest in volunteering. Those who would like to nominate a faculty colleague to serve as a reviewer should send the nominee's name, departmental affiliation and email address to grandchallenges@unl.edu.
---