Posted August 3, 2023 by Tiffany Lee
In case you missed these stories highlighting research and creative activity at the University of Nebraska-Lincoln, the Office of Research and Economic Development's communications team has compiled a roundup of some recent top stories from research.unl.edu and other sources.
Husker mathematician draws from geometry to advance field of algebra
Who: Eloísa Grifo, assistant professor of mathematics
What: With a $425,000 grant from the National Science Foundation's Faculty Early Career Development Program, Grifo is advancing her work in commutative algebra, an area of abstract algebra that contributes to visualizing and understanding the properties of shapes in higher dimensions. She is the first woman from UNL's mathematics department to receive CAREER funding. Her work uses concepts from geometry to study points of irregularity, called singularities, in complex shapes described by a system of polynomial equations. The project could help solve problems in robotics, statistics, physics and beyond.
"To us, it's these points of 'bad behavior' that are interesting," Grifo said. "We want to understand this bad behavior and be able to classify it and distinguish between different types of bad behavior."
Writer: Tiffany Lee, Office of Research and Economic Development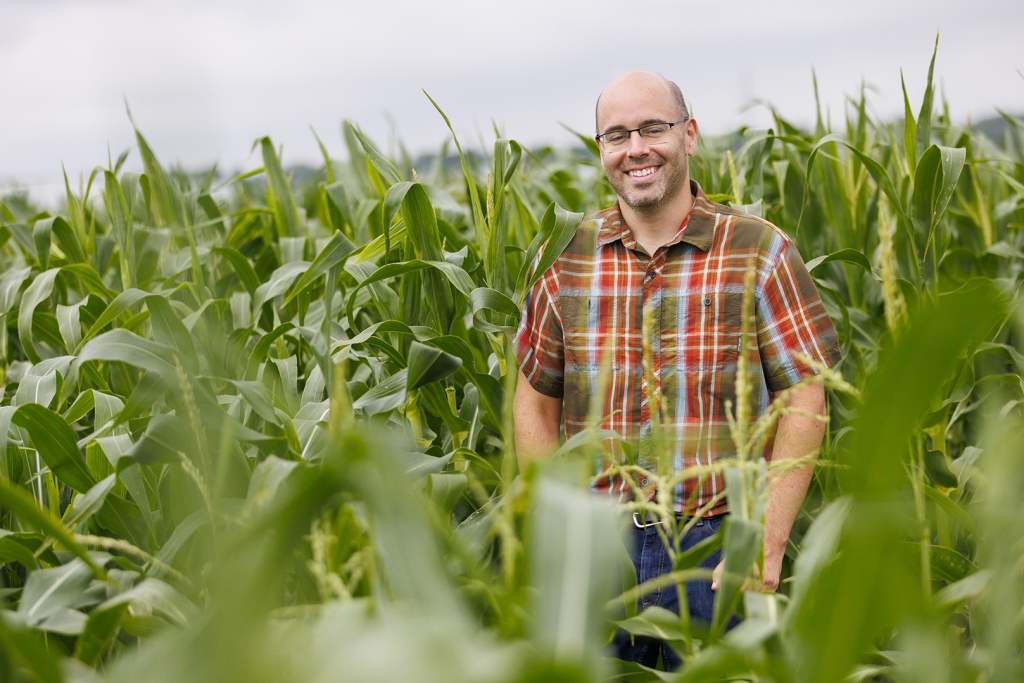 Sequencing breakthrough boosts corn breeding, connects to Nebraska's legacy
Who: James Schnable, Charles O. Gardner Professor of Agronomy
What: Schnable, with colleagues from Iowa State University and China, created the first complete map of the corn genome. This landmark achievement opens the door to major long-term advances in crop health, resilience and productivity. Mapping the corn genome has been a longtime challenge because it is large and immensely complex. Schnable said the team drew on the latest technology, in addition to the team's expertise, to make the breakthrough. They published their findings in the journal Nature Genetics.
"These research findings can help us build tools to predict which new corn varieties will perform well in particular environments, because we will be better able to identify the functions of individual genes in corn," Schnable said.
Writer: Geitner Simmons, Institute of Agriculture and Natural Resources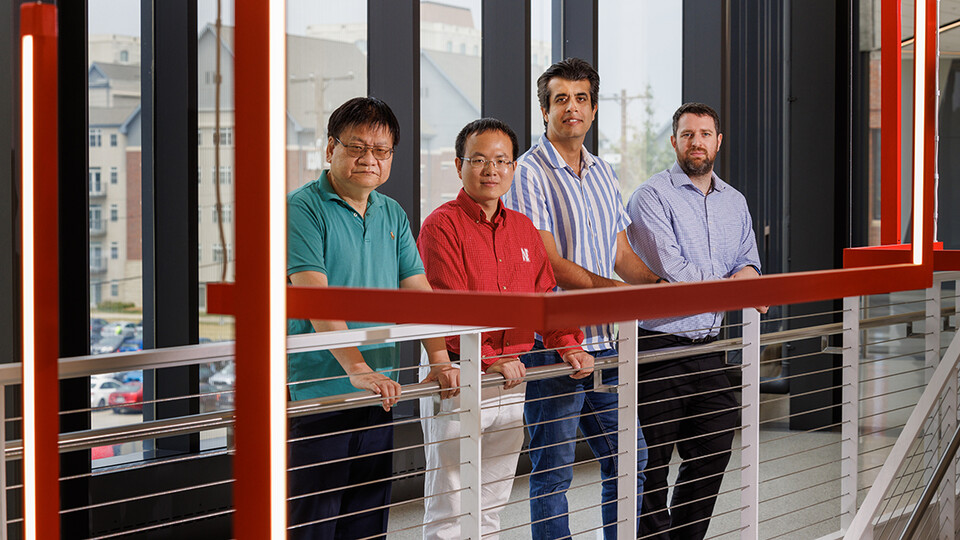 Cui, Grover earn $1.2M in DEPSCoR program funding
Who: Bai Cui, Vernon McBroom Associate Professor of Mechanical and Materials Engineering; Yongfeng Lu, Lott Distinguished Professor in Electrical and Computer Engineering; Piyush Grover, assistant professor of mechanical and materials engineering; Keegan Moore, assistant professor of mechanical and materials engineering
What: Cui and Grover are among the 28 investigators who received $600,000 grants from the Defense Established Program to Stimulate Competitive Research. Cui, collaborating with Yu, aims to eliminate defects in 3D-printed ultra-high temperature ceramics that have superior strength and resistance to super-high temperatures. The materials could be valuable in developing parts for hypersonic vehicles and for next-generation nuclear reactors.
Grover and Moore are purposefully introducing specific defects into structures in order to manipulate the solitary waves traveling through them and, potentially, harness the energy of these waves. When a defect is introduced, a wave will deflect or stall at the point of collision, creating the opportunity to direct the wave's movement in a beneficial way. The strategy could have applications in soft robotics, space exploration and mechanical computing.
Writer: Karl Vogel, College of Engineering
TAPP project delivers strong results for Latinx students, parents
Who: Sue Sheridan, George Holmes University Professor of School Psychology and director of the Nebraska Center for Research on Children, Youth, Families and Schools; Lorey Wheeler, research associate professor in CYFS and director of the Nebraska Academy for Methodology, Analytics and Psychometrics
What: Sheridan led a team that recently completed a five-year project, TAPP para Familias Latinas, funded by the Institute of Education Sciences. The project built on the Teachers and Parents as Partners intervention, which was developed by Sheridan and other Nebraska researchers to enhance student outcomes through strengthened parent-teacher relationships. The team tested TAPP among 155 Latinx-identified K-5 students and found that it improved skills and behaviors at school and home more significantly than standard services.
"Fundamentally, TAPP is an intervention about relationships, so we expected this might be a good fit for Latinx students and their families," Sheridan said. "Latinx families have more home-based education, and learn in more relationship-oriented ways. We have to value the strengths these families bring to the table, and a partnership approach such as TAPP does that."
Writer: Chuck Green, Nebraska Center for Research on Children, Youth, Families and Schools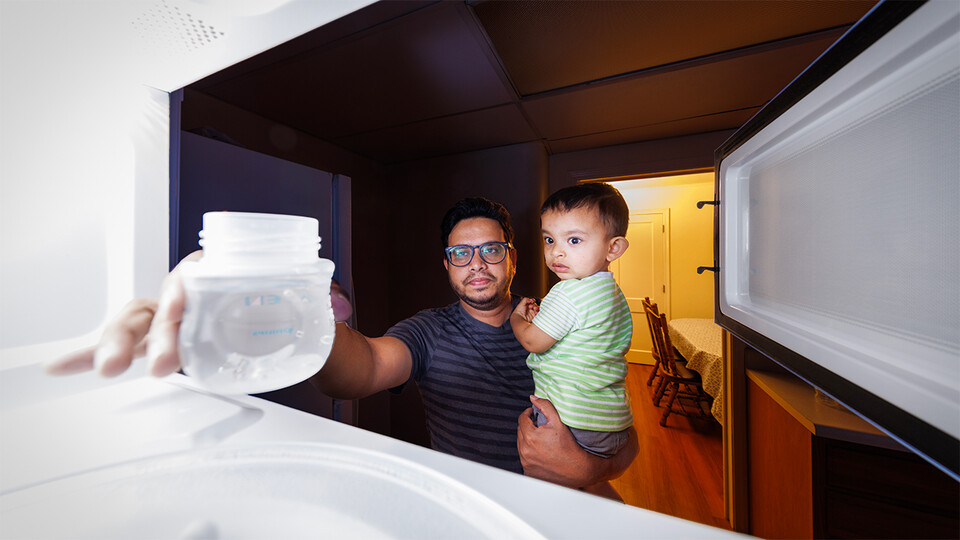 Nebraska study finds billions of nanoplastics released when microwaving containers
Who: Kazi Albab Hussain, doctoral student in civil and environmental engineering; Yusong Li, professor of civil and environmental engineering; and other Husker researchers
What: Hussain was lead author of a study exploring the release of plastic particles from containers made of polypropylene and polyethylene, commonly used for baby food, and how these particles may affect the body. After heating containers made from these materials, the team estimated that infants drinking products with microwaved water and toddlers consuming microwaved dairy products are likely taking in the greatest relative concentrations of plastic. They also found that exposure to these particles killed up to 75% of cultured kidney cells.
"Just as we understand the impact of calories and nutrients on our health, knowing the extent of plastic particle ingestion is crucial in understanding the potential harm they may cause," Hussain said.
Writer: Scott Schrage, University Communication and Marketing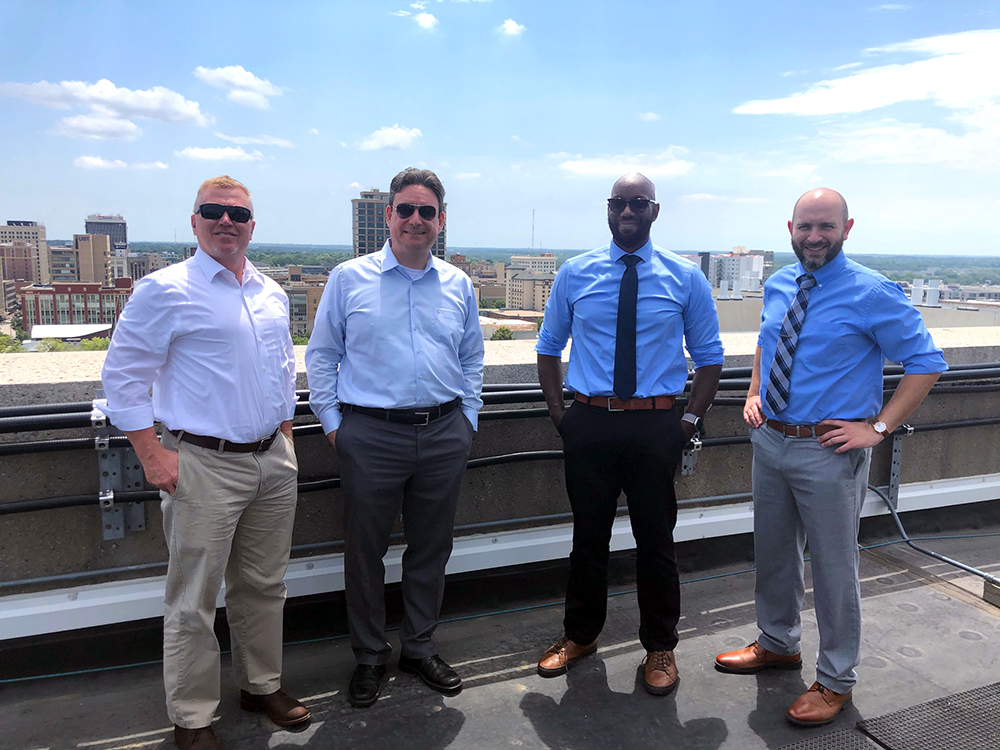 NSRI Fellow receives $430K grant from DoD
Who: Mehmet Can Vuran, Jensen Chair and Professor of Computing and director of the Cyber-Physical Networking Lab at UNL
What: Vuran received a $430,000 grant from the Department of Defense Naval Surface Warfare Center to explore solutions for the highly complex challenges the DOD faces regarding use of the electromatic spectrum. The EMS is the invisible highway system allowing for wireless, remote and autonomous connections of equipment and platforms – but the spectrum is increasingly scarce. Vuran's team will investigate ways to share, sense and leverage the spectrum. This is Vuran's first foray into national security research, which he said was made possible by support from the National Strategic Research Institute at the University of Nebraska.
"Our capabilities in both theoretical and practical evaluations are a great fit for national security. We are excited because we can tackle even more challenging problems," he said.
Writer: Katelyn Ideus, National Strategic Research Institute
Husker scientists contribute to pilot study showing kombucha's possible benefits
Who: Jennifer Auchtung, assistant professor of food science and technology; Robert Hutkins, Khem Shahani Professor of Food Microbiology; Heather Hallen-Adams, associate professor of practice in food science and technology; Chloe Christensen, graduate research assistant in food science and technology; and other Husker scientists from the Department of Food Science and Technology
What: The Husker team lent analytical expertise to a pilot study exploring the health benefits of kombucha, a popular fermented tea, for people with Type 2 diabetes. The study, a collaboration with Georgetown University Medical Center and MedStar Health, was only the second human clinical study on kombucha and the first to include adults with Type 2 diabetes. The team found that subjects who consumed eight ounces of kombucha for four weeks saw their blood sugar levels decrease from 164 to 116 milligrams per deciliter, compared with no significant change for placebo drinkers. The pilot lays the groundwork for larger follow-up studies.
Nebraska's Food for Health Center "can be a good nucleus for these types of interactions between clinicians and basic scientists who are really interested in understanding how foods impact health," Auchtung said.
Writer: Geitner Simmons, Institute of Agriculture and Natural Resources
---