Posted September 19, 2019 by Tiffany Lee
Helping pre-tenure faculty prepare competitive proposals for the National Science Foundation Faculty Early Career Development program is the focus of an Oct. 18 workshop. Registration is required by Oct. 11.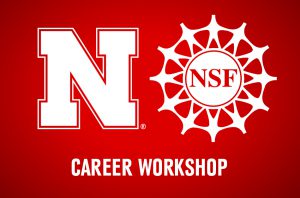 The daylong workshop, set for 8 a.m. to 5 p.m., is in the Lied Commons, 301 N. 12th St., in Lincoln. The workshop is free and open to University of Nebraska faculty, administrators and staff.
The University of Nebraska-Lincoln's Office of Research and Economic Development annually sponsors an early career award workshop to provide prospective applicants with proposal writing advice and information about resources available at UNL to support the development of early career project proposals.
This year, George Hazelrigg, a former program officer with 18 years of experience at NSF, will discuss the fundamentals of developing a CAREER proposal and present best practices for writing a strategic CAREER plan, goals and objectives.
The workshop includes a complimentary lunch during which attendees can network with current and previous CAREER awardees and representatives from the Office of Proposal Development.
For more information contact Tisha Mullen, director of proposal development, 402-472-2894.
---