Posted May 4, 2018 by Ashley Washburn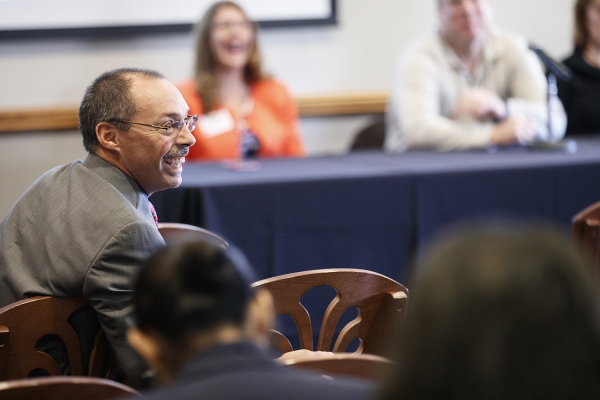 The Office of Research and Economic Development thanks Steve Goddard for his contributions and accomplishments as interim vice chancellor for research and economic development.
Goddard became interim vice chancellor Aug. 29, 2016. A longtime computer science and engineering faculty member, Goddard assumed the role at a challenging time when former vice chancellor Prem Paul stepped down.
As interim, Goddard provided steady leadership and kept the university on track to reach its ambitious research growth goals. Notably, he was selected as co-chair of Chancellor Ronnie Green's Achieving Distinction Task Force, charged with laying the foundation for the campuswide strategic planning process.
Goddard joined the Nebraska faculty in 1998. He has held several administrative posts: associate vice chancellor for research from 2014-2016, interim dean of the College of Arts and Sciences from 2013-2014 and chair of the Department of Computer Science and Engineering from 2008-2013.
When Green appointed Goddard as interim vice chancellor, Goddard said, "Our task … is to build on Prem's work and provide a solid foundation for the next vice chancellor."
Thank you, Steve, for a job well done.
---