Posted December 2, 2019 by Ashley Washburn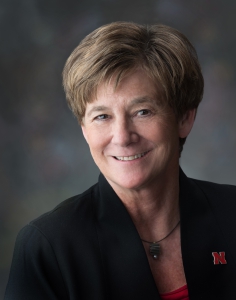 Monica Norby, assistant vice chancellor for research, has announced plans to retire Dec. 31. A reception to celebrate her service to the university will be 4-6 p.m. Dec. 19 at the Lied Commons, 301 N. 12th St.
Throughout her career, Norby has combined her background as a scientist and as a writer to elevate faculty research and advance the University of Nebraska-Lincoln's reputation.
Norby, who holds a master's degree in plant breeding and genetics from Nebraska, began her career as a research technologist and wheat breeder in the Department of Agronomy and Horticulture, helping develop winter wheat and triticale cultivars for one of the world's leading wheat breeding programs. Those efforts resulted in higher yields and improved resistance to drought and disease. On Nov. 26, Norby received a Lifetime Achievement Award from the department.
Although being a wheat breeder was rewarding work, Norby – who minored in English as an undergraduate – saw a growing need for writers who also had firsthand experience as scientists. She transitioned her career into a science communications role. For nine years, Norby was an independent consultant in grant proposal development and news writing. She also wrote research-based articles for Research Nebraska, a publication produced by the Institute of Agriculture and Natural Resources; grain commodity boards; The Nature Conservancy; several universities; and other clients.
She returned to the university in 1998 as one of the Office of Research and Economic Development's first proposal writers, eventually overseeing the proposal development team. She worked closely with Charles Wood, Lewis Lehr/3M University Professor of virology, to develop the proposal that created the Nebraska Center for Virology in 2000, the university's first National Institutes of Health Center of Biomedical Excellence. At the time, the $10 million grant was one of the largest competitive research awards that Nebraska had received.
Norby said she will miss collaborating with talented faculty members to build a supportive foundation for their research programs. "The university is the most interesting and rewarding place to work. There is always something new to learn and wonderful faculty, staff and administrators working together to build new things," Norby said. "I have been so fortunate to be a part of it."
Telling stories about excellence, innovation and impact also has been a highlight. Norby became ORED's first research communications director in 2000 and was responsible for developing a strategic vision to communicate the impact of Nebraska's research successes to internal and external audiences. She launched the first Research Annual Report, now available in both print and online editions.
From 2002-2011, Norby served her first stint as assistant vice chancellor for research, overseeing ORED's efforts in reputation enhancement, federal relations and research development. She helped develop the proposals that established some of the university's leading research centers and award-winning programs: the NIH-funded Redox Biology Center; a partnership with the National Institute of Allergy and Infectious Diseases to develop a botulinum vaccine; the National Science Foundation-funded Math in the Middle Institute Partnership and the NebraskaMATH program; and the NSF-funded High-Power Laser Science Collaboratory, which supported infrastructure improvements to the Extreme Light Laboratory.
In a return to her agronomy roots, Norby played a key role in developing the Robert B. Daugherty Water for Food Global Institute, established in 2010 with a $50 million gift from the Robert B. Daugherty Foundation. She wrote the initial proposal submitted to the University of Nebraska Board of Regents, and once DWFI officially became an NU institute, Norby was named its first associate director, a role she held from 2012-2013. Norby oversaw four global conferences, planned a series of faculty forums and developed memoranda of understanding with the institute's global partners: IHE Delft Institute for Water Education, a partnership with the United Nations Educational, Scientific and Cultural Organization; U.S. Agency for International Development, and International Development Enterprises.
Norby returned to ORED in 2013 to oversee federal relations and research communications and to identify faculty leaders for large-scale projects that align with the university's research priorities. Norby is a member of the NU federal relations team and works closely with Nebraska's congressional offices in Washington, D.C., to secure funding for priority research areas. She will continue her federal relations role in a part-time capacity through the end of June 2020.
---