Posted March 31, 2022 by Alyssa Amen
NUtech Ventures, the university's technology commercialization affiliate, is hosting a free lunch event, with a virtual option, on April 25, "Exploring Career Pathways: Ph.D. to Tech Transfer." Faculty are invited to share information about this event with graduate students and postdoctoral scholars.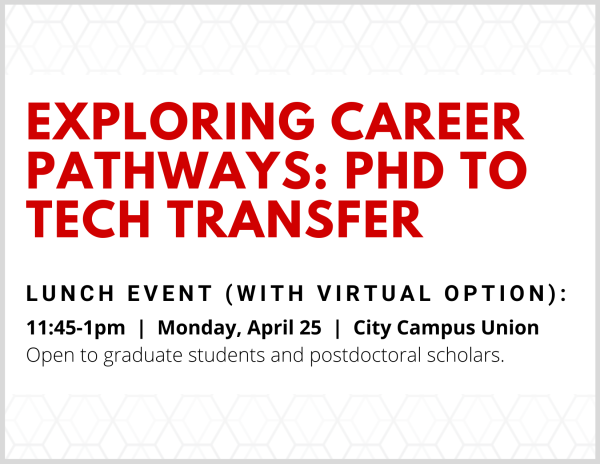 The presentation will be led by Theodoric Mattes, Ph.D., a technology transfer and patent specialist at the National Institute of Allergy and Infectious Diseases, part of the National Institutes of Health. Mattes will share his own journey from a pre-veterinary medicine undergraduate researcher at Nebraska to his current role in technology transfer at NIAID. He will also discuss a variety of career paths open to graduate students and postdocs, and offer tips for anyone considering next steps.
Registration is available at: go.unl.edu/phdtotechtransfer. Those who register for the virtual option will receive a Zoom link by 10 a.m. the day of the event. Mattes' lunch presentation is part of a visit co-hosted by the School of Veterinary Medicine and Biomedical Sciences.
---