From the Vice Chancellor News for Researchers
Posted May 1, 2017 by Tiffany Lee
As the academic year draws to a close and I reflect on our successes and the challenges ahead, I'm reminded that change creates opportunity. Although this is a season of change at our university and beyond, we have many opportunities ahead to make the University of Nebraska-Lincoln stronger than ever.
We are in the midst of a challenging budget situation at the federal and state levels. I won't downplay the anxiety that creates, but I also see a major opportunity to reassess how we carry out our tripartite mission of research, education and engagement. Chancellor Green has set ambitious goals for research and economic development. We cannot simply work harder to reach those goals. We must be strategic, taking advantage of this opportunity to reimagine how we can conduct our research, scholarly and creative activity.
I believe it's critical to strategically invest our time and effort in actions that will have the most benefit and impact for the state of Nebraska and the rest of the world. I am excited by the opportunities to make our university even stronger.
As interim vice chancellor, I have had the privilege of serving on the university's Achieving Distinction Task Force. Chancellor Green's challenge to the task force is to identify ways the university can become a distinctive Big Ten institution, a goal he outlined in his 2016 State of the University address. The Achieving Distinction group has worked hard to gather data and provide the foundation for the strategic planning process, which will involve faculty, staff and students. Over the summer, the vice chancellors and deans will work closely with Chancellor Green to finalize the process.
Beginning this fall, you will have an opportunity to define what our university will become during the next decade. If we are bold, we will strive to holistically create pillars of distinctiveness with broad, cross-cutting foundational execution of research, teaching and engagement. The task force has identified areas in which the university is already distinctive – and we see great potential in others as well. I am hopeful that together, as a university community, we will identify themes of distinction that span colleges, departments, centers and institutes. What makes Nebraska unique is not just what we do, but how we do it.
Growth in research and economic development is a cornerstone of Chancellor Green's strategic plan. I am counting on all of you to play important roles in making this happen.
I hope you have a productive summer that also includes plenty of time to recharge, do the things you enjoy and prepare for the exciting opportunities ahead of us.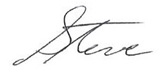 Steve Goddard
Interim Vice Chancellor for Research and Economic Development
---