Posted March 1, 2018 by Tiffany Lee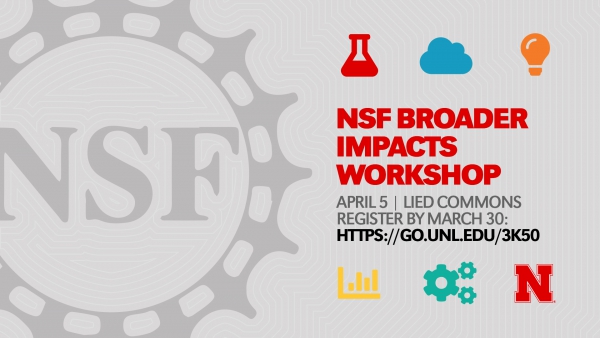 Guiding University of Nebraska-Lincoln faculty in developing strategic broader impacts plans for National Science Foundation proposals is the goal of two workshops and a working lunch on April 5. Registration is required by March 30.
Hosted by the Office of Research and Economic Development and the NSF-funded National Alliance for Broader Impacts, the events are in the Lied Commons, 301 N. 12th St. The first workshop, Broader Impacts 101, is 9-11:45 a.m., and the second, Broader Impacts 102, is 2-4:45 p.m. The working lunch is noon-1:30 p.m.
Participants may register for one or both of the training sessions and are strongly encouraged to attend the working lunch.
NABI steering committee member Jory Weintraub, science communication program director and senior lecturing fellow for the Duke Initiative for Science & Society, will present the workshops. Objectives are to help researchers understand NSF's broader impacts requirements, develop effective plans and gain insight into how these plans are evaluated by reviewers. Participants also will learn about successful broader impacts approaches used by other researchers. Visit the event page for more information about each workshop.
The networking lunch will feature a panel of faculty and staff who will share tips and strategies for developing broader impacts plans.
Broader impacts encompass a research project's potential to benefit society and contribute to desired societal outcomes. All NSF proposals must address broader impacts, and other sponsors are starting to implement similar requirements.
For more information contact Nathan Meier, assistant vice chancellor for research, 402-472-3902.
---