Despite the pandemic, Nebraska's plans for major capital improvements haven't wavered. The Gnotobiotic Mouse Facility – the nation's first to be associated with a university food science department – was completed in late 2020. Construction is underway on facilities for engineering, speech-language pathology, and education and human sciences. When completed, these investments will enhance student learning, expand research capacity and provide additional office space.
---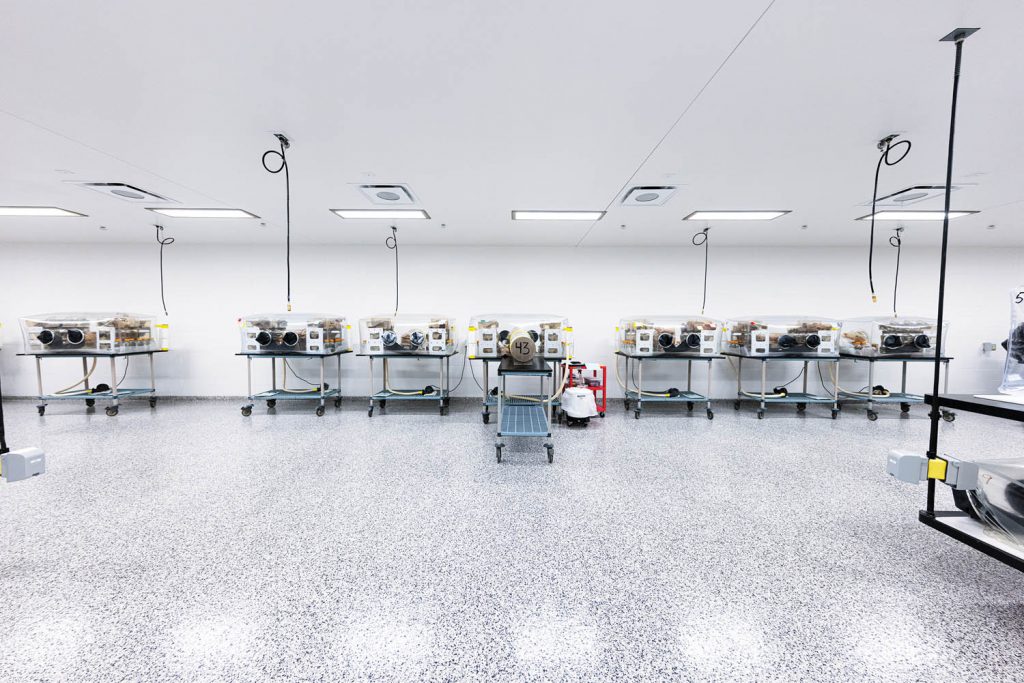 Gnotobiotic Mouse Facility
A cutting-edge, germ-free home for mice is boosting human gut research at Nebraska. The 10,000-square-foot Gnotobiotic Mouse Facility provides a sterile environment for laboratory mice. Researchers can raise mice free of all bacteria, transforming their gastrointestinal tracts into living but sterile mini-laboratories where bacterial species can be controlled, and their effects measured, at a pace and in ways that would be impractical with human subjects.
When Amanda Ramer-Tait, associate professor of food science and technology, arrived at Nebraska in 2012, colleagues already had been working with germ-free mice in about 1,200 square feet of noncontiguous space on East Campus. Demand grew and Ramer-Tait was able to expand available space, but more was needed. That demand for space became more pressing with the launch of the Nebraska Food for Health Center in 2016.
With $5 million in private donor support raised through the University of Nebraska Foundation, the Gnotobiotic Mouse Facility opened in late 2020.
Nebraska's is the only food science department in the country with a gnotobiotic mouse program, more typically found at medical schools.
"Our new facility can now house 50 isolators, plus specialized equipment. I would say this puts us in the top 15 around the world for footprint and scale," said Ramer-Tait, who directs the Nebraska Gnotobiotic Mouse Program.
Nebraska news release: Mouse house: Germ-free facility puts Nebraska U at forefront of microbiome research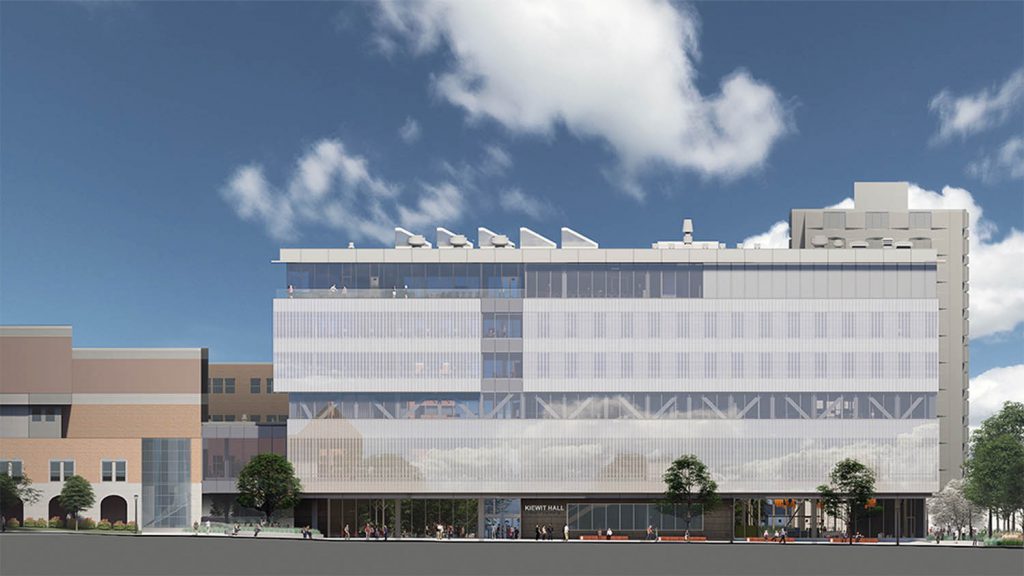 Kiewit Hall
The largest academic facilities project in the university's 152-year history is underway. When completed in 2023, the $97 million Kiewit Hall will be the hub for undergraduate engineering education.
Ground was broken in summer 2021 for the privately funded project. Kiewit Corp. of Omaha contributed $25 million to the project. Other lead contributors are the Suzanne & Walter Scott Foundation, Abel Foundation, Peter Kiewit Foundation, Robert B. Daugherty Foundation and Acklie Charitable Foundation.
"As someone who has spent my career at this university, I can't tell you how gratifying it is to see this kind of investment in the College of Engineering," said Dean Lance C. Pérez, Omar H. Heins Professor of Electrical and Computer Engineering. "What matters is what's going to happen in this building. For the first time in over a generation, we will have a facility that is all about teaching engineering. It's going to be a game-changer for the state of Nebraska and the next generations of students."
Kiewit Hall will house Lincoln-based construction management programs. It will include classrooms, instructional labs, Engineering Student Services, makerspaces for engineering student organizations and a large outdoor plaza.
Once completed, Kiewit Hall will connect to Othmer Hall via a skyway, expanding the engineering complex that includes Scott Engineering Center, the Link and Nebraska Hall.
Kiewit Hall is part of the college's $170 million expansion and facilities transformation. Scott Engineering Center is being renovated along with the new Link building, currently under construction, that will feature enhanced spaces for research labs, graduate students and several academic departments.
Nebraska news release: Kiewit Hall ceremony kicks off $97M engineering expansion
Media mention: NU Foundation nets record $343M in new philanthropic support (Nebraska Today, 9/3/2021)
---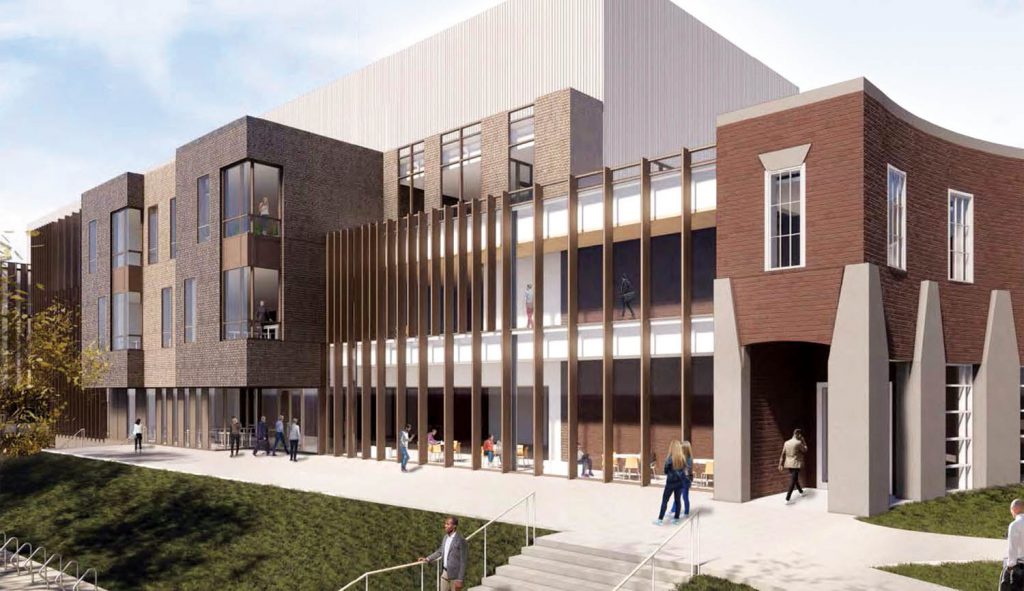 College of Education and Human Sciences
When completed in 2022, the College of Education and Human Sciences' new home will enable the college to better connect its programs across City and East campuses with added flexibility to meet future needs of students.
The last beam was placed in April 2021 for the 126,590-square-foot, four-story building. It will feature classrooms, meeting spaces, offices, labs and a 400-seat auditorium, and will link directly to Teachers College Hall. The new building replaces Mabel Lee Hall, originally created as a women's physical education space.
The new facility is expected to open in summer 2022. The $46.5 million demolition and construction project will provide transformational learning spaces for students and allow the college to foster collaboration and innovative thinking, officials said.
"The modern, new space will inspire collaboration while elevating our efforts to provide students with innovative and engaging ways to learn," said Sherri Jones, dean and Velma Warren Hodder Professor in CEHS.
Nebraska news release: Education and Human Sciences celebrates new building's final beam
Media mention: Glass features becoming a focal point of many new UNL buildings (Lincoln Journal Star, 2/28/2020)

Barkley Memorial Clinic
A $10 million project will improve Barkley Memorial Center as a state-of-the-art training facility for students in the College of Education and Human Sciences' speech-language pathology and audiology programs.
The new Barkley Clinic space will feature three large, three medium and 13 small treatment and diagnostic clinical rooms. Specialized treatment rooms will be available for gross motor skills, smart room diagnostics, life skills, motor speech and augmentative and alternative communication. All clinical training spaces and specialized treatment rooms will be equipped with Video Audio Learning Tool software to improve training.
The expansion and renovation will also feature spaces for community partners including: RiteCare, Nebraska Autism Spectrum Disorders Network, Nebraska Stroke Association and a traveling clinician.
The project is to be completed by 2023.