Adrian Wisnicki was once a traditional literary scholar, digging into Victorian-era books and manuscripts. Then he came upon an unreadable 1871 field diary by British explorer David Livingstone and soon entered the modern world of digital humanities.
Five years later, the assistant professor of English is a spectral imaging specialist at UNL's Center for Digital Research in the Humanities. He's as likely to be solving 21st-century digital problems as he is contemplating Livingstone's 19th-century existence.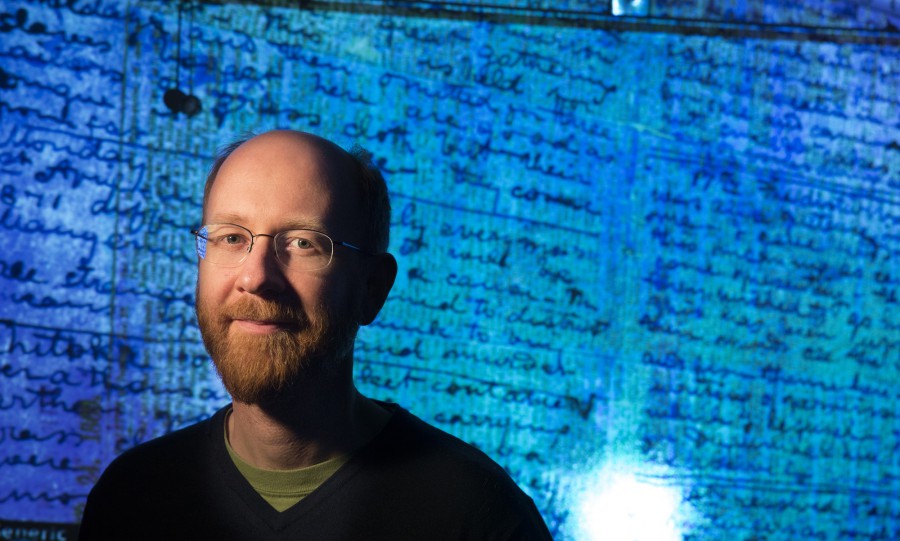 To read the 1871 diary, which ultimately exposed details of an African massacre that changed history, Wisnicki began collaborating with scientists who use spectral imaging to reveal hidden text. His quest eventually led to a consulting gig on a PBS "Secrets of the Dead" episode in 2014 about Livingstone that featured Wisnicki's analysis of the diary.
He collaborates with spectral imagists across the U.S. to investigate additional Livingstone documents. Spectral imaging uses wavelengths of light to illuminate things on the page invisible to the naked eye. In addition to text, it allows Wisnicki to study the manuscripts' histories, such as what the wrinkles and materials reveal about their creation and preservation.
"I look at what scientists do, and I think about how it can be pushed in different ways," Wisnicki said. "There's a point of collaboration where we have to understand one another, and that's where the creativity happens. It's really forensic literary studies."
He also leads Livingstone Online, a large multi-institutional project to update the digital home for Livingstone's manuscripts. Wisnicki and colleagues are collaborating with more than 30 archives worldwide, developing a sustainable digital platform, and conducting scholarship and outreach activities.
"From a scholar's point of view, my interest is Livingstone and African history. But from a digital humanist point of view, my interest is building these projects that are very collaborative and sustainable in the long term."
More than $430,000 in grants from the National Endowment for the Humanities fund Wisnicki's Livingstone work.