Grain bins can be death traps, and the auger that pulls grain from the bin's edge to the center is a key danger spot.
Sweep augers circle the bottoms of bins and are prone to clog with grain. That means someone has to enter the bin to make adjustments. Despite federal safety regulations about turning off equipment, violations are common and put workers at risk for serious injury or death.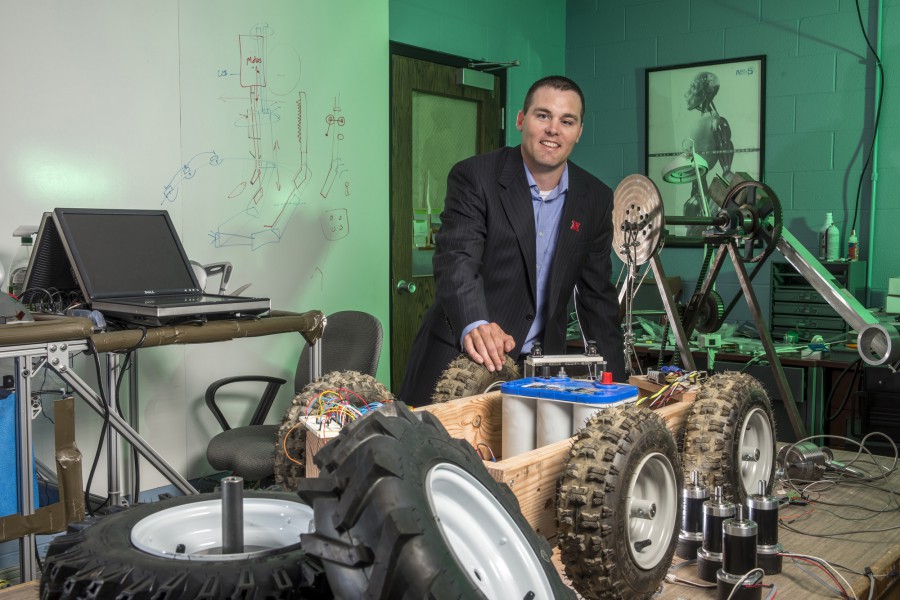 UNL engineers and a local manufacturing partner aim to boost safety for commercial grain bin operators and farmers. Jeff Hawks, UNL research assistant professor in mechanical and materials engineering, and Garner Industries Inc. of Lincoln, Neb., are developing a prototype for a sophisticated remote-control robot that allows workers to adjust sweep augers without entering bins.
For the robot's design, Hawks and UNL robotics expert Shane Farritor tap their personal backgrounds in agriculture, plus feedback from Garner, which manufactures the BinMaster® line of grain level controls.
Because farm workers have a strong "fix-it-myself" mentality, Hawks said it's essential to create a practical, robust product they're excited to use.
Aided by cameras and lights, workers will be able to stand outside the bin and direct the robot to lift the sweep auger, keeping grain flowing continuously.
"It has to be intuitive enough for the 60-year-old farmer and the 20-year-old grain operator who grew up playing Xbox," Hawks said.
UNL researchers are using advanced sensor technology to get reliable environmental feedback for optimizing the robot's operations. For example, sensors must be adaptable to dark, dusty conditions.
Size is another consideration. The robot must fit in a pickup bed and be light enough for two workers to lift.
"It has to be intuitive enough for the 60-year-old farmer and the 20-year-old grain operator who grew up playing Xbox."
UNL Industry Relations connected Hawks with Garner to fabricate the prototype. Garner introduced Hawks and Farritor to grain elevator operators, human resources representatives and farmers who offered important information about users' needs.
A prototype is expected to be ready for user testing by fall 2015. Through NUtech Ventures, UNL and Garner are pursuing commercialization potential.
"If people keep wanting to use it after two or three trials, we'll know we have a winner," Hawks said.