Children living in poverty and other disadvantaged situations often enter kindergarten less prepared than their peers. Many never catch up academically, making intervention during preschool vital to their long-term success.
Susan Sheridan, George Holmes University Professor of Educational Psychology, sees parental participation as a critical component to successfully bridging the gap. Her research led Sheridan and colleagues to develop the Getting Ready intervention, a program to engage parents in their children's preschool lives.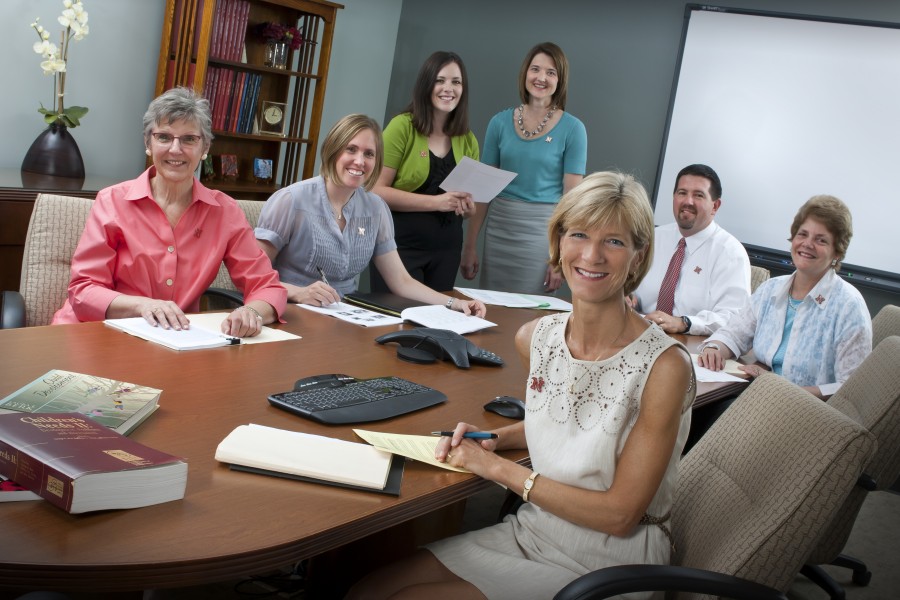 The Getting Ready research team, from left, Christine Marvin, Brandy Clarke, Keely Cline, Lisa Knoche, Susan Sheridan, James Bovaird and Carolyn Pope Edwards
"We feel very strongly about families and schools working together," said Sheridan, who directs UNL's Nebraska Center for Research on Children, Youth, Families and Schools.
Unlike other interventions in which parents are merely given recommendations, Getting Ready builds a partnership. Teachers trained in the intervention encourage parents to participate in making decisions, setting goals and identifying solutions for their children.
Sheridan's team recently completed an initial large-scale study evaluating Getting Ready's effects. This research was funded by the National Institutes of Health Eunice Kennedy Shriver National Institute of Child Health and Human Development for the Interagency School Readiness Consortium.
They found participating parents showed greater sensitivity toward their children, participated in their learning and supported their curiosity and autonomy. Children improved their social and emotional skills, language development and early literacy.
"We feel very strongly about families and schools working together."
Gains were greatest for children entering preschool with extremely low skills. They caught up with peers, demonstrating the potential of parents and teachers working together to close the gap for even significantly underdeveloped kids.
With a $3.2 million U.S. Department of Education grant, Sheridan's team now is implementing Getting Ready for the highest-risk children in preschools two years before kindergarten. Researchers will track children and families through kindergarten to evaluate the intervention's efficacy and long-term benefits.
"We're really building on family strengths and helping them identify within their own cultures and home environments how they can maximize their child's learning and development," Sheridan said.
With a $700,000 U.S. Department of Education grant, Sheridan's team also is developing a knowledge base of published research to further understand how to improve family partnerships for all students.