All consumers are not the same. Neither are all agricultural producers. Yet ag policy analysis typically assumes they are, which can result in ineffective or inefficient policies. A UNL research effort aims to change that approach.
A new policy research group within UNL's Center for Agricultural and Food Industrial Organization will lead the effort, funded by a two-year, $766,166 grant from the U.S. Department of Agriculture's National Institute of Food and Agriculture.
This research is an outgrowth of UNL's inter-disciplinary Food, Water and Energy Resources Policy Initiative. That initiative aims to tap expertise from a broad range of disciplines, including law, political science, economics, agricultural sciences, social sciences and journalism, to analyze agricultural policy. Two campuswide symposiums in 2010 and 2011 identified interdisciplinary research opportunities and established a framework for this major initiative.
Traditionally, agricultural policy studies have imagined a "representative consumer" or "representative producer," said UNL agricultural economist Konstantinos Giannakas, who leads this research.
But there's really no such thing. Consumers respond to food policies in very different ways, driven by preferences, income and other factors. Producers' responses to ag policies vary, too.
"We're not all the same. We make different decisions based on where we're coming from," said Peter Calow, research professor with UNL's Office of Research and Economic Development and part of the research team.
Such distinctions potentially make a huge difference, and UNL's research aims to develop a policy analysis framework that accounts for them.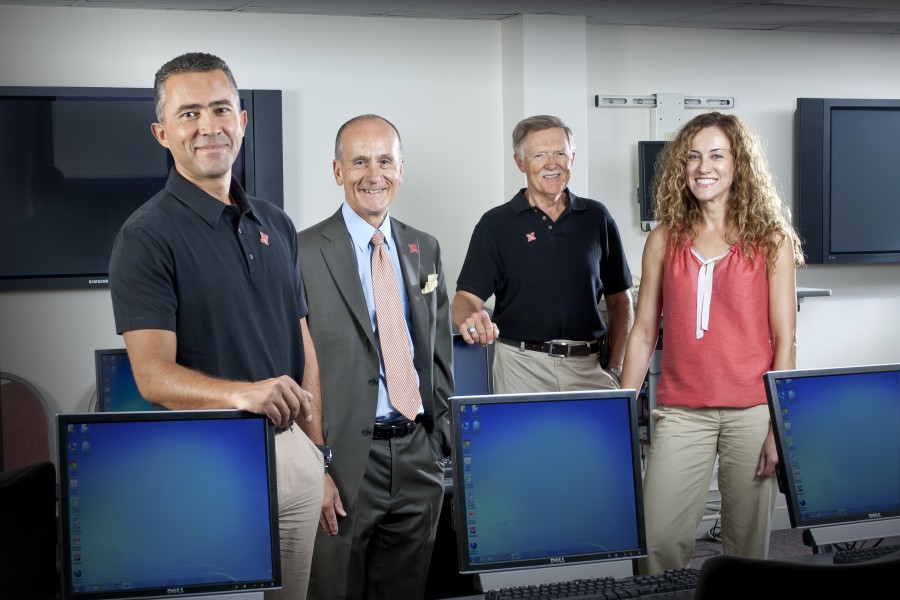 From left, Konstantinos Giannakas and Peter Calow, with agricultural economists Gary Lynne and Amalia Yiannaka
"This is novel. This has not been done in ag policy analysis," Giannakas said. This approach "will enable us to take any policy and see how it will affect different consumer groups and different producer groups."
The multidisciplinary research involves about a dozen faculty with diverse expertise as well as graduate students and postdoctoral fellows.
"We believe this will lead to improved policy design, enhanced efficiency, increased effectiveness and fewer policy failures," Giannakas said.