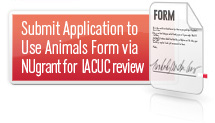 These are the current procedures for applying to use animals in research, teaching or extension activities. For more information, see Protocol Processing Help.
UNL's Application to Use Animals Form (AUAF) is available in NUgrant.
The investigator or course instructor should complete the form in its entirety; it will be automatically routed to the relevant department head/chair (and in some cases, the dean or director).
All UNL employees who plan to come in contact with animals must complete and submit the Occupational Health and Safety Program Form. Download, complete, save and print this form and mail it the Nebraska Occupational Health Center at the address on the back. This form is required before IACUC can approve a submitted AUAF.
A Training Documentation Form (TDF) must be completed and submitted via NUgrant for all personnel who will be handling or caring for animals. The AUAF cannot be processed without training documentation.
AUAFs will be available to all committee members for initial review at least 5 days before determining whether a full committee review is needed. Two committee members will be assigned to review each proposal and recommend approval, with or without modifications, if full committee review is declined. If either or both do not recommend approval, a full committee review is required.
Approved AUAFs will be assigned an IACUC number and will be valid for three years.
Annual Review
An annual review of projects that use animals is required by existing federal laws and policies of the granting agency and the University of Nebraska-Lincoln. Investigators will receive notification via NUgrant 90 days, 60 days and 30 days before the annual review is due on the anniversary of the protocol approval date. Investigators should submit the Annual Review Form through NUgrant to meet these requirements.