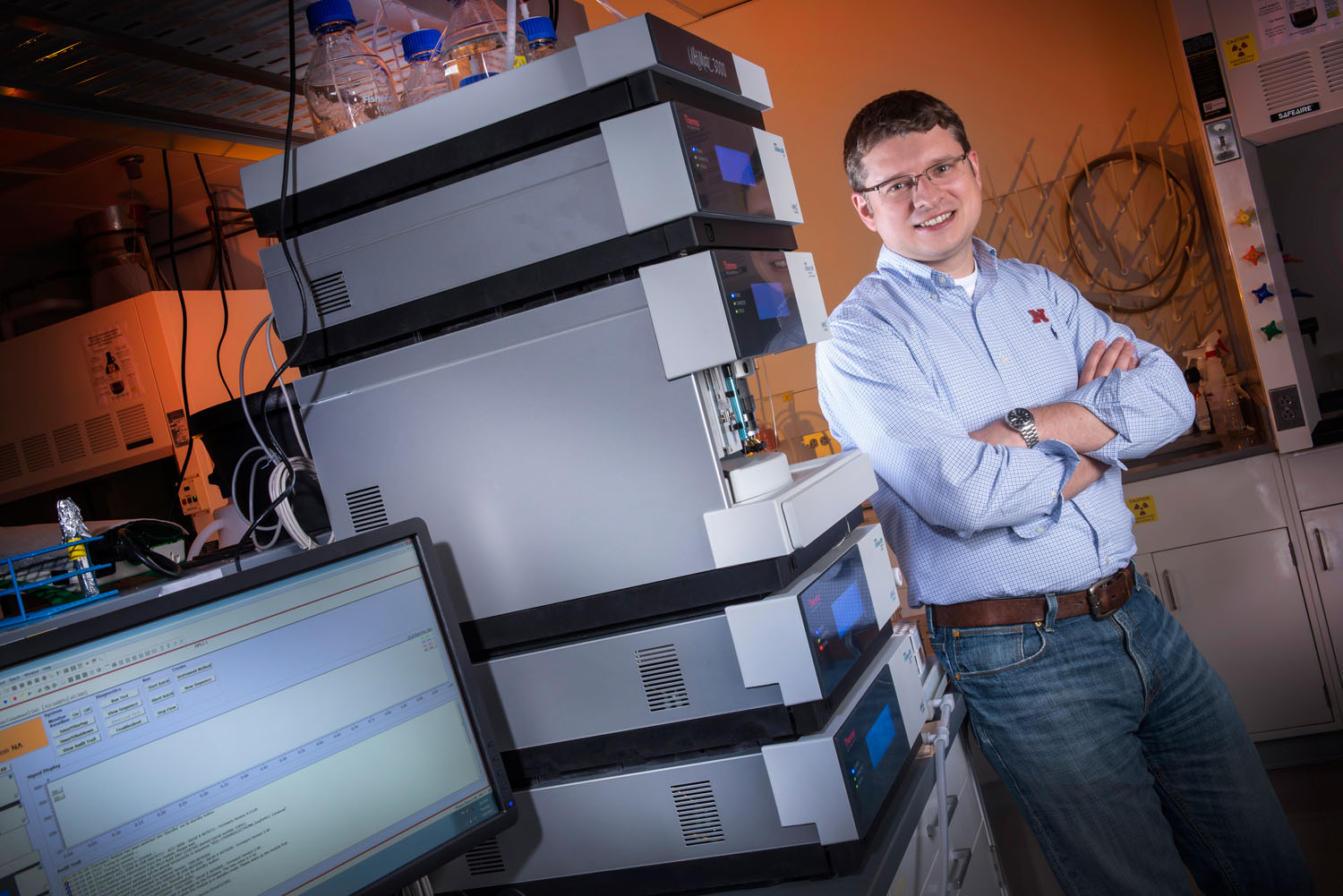 Oleh Khalimonchuk took the ALS Ice Bucket Challenge. But the UNL biochemist is doing much more to fight the devastating neuromuscular disease than taking a freezing shower for charity.
He and his team are investigating a promising lead on one of the causes of amyotrophic lateral sclerosis, or ALS, and other degenerative diseases, with a nearly $1.4 million, five-year grant from the National Institutes of Health. Their research may lead to effective therapies to fight these currently incurable, age-related diseases.
"We're trying to find a cure," said Khalimonchuk, a member of UNL's Redox Biology Center. "ALS is a devastating neurological disorder, so this is of really high significance."
Researchers now believe ALS develops in the mitochondria, a cell's power supply center. In generating energy, mitochondria create toxic free radical molecules that are mostly neutralized. Some of these molecules slip through, however, and cause damage that accumulates over time.
Eventually, free radicals can disrupt mitochondrial function, leading to degenerative muscular and brain diseases, such as ALS, Parkinson's and Alzheimer's. To prevent that from happening, mitochondria have a quality control system that's not well understood, but seems to malfunction in some people.
"This is whole new territory," Khalimonchuk said. "There's more and more appreciation toward the mitochondria being the culprit in lots of these aging-related degenerative diseases. We're trying to understand how mitochondrial welfare is maintained."
His team was one of the first to link a mutation in the protein Oma1 to ALS. Now they're exploring the protein's role.
They've learned, for example, that Oma1, which is dormant under normal conditions, activates during toxic stress and promotes a series of survival responses.
"We're making good progress," Khalimonchuk said. "Understanding this at the molecular level will help us to develop efficient treatment strategies."
Funded by NIH's Institute for General Medicine, this research has implications for understanding and funding therapies for other diseases, such as certain cancers, he said.