Broader Impacts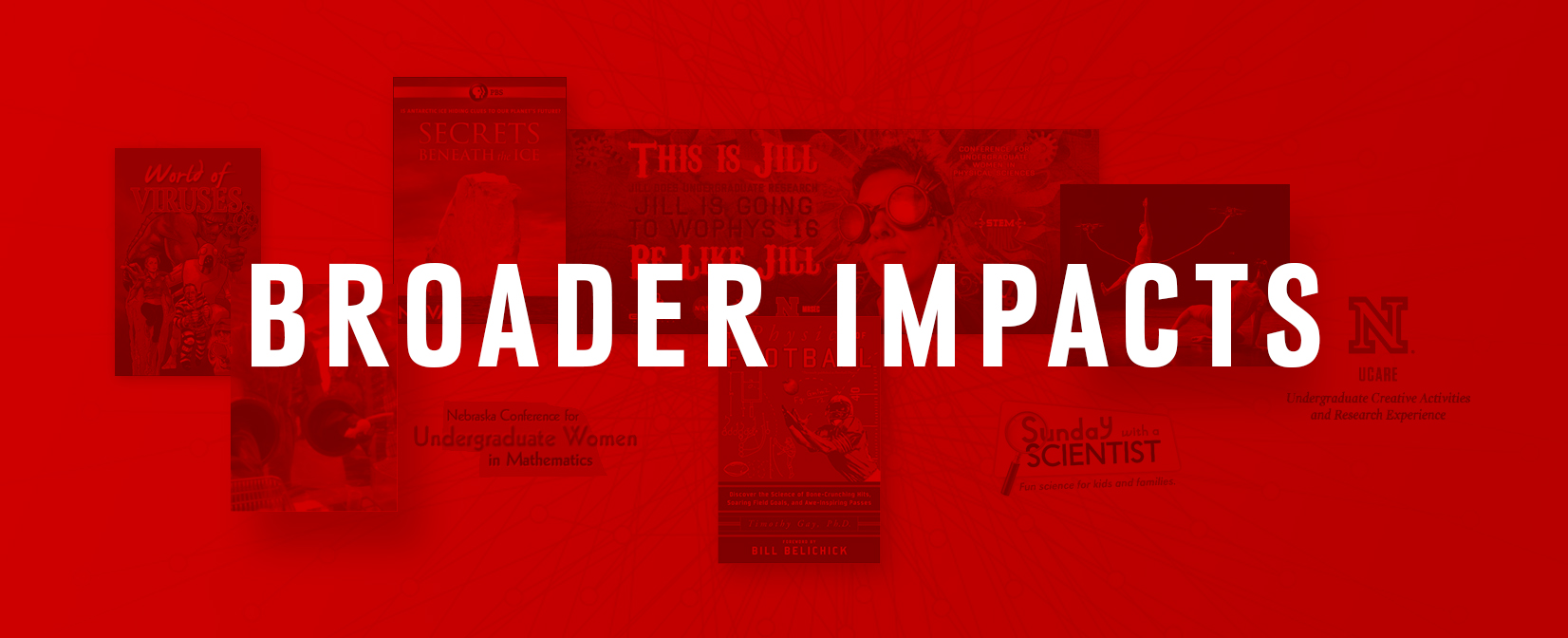 National Science Foundation
Broader impacts encompass the potential of proposed research to benefit society and contribute to the achievement of desired societal outcomes. All proposals submitted to the National Science Foundation (NSF) must address the project's broader impacts. Other sponsors (e.g., U.S. Department of Agriculture) are also now beginning to consider broader impacts during proposal review. Broader impacts may be accomplished through the research itself, through the activities that are directly related to specific research projects, or through activities that are supported by and complementary to the project. Such outcomes include, but are not limited to:
Full participation of women, persons with disabilities, and underrepresented minorities in science, technology, engineering, and mathematics (STEM);
Improved STEM education and educator development at any level;
Increased public scientific literacy and public engagement with science and technology;
Improved well-being of individuals in society;
Development of a diverse, globally competitive STEM workforce;
Increased partnerships between academia, industry, and others;
Improved national security; increased economic competitiveness of the U.S.; and
Enhanced infrastructure for research and education.
NSF 18-1: Proposal & Award Policies & Procedures Guide
Broader Impacts: Improving Society
Perspectives on Broader Impacts
National Alliance for Broader Impacts
The goal of the National Alliance for Broader Impacts (NABI) is to create a community of practice that fosters the development of sustainable and scalable institutional capacity and engagement in broader impacts activity. This goal is being accomplished through the achievement of four objectives:
Identify and curate promising models, practices, and evaluation methods for the broader impacts community;
Expand engagement in and support the development of high-quality broader impacts activities by educating current and future faculty and researchers on effective broader impacts practices;
Develop the human resources necessary for sustained growth and increased diversity of the broader impacts community; and
Promote cross-institutional collaboration on and dissemination of broader impacts programs, practices, models, materials, and resources.
"Broader Impacts Guiding Principles and Questions for National Science Foundation Proposals"
Broader Impacts Publications
(2017), "Kicking It Up a Notch: Becoming a Culturally Relevant Science Educator," The NODE: the community site for and by developmental biologists.
Barlow, A.E.L. and M. Villarejo, (2004), "Making a Difference for Minorities: Evaluation of an Educational Enrichment Environment," Journal of Research in Science Teaching, 41(9): 861-881.
BSCS, (2008), "Scientists in Science Education."
Chang, M.J., Sharkness, J., Hurtado, S., Newman, C.B., (2014), "What Matters in College for Retaining Aspiring Scientists and Engineers from Underrepresented Racial Groups," JRST, 51:555-580.
Dirks, C. and M. Cunningham, (2006), "Enhancing Diversity in Science: Is Teaching Science Process Skills the Answer?", CBE-Life Sciences Education, 5:218-226.
Field, K.G., et al.,  (2014), "Research-based Interdisciplinary Multicultural Scholars Program at Oregon State University Has a High Graduation Rate of Minority and First-generation Students in a STEM Major," NACTA Journal, 55:17.
Hurtado, S., et al., (2009), "Diversifying Science: Underrepresented Student Experiences in Structures Research Programs," Research in Higher Education, 2: 189-214.
Kotadia, S., (2017), "UC Berkeley STEM Equity & Inclusion Initiative: Executive Summary," Berkeley Division of Equity & Inclusion.
Moss, J.C., (2011), "An Undergraduate Summer Research Experience for Underrepresented Students in Agricultural Sciences," NACTA Journal, 55: 32-37.
Schultz, J.C. and J.T. Stemmle, "Teaching Future Scientists to Talk," The Chronicle of Higher Education, April 5, 2012.
Stage, F.K., John, G., Hubbard, S.M., (2011), "Undergraduate Institutions that Foster Black Scientists," Diversity of Higher Education, 11:3-21.
Broader Impacts Resources
American Society for Engineering Education
CAISE Guide to Resources for Broadening Participation in STEM
Council on Undergraduate Research
INSPIRE Program (Science for the Incarcerated)
National Center for Women & Information Technology
STEM Ambassador Program (STEMAP)
UC Berkeley STEM Equity and Inclusion Initiative
University of Missouri Resources for Early Career Faculty
Women in STEM Knowledge Center
Potential Broader Impacts Partners in Nebraska
Beveridge Magnet School for Global Studies and the Arts
Beyond School Bells
Boys and Girls Club of Lincoln/Lancaster County
Boys and Girls Club of the Midlands
Creighton University Community Oriented Primary Care Research to Serve the Underrepresented
Elkhorn Public Schools
Grand Island Public Schools
Kearney Public Schools
Kutak Center for the Teaching and Study of Applied Ethics
Lincoln Public Schools
Metropolitan Community College
Nebraska EPSCoR
Nebraska State Historical Society Camp
North Platte Public School
Omaha Public Schools
Osher Lifelong Learning Institute
Pioneer Park Nature Center Camp
Riverside Discover Center Camp
Scottsbluff Public Schools
Strategic Air Command and Aerospace Museum
UNL Engineering Student Organizations
University of Nebraska at Omaha Youth Camps
University of Nebraska Public Policy Center
University of Nebraska State Museum
Evaluation Resources
Methodology and Evaluation Research Core Facility
Questions or Comments?
To request consultation in the development of broader impacts plans or that additional information be included on this webpage, contact Tisha Mullen, director of proposal development, at 402-472-2894 or tgilreathmullen2@unl.edu.