Tough, Strong Nanofibers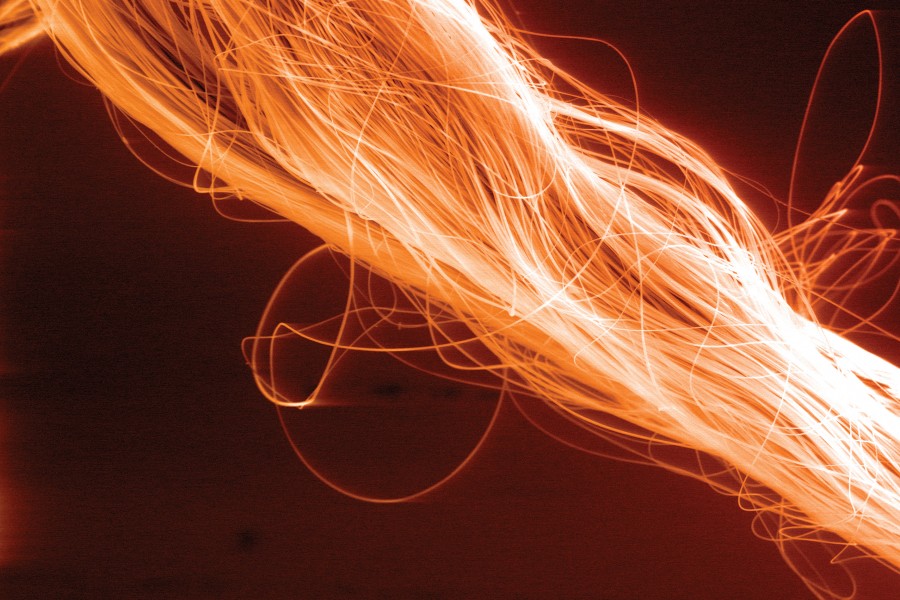 UNL materials engineers have developed a structural nanofiber that is both strong and tough ‒ two properties once thought mutually exclusive ‒ that could transform everything from airplanes and bridges to body armor and bicycles. Most advanced fibers are strong, but can break relatively easily because they lack toughness. To compensate, engineers use more material, which makes airplanes and other products heavier. Yuris Dzenis and colleagues created an exceptionally thin nanofiber and found that by making it even thinner, it became both stronger and tougher. Tougher structural materials would allow products to be both lightweight and safe, said Dzenis, R. Vernon McBroom Professor of Mechanical and Materials Engineering. Their findings were featured in ACS Nano. The National Science Foundation, the Air Force Office of Scientific Research and a U.S. Army Research Office Multidisciplinary University Research Initiative grant fund this research.
---
Capturing Ultra-fast Molecular Change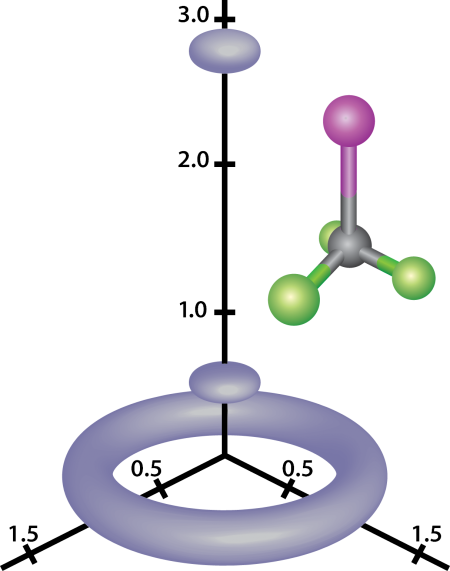 Molecules that react to light undergo structural changes so fast ‒ in less than 1 trillionth of a second ‒ that the initial stages of photosynthesis and vision remain largely a mystery. UNL physicist Martin Centurion and colleagues discovered a way to use lasers to capture 3-D images of molecules undergoing these super-fast structural changes. It's a major advance toward studying how light energy is converted into chemical energy. It may one day lead to better alternative energy sources, help solve vision problems and improve skin cancer prevention and treatment. To prove their technique works, they created an image of a simple five-atom molecule and reported results in the journal Physical Review Letters. A $750,000 Department of Energy Early Career Research Program award supports this research.
---
International Water-Food Challenges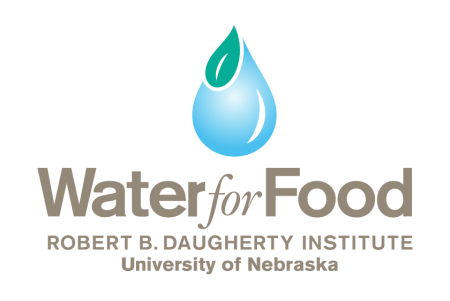 Improving food production and water management in the Middle East and North Africa was the focus of a visit to UNL by the international Founders Committee of the Middle East and North Africa Network of Water Centers of Excellence in early 2013. Chancellor Harvey Perlman is vice chair of the seven-member committee, which is charged with implementing the new Water Centers of Excellence network. The network links technical institutes across that region with U.S. institutions, such as the university's Robert B. Daugherty Water for Food Institute. The visitors learned about UNL's water and food research expertise and discussed how the Daugherty Institute could help address the region's water challenges. In 2012, NU and the U.S. Agency for International Development signed an agreement to expand research and development capacities to support the network's goals.
---
Microbes and Moqui Marbles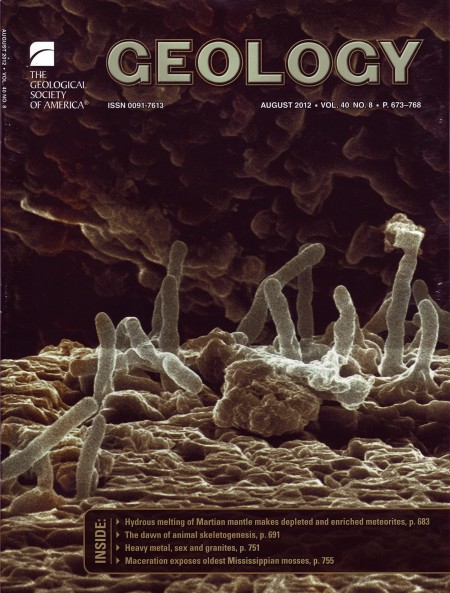 Microbes helped form Moqui marbles, unusual balls of rock found in southwestern U.S. sandstone, roughly 2 million years ago. That discovery by UNL geomicrobiologist Karrie Weber and colleagues has implications for finding life on Mars and for better understanding Earth's past. Moqui marbles have a soft, sandy interior and a hard, round shell made of iron oxide. Weber learned that microorganisms feeding on a mineral rich in iron carbonite began the process that created the marbles, which range in size from BBs to cannonballs. Knowing that life could persist in this type of rocky, iron-rich environment provides a guide for searching for life elsewhere on Earth, or even on Mars, where similar structures have been found. Weber's team included UNL geoscientists Richard Kettler and David Loope, Othmer Schultz Professor of Stratigraphy, and researchers at the University of Western Australia. This research was featured on the cover of the journal Geology.
---
Press Acquires Potomac Books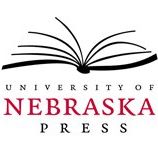 The University of Nebraska Press acquired Potomac Books in early 2013. "Potomac Books has an excellent reputation for producing fine books in fields that fit perfectly with University of Nebraska Press's catalog," said Donna Shear, UNP director. Potomac Books continues to conduct business as usual, building on its strong roots in military and general history, world and national affairs, foreign policy, defense and national security, terrorism, intelligence, memoirs and biographies, and sports history. UNP is the largest and most diversified university press between Chicago and California, with nearly 3,000 books in print. It's best known for publishing works in indigenous studies, history and literature of the American West, translated literature and sports history. UNP signed a collaborative agreement with the Jewish Publication Society in January 2012 to edit, publish, market and distribute its books.
---
Interdisciplinary Dance Exploration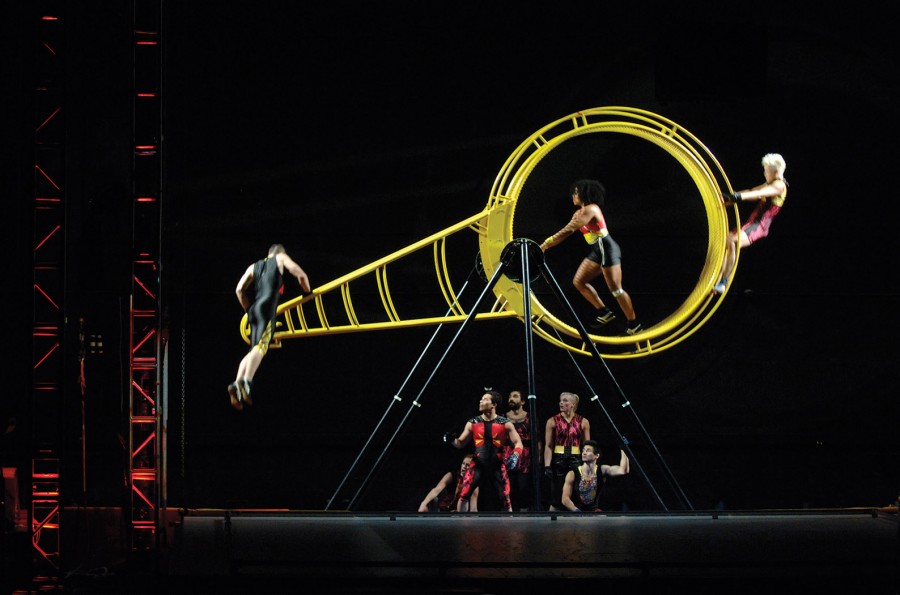 UNL's Lied Center for the Performing Arts and partners are teaming with the groundbreaking dance company, STREB, on an interdisciplinary exploration of dance in spring 2014. The project involves UNL students from dance, theater, gymnastics, architecture, and computer science and engineering, and faculty from several departments, along with local K-12 students, teachers and community members. The project will culminate with a public performance at the Lied Center. UNL dancers and gymnasts, under direction of STREB members, will provide student matinees and workshops based on STREB teaching techniques to local schools in spring and fall 2014. A National Endowment for the Humanities grant helps fund this project, which aims to increase accessibility and appreciation of modern dance for Nebraska audiences.
---
Telling the Story of Marginalized Women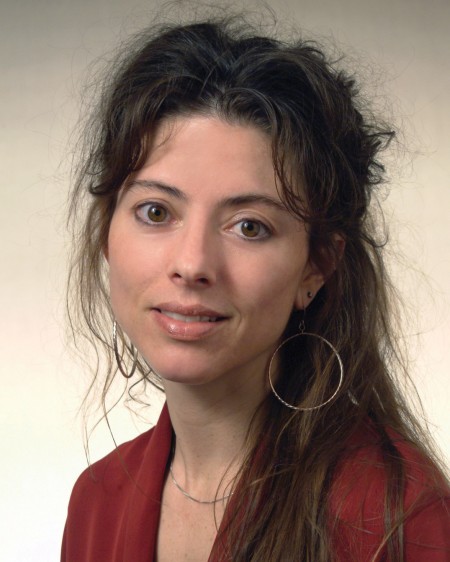 Research on street-level prostitution tends to focus on statistics and demographics but provides little insight into prostitutes as women. UNL family scientist Rochelle Dalla decided to tell the stories of marginalized women in Nebraska and around the world through her research. For the past two summers, she has interviewed brothel workers in Mumbai, India, to better understand their lives and the sex trafficking trade, particularly the cycle that leads children of brothel workers into the sex trade. "I wanted to give these marginalized women a voice," she said. She's analyzing the interviews and hopes her research informs efforts to help women in the sex trade. Dalla, a member of UNL's Human Trafficking team, also has studied prostitution in Omaha, Neb., and published her findings in the 2006 book, Exposing the "Pretty Woman" Myth.
---
UNL Team Evaluates Army Program
The U.S. Army strives to increase the health of its soldiers through a program that addresses both psychological and physical fitness. UNL College of Business Administration researchers partnered with the Army through private contractor TKC Global to evaluate the Comprehensive Soldier Fitness Program. Analysis by Peter Harms, assistant professor of management, postdoctoral research associate Dina Krasikova and research analyst Mitch Herian indicated the fitness program is achieving its goals, which include offsetting the effects of post-traumatic stress disorder. Learning to regulate emotions effectively helps soldiers develop strong relationships and avoid drug and alcohol abuse, depression and anxiety. The research showed that emotionally healthier people are more likely to be promoted within the Army and receive awards, which helps with retention.
---
Surprising Mosaic Discovery Yields Insights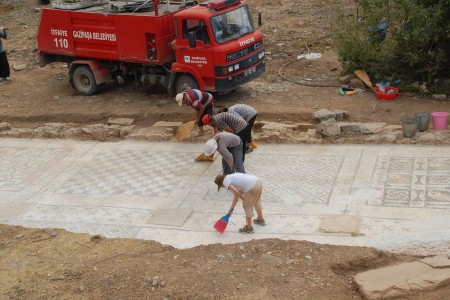 A massive mosaic unearthed in Turkey by a UNL team is providing new insights about the Roman Empire's reach and cultural influence during the third and fourth centuries AD. UNL's Michael Hoff, Hixson-Lied Professor of Art History, directs the archaeological excavation. The meticulously crafted, 1,600-square-foot mosaic of decorative handiwork was part of a Roman bath. Hoff said it's surprising to find a mosaic of this size and caliber in the area. It demonstrates the empire's strength in this far-flung region. "We're beginning to understand now that it was more Romanized, more in line with the rest of the Roman world than was suspected before." Hoff leads a team of students and scholars from UNL and other U.S. and Turkish universities, as well as local residents and colleagues from Atatürk University working on the project.
---
Better Nuclear Reactor Materials
A UNL engineer is developing a composite material that could lead to safer and more efficient energy production in current and advanced nuclear reactors. Michael Nastasi, Nebraska Center for Energy Sciences Research director and Elmer Koch Professor of Mechanical and Materials Engineering, is teaming with researchers at the Massachusetts Institute of Technology and Texas A&M on this project, funded by a $980,000 Department of Energy grant. Nuclear fission releases highly energetic particles from metal alloy-clad fuel rods. But the particles can damage the fuel rods at atomic levels, which can lead to a loss of mechanical integrity and even catastrophic failure. Nastasi aims to develop a ceramic-based nanostructured composite with an unorganized, or amorphous, molecular structure that allows it to recover its original configuration after particle bombardment. The material also will contain iron, providing a radiation sink at the material's interface and another layer of protection.
---
Student Journalists Visit Brazil
Gaining international reporting experience and learning about emerging cultures has become a tradition for UNL photojournalism students. Ten students traveled to São Paulo, Brazil, during the 2013 winter break to capture photos, videos and stories for a multimedia project highlighting the country's pressing issues. Led by Bruce Thorson, associate professor of news-editorial, the group spent three weeks documenting the landless farmers' movement, services for children with physical disabilities and drug abuse rehabilitation centers. A gift from prominent photographers Howard G. Buffett, Thomas Mangelsen and Joel Sartore supports the biannual trips. Previous groups traveled to India, Kazakhstan, Kosovo and South Africa.
---
Childhood Hunger Linked to Adult Pain, Depression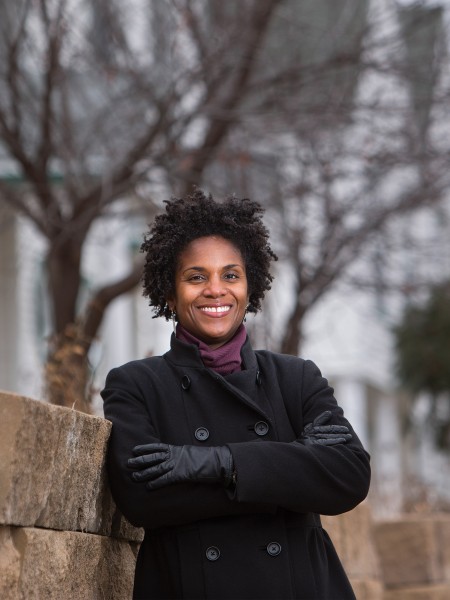 Children who often go hungry are at high risk of experiencing depression and chronic pain as adults, a UNL study found. Sociologist Bridget Goosby examined results from the National Comorbidity Survey Replication, looking for relationships between circumstances in childhood and physical and mental health as adults. "The most robust child socioeconomic condition was experiencing hunger. Kids who missed meals have a much higher risk of experiencing pain and depression in adulthood," she said. Her study, published in the Journal of Health and Social Behavior, also found that having a depressed mother correlated with adult-age depression and that the children of parents with less than 12 years of education were at higher risk of experiencing chronic pain as adults than those with more highly educated parents. The National Institutes of Health's National Institute of Child Health and Human Development funded this research.
---
UNL Selected for Beckman Scholars Program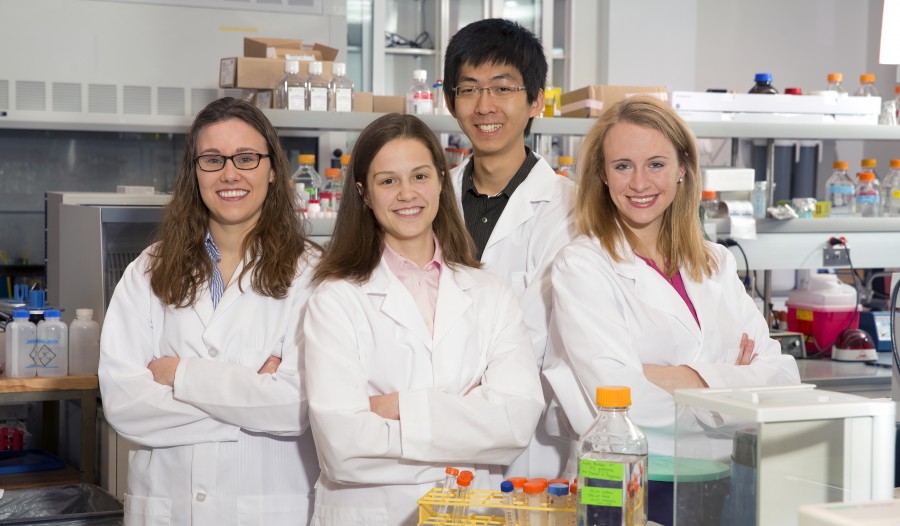 Above: First UNL Beckman Scholars, from left, Ashley Thelen, Valerie Eckrich, Qianli Wang, Jessica Chekal
UNL was one of 10 U.S. institutions selected for the prestigious Beckman Scholars Program in 2013. The $115,000 award provides interdisciplinary fellowships to undergraduates conducting research in chemical and biological sciences alongside faculty mentors. The four students selected as the first UNL Beckman Scholars are part of an elite Beckman Scholars Community in which all scholars live in the same residence hall, participate in specialized events with high-achieving students from other disciplines, take part in leadership and professional development programs, and receive individualized support for graduate school applications. Each student's goal is to have his or her work published in a peer-reviewed journal.
---
Good or Bad Mutation – It Depends
A genetic mutation's reproductive survival was traditionally thought to depend on whether its effect was good, bad or inconsequential. However, UNL research published in Science shows the dichotomy between "good" mutations and "bad" may be more complicated than once thought. Evolutionary biologist Jay Storz and colleagues at UNL and Aarhus University, Denmark, found that whether a given mutation is good or bad often is determined by other mutations associated with it. Studying genetic variation in the hemoglobin protein in deer mice populations from different elevations, they found certain individual mutations that increased hemoglobin's binding affinity for oxygen in some mutational combinations, but decreased it in others. Because these mutations have context-dependent effects, the order in which mutations occur can determine which pathways evolution is more likely to follow, said Storz, Susan J. Rosowski Professor of Biological Sciences. The National Institutes of Health's National Heart, Lung and Blood Institute and the National Science Foundation funded this research.
---
Hibberd Leads UNL Extension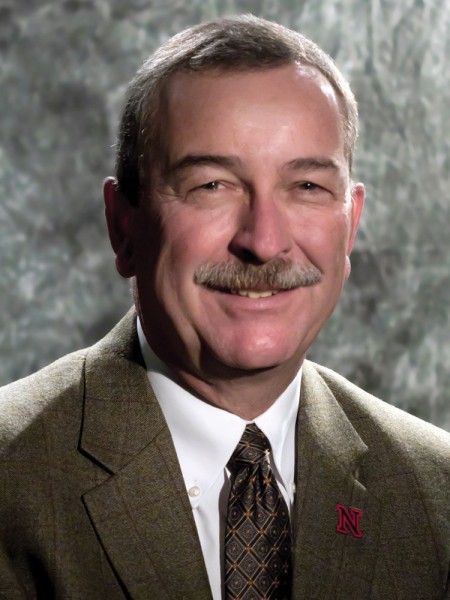 Charles Hibberd, former district director of the Panhandle Research and Extension Center, returned to UNL in fall 2012 as extension dean and director. He had been director of extension and associate dean of agriculture at Purdue University since 2007. Earlier, he led the Panhandle center at Scottsbluff for 13 years. He received a bachelor's degree in agriculture, a master's degree in animal science and a doctorate in animal nutrition from Oklahoma State University, where he was a faculty member for 12 years. UNL Extension, with a network of 83 offices throughout Nebraska, is part of the Institute of Agriculture and Natural Resources.
---
Busch Named UNL Libraries Dean
Nancy Busch is the new dean of the UNL Libraries. Busch served as interim dean for 11 months before becoming dean in July 2013. She previously was associate dean. Busch also has taught research methods courses and has extensive experience in evaluation and assessment initiatives for public, academic and state libraries. Before joining UNL in 2003, Busch was deputy director of the Nebraska Library Commission. Earlier, she directed library systems in Nebraska's Panhandle and Gila County, Ariz., and worked for several other libraries. She earned a bachelor's degree in experimental psychology and a master's degree in library science from the University of Iowa and a doctorate in library science from the University of Michigan.
---
New Material Dents Diamonds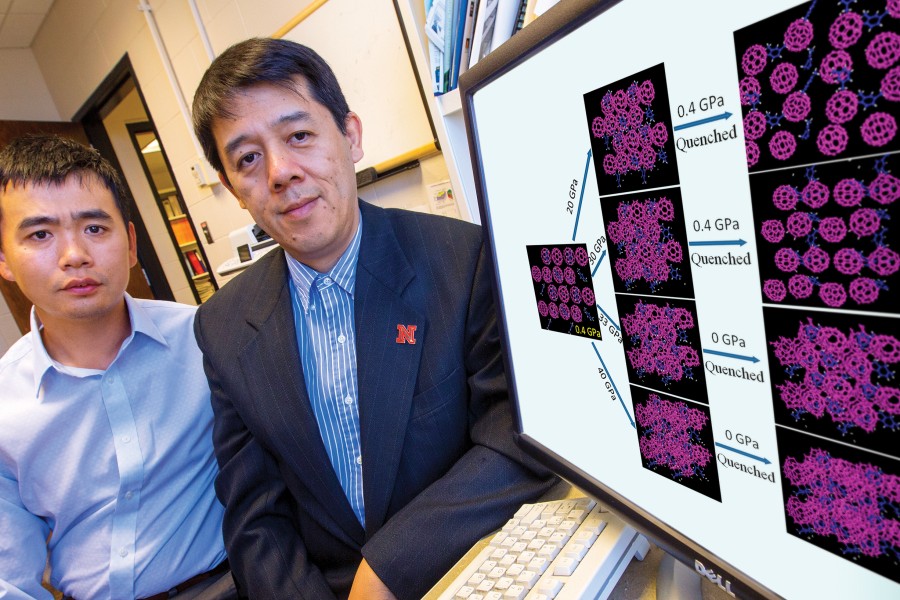 Hui Li and Xiao Cheng Zeng
Diamonds are the hardest known material − at least they used to be. A research team that included UNL's Xiao Cheng Zeng, Ameritas University Professor of Chemistry, has created a new form of matter so hard it can even dent diamonds. The recipe involves crushing buckyballs, well-ordered carbon structures resembling nano-sized soccer balls, under extremely high pressure. The magic ingredient is a solvent related to benzene that allows the buckyballs to collapse while maintaining an ordered structure. Zeng and postdoctoral researcher Hui Li used supercomputers at UNL's Holland Computing Center and Oak Ridge National Laboratory in Tennessee to perform large-scale quantum molecular dynamics simulations to provide atomic insight into the material. The ability to preserve the super-hard, high-pressure structure in ambient conditions may provide important future practical applications, Zeng said. The discovery was reported in Science.
---
Preparing Mexico's Judges for Legal Changes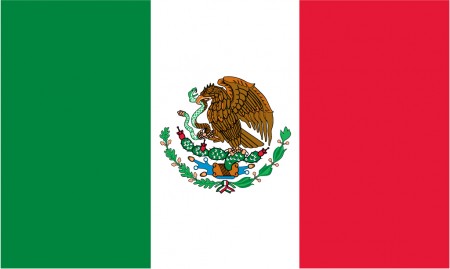 U.S.-style oral arguments and cross-examinations will soon become part of Mexico's legal system. In preparation for judicial reform, UNL law professor Steven Schmidt led a team of instructors that provided two weeklong trial advocacy courses for family law judges and magistrates of Mexico's Superior Court. Participants learned every aspect of an oral adversarial trial as well as the judge's role. Although the training familiarized participants with U.S.-style oral advocacy, it used facts and legal issues derived from Mexico's judicial system. The collaborative agreement between UNL and Mexico's Superior Court of Justice for the Federal District, signed in May 2013, builds on a partnership between the Universidad Nacional Autónoma de México and UNL's College of Law. Previously, UNL provided advocacy training for Mexican lawyers for several years with funding from the U.S. Agency for International Development.
---
Program Targets Human Biology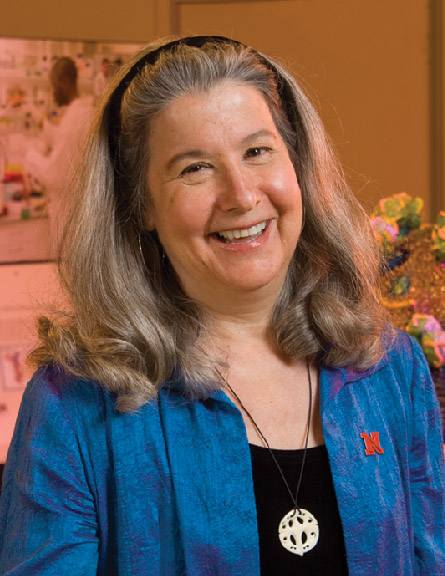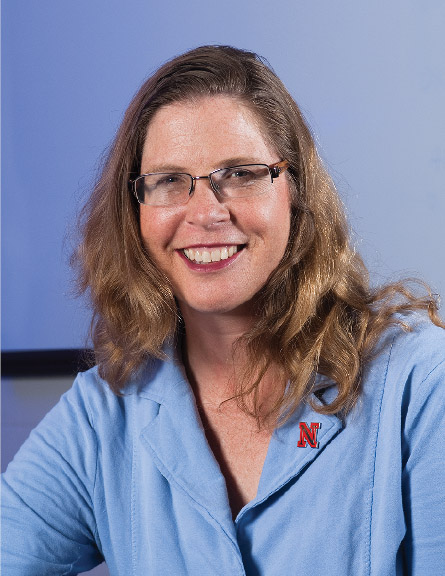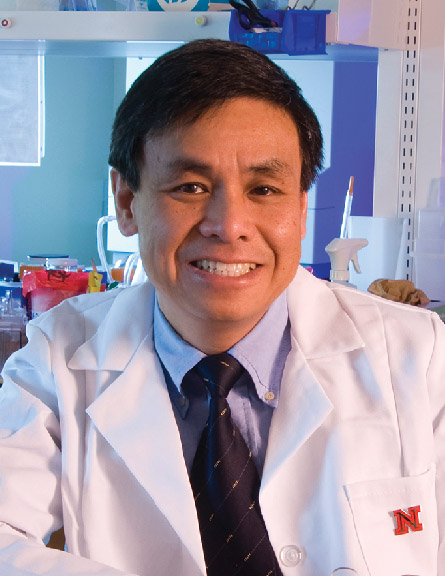 From left: Judy Diamond, Julia McQuillan and Charles Wood
A new science education program ‒ Biology of Human ‒ will help the public, particularly young people, better understand recent biomedical research that has transformed scientific understanding of human biology. With a $1.3 million grant from the National Institutes of Health's Science Education Partnership Award, the University of Nebraska State Museum of Natural History and UNL researchers are teaming to create educational materials for use nationwide. Judy Diamond, the museum's curator of informal science education, leads the project in collaboration with Charles Wood, Lewis Lehr/3M Professor of Biological Sciences and Nebraska Center for Virology director, and Julia McQuillan, sociology department chair. They're working with nationally known science writer Carl Zimmer, multimedia developers and others to create the materials, such as comics, essays, interactive apps and a website.
---
Museum Named Smithsonian Affiliate

The University of Nebraska State Museum of Natural History became a Smithsonian Affiliate in 2013, joining an elite group of museums and organizations that partner with the internationally renowned Smithsonian Institution network. The university museum has long-standing research collaborations with the Smithsonian in entomology and vertebrate paleontology, as well as in education and outreach; three of the museum's curators are Smithsonian research associates. Affiliate designation broadens opportunities for collaborations in research, traveling exhibitions, educational programs and loans from Smithsonian collections. "This honor strengthens and expands our relationships with the Smithsonian and will help us share more of the Smithsonian's resources with Nebraskans," Museum Director Priscilla Grew said.
---
UNL Research Fair
Above left: Kevin Leicht (left), University of Iowa, visits with Ellen Weissinger, UNL's senior vice chancellor for academic affairs.
Above right: NSF Day at UNL Research Fair
The biannual UNL Research Fair provides opportunities for faculty to explore priority research areas and for postdocs and students to attend professional development sessions. The fall 2012 event featured a workshop focused on UNL's new Social and Behavioral Sciences Research Initiative, a supercomputing symposium and National Science Foundation Day. The fair also included presentations from representatives of the National Institute of Standards and Technology, a session on building algal biofuels and bioproducts partnerships, career planning sessions for postdocs and faculty recognition events. Featured speakers included George Wilson, Sean C. Kennan and John E. Snyder, NSF; Stella Fiotes and Lloyd Whitman, NIST; Kurt Johnson, Pennsylvania State University; Kevin Leicht, University of Iowa; L. Rowell Huesmann, University of Michigan; and Keith Micoli, New York University School of Medicine. The spring 2013 event focused on students, including a workshop on communicating about research and poster sessions for graduate and undergraduate students.
---
Nebraska Lectures
The 2012-2013 Nebraska Lectures: The Chancellor's Distinguished Lecture Series featured a small grains breeder and a physicist. In his fall lecture, P. Stephen Baenziger, Nebraska Wheat Growers Presidential Chair, presented "The Joy of Applied Science While Feeding the World." He discussed the challenges of feeding a growing world population, possibilities for expanding food production and science's role in solving these challenges. In his spring lecture, Timothy Gay presented "Football: Its Physics and Future." He explained the history of American football, the physics of large forces on the field and the inherent dangers, and UNL and national research efforts to understand and mitigate injuries. The Office of the Chancellor, the Research Council and the Office of Research and Economic Development co-sponsor these lectures featuring prominent faculty.
---
College of Law Launches Doctorate in Space Law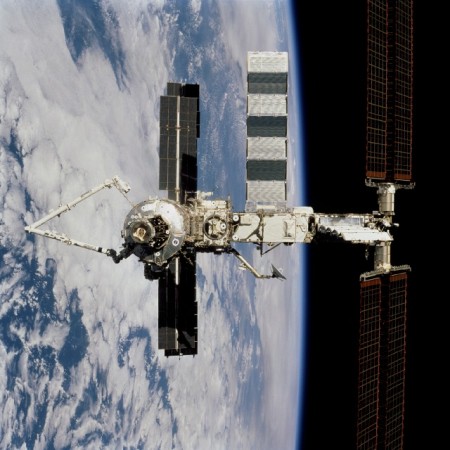 The College of Law launched the nation's only doctoral program in space law in fall 2013, expanding its leadership in space, cyber and telecommunications law. For the past five years, UNL has been the only U.S. law college to offer an LL.M., or master of laws, degree in space, cyber and telecommunications law, which has been offered online since the 2012-2013 academic year. The Doctor of Juridical Science, or J.S.D., program "is going to widen opportunities for experienced lawyers and legal scholars to delve into very intricate and complex issues facing the regulation of outer space activities in an in-depth manner," said Matthew Schaefer, Law Alumni Professor and director of the college's Space, Cyber and Telecommunications Law program.
---
Fossilized Feces Lend Clues about Diabetes in Native People
Native Americans' increased susceptibility to diabetes has long been thought to stem from fat-hoarding "thrifty genes" acquired during ancient cycles of feast and famine. But an analysis of fossilized feces found in a Southwestern cave suggests the type of diet, not its frequency, may have led to the fat-hoarding genes. UNL forensic scientist Karl Reinhard and archaeologist Keith Johnson of California State University, Chico analyzed fossilized feces for insight into what people in prehistoric hunter-gatherer civilizations ate. They found clues to a food regimen dominated by maize and high-fiber seed from sunflowers, wild grasses, pigweed and amaranth. Very high in fiber, low in fat and dominated by foods with limited effect on blood sugar levels, the diet could have given rise to fat-storing genes that today convey greater susceptibility to diabetes in people on a modern low-fiber, high-fat diet, Reinhard said. The study was published in Current Anthropology.
---