Register now for grant writing seminar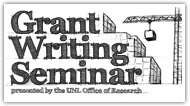 UNL faculty are invited to register for
"Write Winning Grants,"
a proposal writing seminar hosted by the Office of Research, March 13 from 8:30 a.m. to 5 p.m. in the Nebraska Union auditorium.
The seminar addresses both practical and conceptual aspects important to the proposal writing process. The session emphasizes idea development, identification of appropriate granting agencies, how to write for reviewers, and proven tips and strategies for presenting your case to reviewers.
The seminar leader is Stephen W. Russell, co-founder of Grant Writers' Seminars and Workshops LLC. He is a veteran grant writer who has presented grant writing seminars full time since 1999. Earlier, he was on faculty at Scripps Research Institute, the University of North Carolina, the University of Florida and University of Kansas Medical Center. His work was continuously funded by the National Institutes of Health, U.S. Department of Agriculture, American Cancer Society, foundations and industry from the early 1970s through 1999.
The UNL Office of Research hosts this seminar each year primarily for UNL faculty. However, if there is room, other UNL staff, post-doctoral research fellows and graduate students are welcome to register. There is no charge for UNL faculty, staff and graduate students. The fee for non-UNL participants is $150. Participants will receive an extensive handout and a copy of The Grant Application Writers' Workbook.
Registration is online at
http://research.unl.edu/events/grantseminar
. For more information, contact Peg Filliez in the Office of Research at
pfilliez1@unl.edu
or (402) 472-2851.