UNL releases disease-resistant dry bean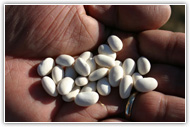 The University of Nebraska-Lincoln has released a new Great Northern bean cultivar with enhanced disease resistance.
This cultivar was bred specifically for enhanced resistance to several diseases that have been major problems for Nebraska dry edible bean producers, including common bacterial blight and bean common rust, said Carlos Urrea, UNL dry edible bean breeder at the Panhandle Research and Extension Center.
The new cultivar, released by UNL's Agricultural Research Division, is officially known at NE1-06-12. But it will be marketed as Coyne, named for the late Dermot Coyne, the university's dry bean breeder for about 30 years before his retirement in 2001. He died in 2002. Coyne's work led to the release of many popular dry bean varieties, including the great northern Weihing, one of three parent lines to the new variety. The other two are experimental lines developed by the Michigan Agricultural Experiment Station and the USDA Agricultural Research Service.
NE1-06-12 is a midseason bean with a bright white seed coat and matures 91 days after planting. It has a semi-upright growth habit and excellent lodging resistance. Yields average 45 bushels per acre.
It carries genes for resistance to common bean rust and has partial avoidance to white mold thanks to its growth habit.
NE1-06-12 is expected to be widely available to dry bean producers as early as the 2010 growing season. The new cultivar is the fruit of collaboration between UNL and the dry bean growers of Nebraska, Urrea said.
"For western Nebraska it will be a good variety," said Rod Loose, a member of the Nebraska Dry Bean Commission who cooperated in the new cultivar's development by hosting field trials on his farm. In both of his fields where NE1-06-12 was planted it was comparable with or better than varieties that he had been planting the past two years.
Loose said the commission uses dry bean check-off funds to provide some of the funding that supports UNL's bean breeding program, and it is important for the industry to do so.
Craig Henkel, president of the Nebraska Dry Bean Growers Association, said a new variety release from UNL means hope for better things to come to the industry.
"We are always interested in new and improved means of providing more and better nutrition for the consumers of our beans around the world," he said. "Better agronomic traits and higher yields and quality are always welcome by producers. This also signifies the importance of our check-off dollars being used wisely for the betterment of those who provide the funds for research."