Retreat focuses on climate change
Climate change is a complex and global problem that demands integrated and highly collaborative research.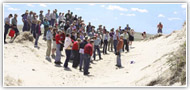 That was the recurring message from speakers at the Climate Change 2008 Conference May 21 in North Platte. The UNL Office of Research and the U.S. Geological Survey partnered to host the conference, which involved about 150 UNL and USGS researchers, representatives from state and regional organizations, farmers and decision makers. The conference featured panel discussions and presentations exploring potential impacts of climate change on the Great Plains. Participants explored research needs and shared ideas and concerns.
Organizers said the gathering was a first step in shaping a research partnership to address these issues. Developing innovative collaborations is the only way to address the complexities of a changing climate.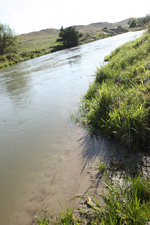 "Climate change is real. The question is what are we going to do to mitigate it?" said Tom Armstrong, senior advisor for global change programs at USGS, during his keynote address. "The bottom line of this meeting is that we need your help because we are all in this together."
Prem Paul, UNL vice chancellor for research and economic development, said collaboration is critical for providing the scientific information that farmers and society will need. "By working together, we can develop solutions for Nebraska, the nation and the world."
Earlier in the week, about 80 UNL and USGS researchers toured the Platte River and Sandhills to learn first hand about each other's research projects.