Press-Faculty Partnerships Reach Readers Worldwide
Partnerships are critical in successfully sharing research and scholarship. At Nebraska, many faculty authors tap the expertise of the University of Nebraska Press to transform their work into books and journals that garner national and international readership.
"While we publish scholarship from all over the world, we're especially proud to publish the research of Nebraska's own faculty," said UNP director Donna Shear. "Together, we share the university's research with readers all over the globe."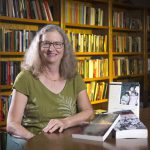 Since its founding in 1941, UNP has published more than 100 Nebraska faculty works, and its current book list includes 45 faculty.
"With its strong and enduring presence in Native American and Indigenous Studies as well as the American West, UNP has been such a great fit for me," said Margaret Jacobs, Chancellor's Professor of History. UNP published all three of Jacobs' books, including "White Mother to a Dark Race" (2011), which won the Bancroft Prize, the Athearn Book Award and the Armitage-Jameson Prize. Jacobs also works with UNP as editor of the New Visions in Native American and Indigenous Studies book series.
In 2019, Jacobs was the first female faculty member at Nebraska selected for membership in the American Academy of Arts and Sciences, and in 2018 was the first Nebraska professor to receive a Carnegie Fellowship.
UNP has long published the Prairie Schooner, the university's nationally recognized literary journal, and, since 2004, the winners of the Prairie Schooner Book Prize. Kwame Dawes inherited this longstanding relationship when he became Prairie Schooner editor. Dawes, Chancellor's Professor of English and Glenna Luschei Editor of Prairie Schooner, said the publishing partnership has strengthened the journal's impact over the years.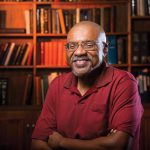 In 2019, Dawes earned the Windham-Campbell Prize for his poetry and the universitywide Outstanding Research and Creative Activity Award. He spearheads the African Poetry Book Fund, which has published 17 books with UNP, a collaboration that established UNP as a leading publisher in African poetry.
"The UNP team … has proven to be a thoughtful, adventuresome and professional partner that epitomizes the kind of collaborations that are possible," Dawes said.
Additional content
Nebraska news release: Jacobs joins American Academy of Arts and Sciences
Nebraska news release: Jacobs to use Carnegie Fellowship for research on U.S. policies toward indigenous children
Nebraska news release: Dawes' poetry earns Windham-Campbell prize
Nebraska news release: Bell, Dawes, Scalora, Tsymbal earn top NU honors