Documentary Tracks Pershing's Adventurous Life
Nebraska's Barney McCoy had only the vaguest idea of who John J. Pershing was before making a documentary about the distinguished World War I military commander.
But a call from a Pershing fan suggesting one was long overdue sent McCoy on a six-year journey into Pershing's adventurous life and Nebraska ties.
The documentary, "Black Jack Pershing: Love and War," premiered on NET Nebraska and is available on Amazon Prime Video. It won the Sigma Delta Chi Award from the Society of Professional Journalists and several awards of excellence.
Pershing's military career began after graduating from West Point in 1886. It included climbing San Juan Hill in the Spanish-American War, fighting in the Philippine-American War and pursuing Mexican revolutionary Pancho Villa. The documentary explores Pershing's successes – and heartbreaks – commanding the American Expeditionary Forces in World War I.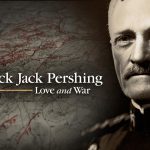 "It was a critical war in our country's history, what many people consider the forgotten war," said McCoy, Hitchcock Professor in the College of Journalism and Mass Communications. "The sacrifices America made really put us on a global stage."
Nebraska played an important role in Pershing's life. In the early 1890s, as the university's professor of military science and tactics, he formed a highly regarded university drill company, today's Pershing Rifles.
Pershing contemplated leaving the military, but his years in Lincoln, Nebraska, reinforced his career choice, McCoy said. He maintained a Lincoln home for his sisters and visited often.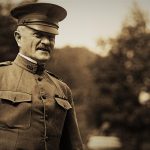 As McCoy dug into the archives, Pershing's letters to love interests over the years revealed the strict general's soft side. For McCoy, finding photos and flower petals inside deeply romantic love letters was a research highlight.
"Unlike many military biographies, we dug more deeply into Pershing's personal life. We felt it would make this documentary unique by adding more context to his life," McCoy said.
"It's not just a history lesson. There's an emotional connection that hopefully captures the audience's attention."
McCoy directed and produced the documentary in partnership with NET Nebraska. Humanities Nebraska, the Gilbert M. and Martha H. Hitchcock Foundation, the university and private donations provided funding.
Additional content
Nebraska news release: Nebraska's connection to Gen. John J. Pershing